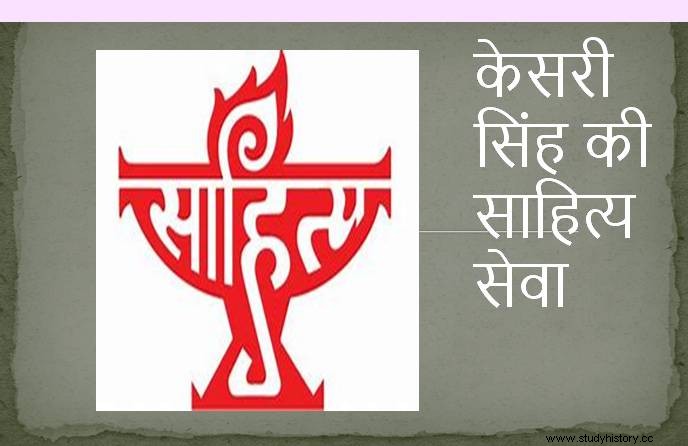 Kesari Singh Barahath was a knower of various Indian languages ​​including Sanskrit. He was an excellent poet of Hindi, Dingle and Pingal. He composed remarkable literature in prose and verse. Many verses created by Kesari Singh Barahath depict the plight of the country in a compassionate manner. The verses quoted in Isha Bhakti are not second to the creation of any poet of the Bhakti period. The couplets of the policy remind of Rahim and Girdhar. The Hindi translation of Buddha-charita is his unique contribution to the Hindi world. The letters written by him to his family members, leaders of the freedom struggle and Rajput organizations are invaluable assets of Hindi literature and Indian history. Dr. Manohar Prabhakar has written- 'Although he could not get the leisure of poetry creation due to being associated with national activities, but whatever he composed, the conch shell of public awakening is heard. Maharana Sajjan Singh of Udaipur, being enchanted by his poetry, had given it to many villages in the jagir.'
To inspire the native kings to adopt a sense of responsibility towards the happiness and misery of their subjects, a poem written by Kesari Singh is as follows-
Time doesn't change, people get angry,
Dhar Dhujan's bus left, the palace was demolished in a moment.
Russia China German Turak etc. Hute Patsah.
They singhasan kita gaya, so thingai narnah.
Achha kama udhamau, dhaniya nij dhan raas.
Nah then naida aavana, mahal majuran bas..
Brajbhasha poetry
Poetry composed in Brajbhasha is indicative of Kusumanjali Kesari Singh's brilliant talent, clever eloquence and astonishing authority over language. The word configuration contained in poetry has dual meanings. In the direct it appears to be a poem of praise of British power, but in disguise it is a clear spectator of anger and hatred towards the misdeeds of the then British government. It was adapted into the English language by Reverend Tude Hope. His Krishna devotional verses composed in Braj Bhasha are full of elegance and melody. Some of his devotional verses are as follows-
Bhava Eternal Publisher Image Tori Giridhari.
This Ghanshyam Murti is very sleepy, Dyuti simulation.
Motin Mal many liquid-equipped, staging began to expand..
Kaidon Chibuk Khachit Auspicious Diamond, Ravi Virat Nij Dhari.
Innumerable sur mahasur ju, ravi-mandal are very heavy.
The lotus lineage is the world's origin, the word unhinged.
Dharyo Giri Chhatra Su for protection, Trividha heat sorrow
Beni Bhayad Bhujang Kal-Si, Jaat-Vartu Sanshari.
Do not be able to cross Tava Swaroop, Dev Sage Balihari.
In another verse he says-
Hari Tum Jiya lost his life.
In a world igniting threefold heat, the darkness will never end.
Shyam Murti Ye Ekhi Samarth, Karan Atal Ujiyar.
Let's come without aadhaar brahmo, Prakriti-Tarangani Dhar.
Now it is Charan-sharan ghi teri, whether it is drowning or strings.
Aaj am na na Sudhi, you have taken me, what do I do?
I am very humble, Deenbandhu, why don't you deliver?
What is the meaning of sorrow, the unknown thoughts.
You are the sakhi of all things, so where should I become?
Poetry in Bengali
He studied Bengali language while in Hazaribagh Jail, he came in close contact with the revolutionaries of Bengal. While in jail, Kesari Singh wrote a poem in Bengali language and sent it to the revolutionaries, which encouraged them. The poem was as follows-
Marimari Ki Sundar, Bang Vanirdhar,
Pratiratna Diptitar, Hare Chai Aandhara.
Jachit chi kichhu khan, enchanted career mind.
Biting hard days, blind - prison.
Janani na kat ki veshe, janani bookapani.
Ashiya Chai Karadeshe, Bhakta Vatsal Vani,
Didriksha mayer mouth, list rupe mum,
Bhaiyer tore bhai, lahibe 'praful labor'
Swadharma
Thakur Khuman Singh of Sitamau state wrote Kalia century and sent it to Kesari Singh for amendment. In this a couplet was written targeting the defeat of the German emperor Kaiser. This couplet was as follows-
The British have come, the people have forgotten the saffron.
Khapat mahen khaya, kurab spoilyo kalia.
That is, Kesar made a big mistake which came and fought with the British. That's why he had to get hit in the head and his sword was also cut. That is, there was no result other than loss.
Kesari Singh considered this couplet as a satire on himself. Self-respecting Kesari Singh, trembling with anger, wrote five couplets and sent them to Thakur Khuman Singh. The five couplets written by Kesari Singh were as follows-
Dhan Re Bal Dhaniyap, Satlya Nar also Sanchvai.
Porus Tane Pratap, Tough Vadappan Kalia.
That is, on the strength of power, even the useless people get the right of ownership, but O Kaliya! Achieving nobility on the strength of one's manhood is certainly a difficult task.
Born J Joy, Gora Pagatal Ganjati
Khatravat sari khoya, garbage Anjasai Kalia.
Those who, without any resistance, have shamed their brotherhood, seeing their motherland being trampled at the feet of the British, O Kalia! Those people are now boasting in vain.
Government Ri Guy, Baniya Thakur Vajvai.
Qurab Batawai Kaya, feat. Heena Kalia.
Being humbled before the British power, those who believe in transactions like Banias are also called Thakurs. Hey Kalia! What respect are the people doing such petty acts showing their respect now?
Eat khapat mahe, kiss goran pag amazing.
Nijla Qurbaan Nahi, Karam Bihuna Kalia..
It is surprising that even after losing the honor of their ownership, these rulers are licking the feet of the white British. Hey Kalia! Despite this, these unfortunate people are not ashamed to be proud.
Kehar ri kulkan, bhidno, so kim forget.
Naam Dharam Pehchan, Koik Jaane Kalia..
Like Vanraj Singh, the total dignity of Kesari Singh has to be confronted. How could he forget her? Hey Kalia! Rarely do they know how to perform their duties according to their name and caste religion.
Khuman Singh, explaining the situation to Kesari Singh, wrote that my Doha was for Kaiser of Germany and not for you. That's why now I am taking out my couplets from the Kaliya century and I am including five couplets written by you.
Translation of Buddha-charita in Hindi
The prominent Buddhist scholar Ashwaghosha wrote the biography of Mahatma Buddha in the name of Buddha-charita which was translated into all the languages ​​of the world. Before independence, it was taught in Sanskrit language in undergraduate and postgraduate languages ​​in various universities of India. When Kesari Singh was in the service of the Mewar court, he saw a copy of the Buddha Charit in the Saraswati Bhandar of Maharana. Kesari Singh liked it so much that he prepared a handwritten copy of it and kept it with him. In 1935, Kesari Singh translated 16 cantos of this book into Hindi in a span of just two months. Earlier, no authentic Hindi translation of Buddha Charita was available. Kesari Singh left the seventeenth chapter of this book for the headmistress of Maharani Girls High School Kota, Kumari Rampyari Shastri, who wanted her name to be associated with the book. In 1940, Vidyabhushan Harinarayan of Jaipur sent this translation to Nagari Pracharini Sabha Kashi for publication. Kesari Singh passed away after some time, due to which no further progress could be made in this matter.
Biography of Kaviraja Shyamaldas
Mahamahopadhyaya Kaviraja Shyamdalas Dadhiwadiya was born in AD 1836. He composed a famous book called Veer Vinod, in which the history of Mewar is given. This book is an important place in the history of India. Shyamaldas was the maternal uncle of Kesari Singh's father, Krishna Singh. Therefore Kesari Singh remained in close contact with him throughout his life. Kesari Singh was also with Kaviraja in his last days. Kesari Singh completed the last year of his life by writing a biography of Kaviraja. This biography has special significance in the history of Rajasthan.