The German Schnellboot (S-Boot) differed greatly from its Royal Navy counterparts. It had its origin in a civilian model developed by Lürssen in the early thirties; built of wood on a steel frame, it had a round-chine hull which gave it a lower maximum speed than that of the British hard-chine boats, but a much better seakeeping:the S-Boot could in fact maintain its top speed in weather conditions that forced English sailors to idle.
Diesel propulsion was specified from the start, but the S1 prototype of 1930 and the S2 to S5 of 1931 -1932 had to make do with petrol engines until DaimlerBenz and MAN developed suitable hardware, and the 1934-1935 S6 to S13 were the first units to receive the planned three-shaft Diesel installation.
These 32.40 m boats had a speed of 35 knots which was considered insufficient by the German authorities and, on the next group, the seven-cylinder diesels gave way
eleven-cylinder engines; this change improved the speed but required a lengthening of the hull, increased to 34.70 m.
Thanks to their larger dimensions, the S-Boote could carry their two torpedo tubes at the forward of the navigation shelter, which left room to stow two refills behind them.
From the S26, the forecastle was raised by one meter, a modification which made it possible to increase the freeboard and to bury the torpedo tubes, between which it became possible to install a cannon.
Quieter than their British counterparts, the S-Boote had moreover a silhouette difficult to spot without radar. Gun armament had to be continually increased to match that of their opponents, but the additional load was largely compensated by more powerful engines and the weight savings achieved by new construction techniques. The protection was improved thanks to the adoption of an armored gangway of the "Kalotte" type.
The Allies called E-boat (E-boat) the Schnellboot, it is commonly accepted that the " E" stands for "enemy", but it's possible he stood for Eilboot (hurry boat)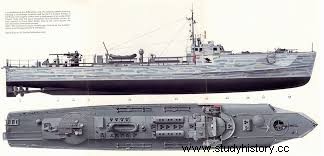 Features
Class S 26
Displacement :93 t standard, 115 t at full load.
Dimensions:
length , 34.95 m;
width , 5.10 m;
draft ,1.40 m.
Engine apparatus :3 Diesel engines developing 6,000 hp and driving 3 shafts.
Speed speed:39.5 knots.
Range :1,390 m at 35 knots.
Armament :2 x 533 mm torpedo tubes with 4 torpedoes, 2 x 20 mm guns.
Crew :up to 21 officers and sailors.