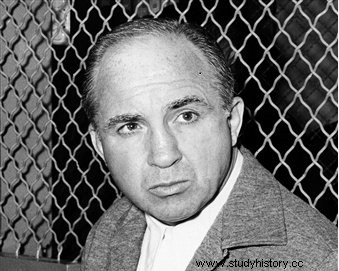 Mickey Cohen (born Meyer Harris Cohen on September 4, 1913 in Brooklyn, New York and died on July 29, 1976 (age 62) in Los Angeles) was a Yiddish Connection mobster with very close ties to the Italian Mafia. His influence within organized crime in Los Angeles was very important from the 1930s to the 1960s.
The early years:from small trafficker to boxing champion
Mickey Cohen was born on September 4, 1913 in Brooklyn, New York (although his grave is dated 1914). His mother, Fanny, had left kyiv in Ukraine to emigrate to the United States. Between 1916 and 1919, the latter moved with her sister Lillie and little Mickey in the Boyle Heights district of Los Angeles, where she opened a grocery store and a pharmacy, then abandoned her family shortly afterwards. Six-year-old Mickey sells newspapers on the street, where his brothers Harry and Louis drop him off. Mickey and his brothers (with the exception of Sam), observant Jews, quickly become real smugglers who do not hesitate to fight to protect their illegal trade. In 1923, at nine years old, Mickey sells alcohol to customers of the family pharmacy, transformed into a clandestine distillery. He was arrested for the first time on this occasion but quickly released thanks to his brother's connections. He will resume selling bootleg alcohol a little later in Los Angeles.
Accustomed to fights as a teenager, Mickey begins to organize and participate in illegal boxing matches:first in Los Angeles, then on the East Coast. Very gifted, he is offered fights as a professional featherweight boxer (he measures 1.65 m). He will thus be opposed to excellent boxers, including Tommy Paul in Cleveland who will however beat him by technical knockout from the 1st round.
The encounter with organized crime and the mafia
A noted gangster and boxer, Cohen stood out from the heads of organized crime. Punchy and clever, he is hired by the mafia. He was then installed in Cleveland (Ohio). He met Lou Rothkopf, an associate of Moe Dalitz, then returned to the East Coast, New York, where he became an associate of Tommy Dioguardi, Johnny Dio, and Owney Madden. He then leaves for the center of the country in Chicago.
The 1920s:Prohibition
Al Capone controlled several traffics in Chicago at the time, including that of alcohol. Mickey Cohen works as an enforcer for Al Capone's organization (the Chicago Outfit) and specializes in card games. Mickey is convicted for his role in the deaths of several mobsters at a card game that is believed to have gone wrong, but those mobsters may have owed Capone money.
Al Capone uses his influence to quickly free Cohen, who resumes organizing card parties and other illegal gambling operations. He later becomes the partner of Mattie Capone, Al's younger brother. He will also work for Jake Guzik but he will quickly be forced to abandon Chicago for Cleveland, after losing a game of chance that he himself had offered.
In Cleveland, Cohen again worked for Lou Rothkopf, an associate of Meyer Lansky and Bugsy Siegel. But there is little work for Cohen in Cleveland and he has several conflicts with members of the Capone clan; he was then sent to Los Angeles on the West Coast.
From Syndicate bodyguard to Los Angeles leader
In Los Angeles, Meyer Lansky and Lou Rothkopf assigned him to assist Bugsy Siegel, also somewhat out of favor on the East Coast. During their association, Cohen participated in the construction of the Flamingo Hotel in Las Vegas, a city controlled by Italians. In 1947, the crime families ordered Siegel's death, on the pretext that he had mismanaged the Flamingo Hotel and that he or his girlfriend (Virginia Hill) had dipped into the fund. Cohen takes the news of the murder of his associate and friend very badly. He seeks revenge, inquires about the murderers. He learns that they are staying at the Hotel Roosevelt; he goes there, shoots two people before going after the ceiling, demanding that the assassins meet him outside in ten minutes. But no one appears and Cohen has to flee when the police arrive. Chances are that Cohen was just playing comedy here:he benefits from the crime since Siegel dead, he becomes the one and only leader of gambling control in Las Vegas.
The 1950s:the apotheosis, one of the two kings of Los Angeles
The Italian Mafia, by killing Siegel, decapitated the Los Angeles organization, which then passed under its direct control. Frank Carbo of the Dragna family is in charge of the town. Mickey Cohen, who had worked with this mafia before, continues to control the gambling industry. His violent methods eventually bring him to the attention of federal authorities who are investigating the operations of the Dragna clan.
During this period, Cohen had to face several assassination attempts, some of which were probably instigated by law enforcement. His house, located on the very chic Moreno Avenue, in Brentwood, will even be bombed. To protect himself, he turns his house into a fortress, installing searchlights, alarm systems and a well-equipped armory which he keeps, as he likes to jokingly tell, next to his 200 custom-cut suits. /P>
Mickey Cohen also briefly had Johnny Stompanato as his bodyguard and driver. Like Stompanato, he had a taste for women, some of the most famous and attractive, from Hollywood actresses to strippers. Mickey Cohen very often cheats on his wife; when she died, he was happy to affirm that she was an incomparable lady and that he would never find one like her again. Cohen will never remarry. Without realizing it, the death of his wife marks the beginning of the end for him.
In 1950, Michael Cohen was the subject of a parliamentary inquiry along with many other criminals. The commission in charge of the investigation will condemn Cohen for tax evasion to five years of imprisonment, he will only do four. He is interned in a Washington State penitentiary; he is well treated there, maintaining friendly and warm relations with his guardians (he even serves as their dyer). Released, he returned to Los Angeles where he resumed his previous activities, acquiring international fame. He will be editor of a newspaper whose sales will break records, according to writer Brad Lewis. He even appeared on television screens, interviewed by Mike Wallace, towards the end of the 1950s. According to the writer Richard Lamparsk, he subsequently invested in his neighborhood of Brentwoodes where he owned florists, drugstores, night, casinos, gas stations, haberdasheries, etc.
The 1960s:difficult years of internment
In 1961, Cohen was again convicted of tax evasion, but this time for 15 years, and sent to a harsher prison, Alcatraz. When the center was finally closed (1963), he was transferred to Atlanta Penitentiary. For him, this is a disastrous turn:far from Los Angeles, he is much less influential with the other inmates and is therefore more vulnerable. It was then that he had a bad encounter:a fellow prisoner violently hit him on the head for no reason in his cell with a lead tube. He was unable to defend himself as he was attacked from behind while watching television. Plunged into a coma, he wakes up a few days later. Suffering from irreparable brain damage as well as memory problems, he remained seriously affected until his death. He was released from prison in 1972.
The 1970s:liberation and death
Free and back in LA, he bonded with actress Edy Williams. Cohen knows everyone in Hollywood, including Marilyn Monroe. He is close to Richard Nixon and appears alongside his friend the preacher Billy Graham at an evangelical rally in Madison Square Garden. We hear about him again on the occasion of the kidnapping of Patricia Hearst, the granddaughter of William Randolph Hearst, a longtime friend:Hearst wants him to intervene to free his granddaughter, but Cohen does not know the kidnappers and therefore cannot do anything.
Cohen died in his sleep in 1976 from an ulcer that degenerated into a stomach tumor. He is buried in Hillside Memorial Park Cemetery in Culver City, California.
In popular culture
We find the character of Mickey in many films, TV movies or series:
1988:Shakedown on the Sunset Strip (TV) by Walter Grauman, played by Harris Laskaway
1991:Bugsy by Barry Levinson, played by Harvey Keitel
1993:Fallen Angels (TV Series) - Season 1, Episode 6, portrayed by James Woods
1997:L.A. Confidential by Curtis Hanson, portrayed by Paul Guilfoyle
1998:The Kings from Las Vegas (The Rat Pack) by Rob Cohen, played by Alan Woolf
2011:L.A. Noire, video game by Rockstar Games and Team Bondi, played by Patrick Fischler
2012:Gangster Squad by Ruben Fleischer, played by Sean Penn
2013:Mob City by Frank Darabont, played by Jeremy Luke