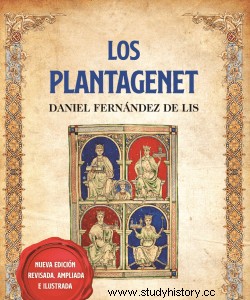 Entry taken from the book The Plantagenets
In December 1154, Henry of Anjou was crowned at Westminster as King of England under the name of Henry II, thus giving rise to the Plantagenet dynasty, which would rule England and part of France for more than three hundred years. He was accompanied by his wife, one of the most extraordinary characters of the Middle Ages:Eleanor of Aquitaine.
Leonor was nine years older than Henri, Duchess of Aquitaine, rich, beautiful, powerful, owner of an exceptional dowry that stretched from Anjou to the Pyrenees, experienced in politics, mistress of culture and poetry, veteran of the crusades, famous throughout Europe... and until two months before the wedding, wife of the King of France, Louis VII, with whom she had already had two daughters.
Leonor of Aquitaine is one of the capital characters of medieval Europe for her personality, for her independence, for the fierce defense of her rights and those of her children, for her patronage cultural, for his political capacity and for the scandals that accompanied him from a very young age. Daughter of William X, Duke of Aquitaine and Count of Poitiers, born in 1124 in a court where art, poetry and gallant love flourished, Eleanor soon stood out for her personality and her independent character. When she was only thirteen years old, her father died and Eleanor inherited a rich and extensive territory, equivalent to a third of present-day France, which included the lordship of Gascony, the cities of Bordeaux and Bayonne, and the counties of Angoulême, Saintonge, Perigord, Limousin, Auvergne and La Marche.
But the gift came with a surprise, an unpleasant one at that. Aquitaine was a traditionally difficult county to govern, with powerful feudal lords accustomed to doing their bidding and opposing the policies of the duke in power, whose vassals they were only nominally. If this situation was difficult to control for grown men with years of experience on the battlefields and in politics, it seemed much more so for an innocent and inexperienced thirteen-year-old girl. In the mentality of her time there was only one solution for her:find a strong and powerful husband who would lend her political and military support. And the ideal candidate for it could not be other than the most powerful bachelor in continental Europe:the crown prince of France.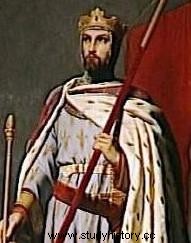 Thus, only three months after the death of her father, Eleanor, married Prince Louis of France; In addition, a few days later, the French King Louis VI died and his son succeeded him with the name of Louis VII, with which Eleanor became Queen of France. There was an immediate and brutal clash of cultures between the austerity of the French court in the north and Louis himself (who according to chroniclers of the time "dressed like a monk") with the joy and nonchalance of the Aquitanian court in the south, the one represented by the young Leonor, whose attitude and customs caused scandal after scandal in the monastic Parisian aristocracy.
The royal couple took part in the second crusade in 1147, but scandalous rumors continually accompanied Eleanor:that she did advise her husband militarily with disastrous consequences; that she did have an affair with her own uncle and governor of Antioch Raimundo de Tolosa; that she did participate in a party in Constantinople disguised as an Amazon and with one breast exposed; What if she fell in love with her and was about to elope with a Muslim leader...
Her relationship with Louis VII inevitably and progressively deteriorated; Neither the severe admonitions of Pope Eugene III nor the birth of two daughters (Maria, Countess of Champagne and Alix, Countess of Blois, born in 1145 and 1150 respectively) could prevent the couple from finally requesting the annulment of their marriage. Luis couldn't stand the scandals and courtly love fostered by his wife, or the fact that he hadn't given her a male heir; Leonor, who had little to say when she was betrothed, could not stand Luis's severity and his court's modesty. And probably she already had in mind another candidate to be her husband if the annulment of the marriage was decreed, as she did in an assembly of French bishops on March 21, 1152, with the handy excuse of consanguinity between the spouses.
Once her union with Louis was annulled, Eleanor's fragile spinsterhood no longer had the protection of the kingdom of France, and it was likely that more than one candidate for her hand would think of kidnap her to force her to marry and put the rest of the world in front of the fait accompli. As she secretly returned to her domain, Eleanor thought that the best way to protect herself from the predators who wanted to get (by force or by force) her juicy inheritance was that the inevitable new marriage that she had to contract would be on her own terms and with the person she chose. She had met Henry of Anjou in 1151 when he and his mother paid homage to the King of France for his Norman lordships. It is impossible to know if the couple had experienced physical attraction at that time, but what is certain is that both were fully aware of what a marriage alliance between their respective houses would entail.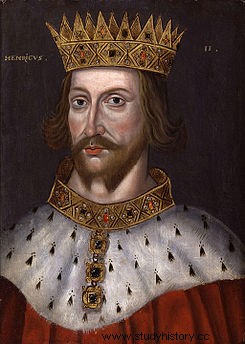 Be that as it may, as soon as he secretly came to Poitiers, Eleanor sent a message to Henry, who was in Lisieux preparing an invasion of England, to urgently meet with her. Henry wasted no time, he canceled all his plans and met with Eleanor in Poitiers where the wedding was celebrated on March 18, 1152. Great was the surprise of all Europe (especially that of the French monarch, who although he must have known that Eleanor was would remarry, he would think that she, as his former wife, and Henry, as his vassal in Normandy, would ask permission before becoming engaged) to this union, only two months after the annulment of the wife's first marriage.
Added Eleanor's holdings in Aquitaine to Henry's in Anjou and Normandy, the couple had as many lands on the continent as the King of France himself, and that's not counting the Henry's right to the throne of England. To make matters worse for Louis VII, Eleanor soon became pregnant and gave Henry a son, which not only made a mockery of Eleanor's supposed inability to have an heir, but also threatened the rights of her parents. daughters with the French king to inherit the Duchy of Aquitaine. Relations between Louis VII and Henry of Anjou did not exactly improve.
Eleanor's history first as queen of England until the death of her husband and later as queen mother during the rule of her sons Richard the Lionheart and John the Landless was extraordinary and it makes any work of fiction seem bland and to this I will dedicate the second entry in this series dedicated to Eleanor of Aquitaine, queen of England and France and founder of the Plantagenet dynasty.
Image| Wikimedia commons
Fonts|
Fernández de Lis, D.. The Plantagenets. (2022). Madrid.
Jones. D.. Plantagenets, The Kings Who Made England. . Ed. William Collins, London. 1st edition (2103)
Ackroyd. P. A History of England Volume I (Foundations ).Ed. Mcmillan, London. 1st edition (2011)
Strong. A. The Story of Britain .Ed. Pimlico, London. 1st edition (1998)
Schama, S. A History of Britain .BBC Worldwide Limited, London. 1st edition, fourth printing (2000)
Wilson, D. The Plantagenets, The Kings That Made Britain . Quercus Edition Ltd., London. Ebook edition (2014)
Morris, M. King John:Treachery, Tyranny and the Road to Magna Carta. Cornerstone Digital. Ebook edition (2015)