Lisa Montgomery became the first woman to be executed (by lethal injection) by the US federal authorities, after 70 years, when Wednesday 13/1 dawned in Greece. A day earlier, Judge James Hanlon had ordered an adjournment, with her lawyers arguing that her mental health is so far removed from reality that she cannot rationally understand the reason for her execution. '. Donald Trump was installed immediately, as it was one of his last decisions as President and the Supreme Court met in an emergency, to end up in the early hours of the immediate execution. It happened at 08:31 Greek time, in the presence of journalists, to whom the condemned woman turned her gaze - for a few seconds (they were separated by a window). The woman on top of her removed her mask and asked if she had anything to say. She whispered 'no', closed her eyes and did not open them again.
Montgomery was the only woman on death row in the US - where 55% still believe the appropriate punishment for murder is execution. Historically, only three women have been executed:Mary Surratt in 1865 (by hanging - convicted of her involvement in a plot to assassinate President Abraham Lincoln), Ethel Rosenberg in 1953 (in the electric chair - convicted of being a spy for the Soviet Union, together with her husband, Julius, who was also executed) and Bonnie Heady also, in 1953 (in the gas chamber - along with Karl Hall had kidnapped and murdered a 6-year-old boy, the son of a millionaire car dealer, after demanding the largest ransom ever had ever requested a kidnapper).
Montgomery's case was very different.
On December 16, 2004, 23-year-old Bobbie Jo Stinnett was found murdered in her home in Skidmore, Missouri. The body was discovered by the victim's mother, Becky, a few hours after the incident. Stinnett, who had not spent time married, was eight months pregnant. She would become a mother for the first time. The baby was nowhere to be found.
Together with her husband they ran a dog kennel, which they advertised on the Internet. She met Risa Marie Montgomery through a chatroom for people interested in getting terrier dogs. Montgomery had introduced herself as 'Darlene Fischer' and was stating such a case. She had met Stinnett at a dog show in Kansas and that's when she hatched her plan.
Based on this, she would be friends with Stinnett, claiming that she wants a dog and that she is also pregnant. Soon the conversations became daily. They shared thoughts, feelings and concerns about their pregnancies. One day they arranged to meet at Stinnett's house, 170 miles away from Montgomery's. They made an appointment for 12/16/2004, when Montgomery attacked the hostess, strangled her ('with a wire or rope'), tore open her abdomen with a kitchen knife, removed the -premature- fetus from her womb and took it with her . Removal of the fetus was Stinnett's cause of death, according to the autopsy.
Residents of the area had seen a two-door red Honda outside the victim's house. The search began immediately. In the early hours of December 18, the vehicle was spotted - abandoned - in Atchison County. An Amber Alert was immediately issued and a manhunt began. Montgomery (he noted that her real name was revealed when detectives who read the messages and emails she exchanged with the victim traced her IP address) was arrested two days later in Kansas.
At first she claimed the baby was hers, which was disproved by DNA testing. It was then that she confessed her actions. She 'explained' that she did what she did because she had lied to her husband that they were expecting a child. It was the umpteenth time she had said something like that to him in three years. The 'story' always ended with the loss of the fetus. When she murdered Stinnett, she was with Kevin in court over their child custody. He had informed her that he would use her lies.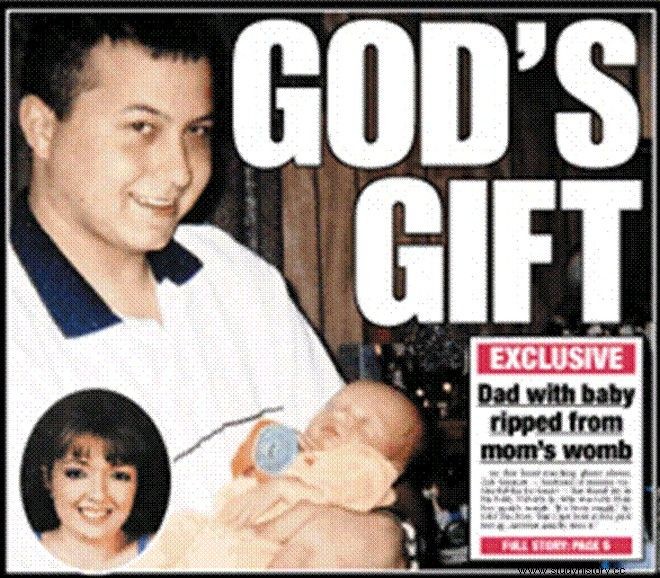 As the police had informed, the baby was healthy. Victoria returned to her father's arms. The authorities also informed that it was not the first abduction of an embryo, but the 9th, since 1987. Usually the abductors were women who declared themselves pregnant when they were not and then took the embryos of others. Montgomery was charged with 'kidnapping resulting in death'. At best he would be sentenced to life in prison. There was also the possibility that the death penalty would be imposed on her.
In the depositions, before the first trial, a neuropsychologist who examined the defendant had said that 'from the beatings she suffered some years earlier, the part of the brain that controls aggression may have been destroyed'.
Death row lawyer Frederick Duchardt was assigned to Montgomery in April 2006 by Judge Fenner. A 2016 Guardian article featured Duchardt as follows:"Has more federal death row clients than any other attorney in the US ". The title of the longread was 'the lawyer who keeps losing'. There were not a few elements inside that showed that he did anything but do his job well.
From his appointment until the end of 2006, Duchardt had so many cases to manage that he failed to meet with Montgomery more than three times. The issue of her lack of trust with men led him to send his wife Ryland on 16 dates with Montgomery. Ryland had nothing to do with work (she was a horse-assisted therapist for autistic children). As the trial approached (October 2007) the lawyer focused on her guilt.
He was sure he could challenge her, through two contradictory strategies. First he would hint that Stinnett was not murdered by his client, but by her brother, who had given Montgomery the child. A week before he appeared before the judge, he learned that Tommy had an alibi:he was with his probation officer at the time of the murder.
Additionally, the remaining members of Montgomery's family, who could provide evidence of how she grew up and possibly save her from execution, disappeared when they learned that she intended to 'blame' her brother.>
Fatefully, Duchardt switched to the second tactic:he would admit that while Montgomery was the murderer, she was not guilty by reason of insanity - he would argue that it was the result of a false pregnancy that his client 'passed'. But as the expert he consulted assured him, this claim had no scientific basis. After that, Duchardt's defense that the woman was hallucinating was rejected by the jury, which recommended the death penalty - while Judge Gary A. Fenner had imposed a life sentence. The change was approved on 4/4/2008 and Montgomery became number 11072-031 at the federal prison for women in Texas - where she began receiving drug, psychological and psychiatric treatment. As of 2017, he is at the Federal Medical Center in Carswell, Texas.
The appeals team took her story from scratch and built it through 450 interviews with family members, friends, doctors, social workers and mental health professionals. There was little evidence that as a child he had suffered 'from the most extreme and unrelenting cases of physical and sexual abuse'. Her torment had begun before she was even born. Her alcoholic mother 'passed' her fetal alcohol syndrome.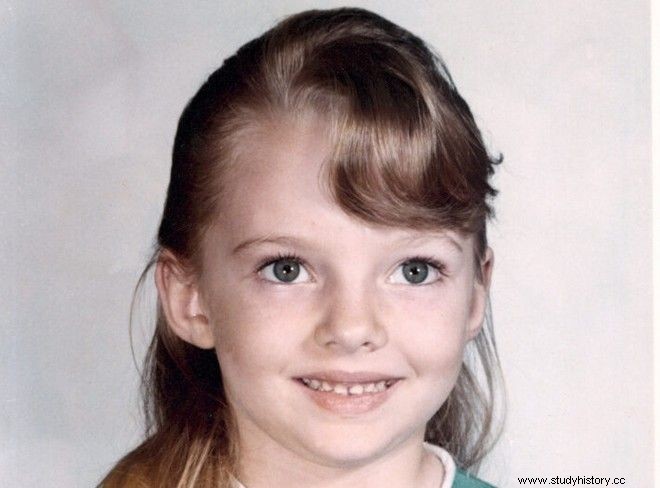 Her mother caught her stepfather red-handed and demanded responsibility from her daughter
He was sexually abused for the first time when he was 3 years old. She was lying next to her 8-year-old sister, Diane, when she was raped by the man their family hired to babysit.
The biological father left the house and Judy began hosting her partners. Diane has stated that 'our mother was an expert at manipulating everyone and deceiving. She enjoyed torturing those around her '. She escaped early, being removed from home by providence. Lisa continued to live with her mother and occasional friends.
At 11 she was raped for the first time by her stepfather, Jack, who, according to the children he had earlier, was always drunk and beat her and her mother every day. Since then he was subjected to sexual abuse once or twice a week.
When she was 13 years old, he "made" a special room (with soundproofing and its own door), next to the trailer where they lived in the woods of Oklahoma, to rape her with his "quietness". He often pressed her face with a pillow. When she resisted, he would grab her by the hair and slam her head on the floor (an MRI done many years later proved that she had suffered a serious injury).
Montgomery resorted to alcohol in order to 'block' the reality she was living. A year later, her mother, July broke into the special room and 'caught' her husband abusing her daughter. 'Lisa lived the biggest nightmare of her life' said the advocates. You see, her mother stuck the barrel to her own head, screaming 'how could you do this to me?' Over the years, Jack began to invite his friends to the rapes. They did whatever perverted thing they had in mind on Lisa. Sometimes her mother would give her to the plumber or electrician, instead of money for their work.
As a teenager Lisa had confided in a cousin (who was a police officer) that men were tying her up, beating her and then urinating on her. He didn't do anything.
At some point Judy got a divorce from Jack. And then he denounced his abominations. The judge scolded her for not reporting the rapes in time and left it at that. "There was a doctor in Oklahoma who had examined her when she was a child and noted the repeated rapes, but he did nothing. As welfare didn't do anything when her mother reported the sexual abuse ", eyewitnesses pointed out.
She attempted to escape when she was 18 by marrying her half-brother. Her husband, Carl became a perpetuator of the violence she experienced as a child. He recorded the beatings and rapes, with a video camera. The material was discovered by Lisa's brother, by accident. He said it was like watching a horror movie. I didn't know what to say to my sister or what to do.' The couple had four children. She underwent a sterilization operation (tied the fallopian tubes) in 1990. However, since then she believed several times that she was pregnant. Friends and relatives pointed out that at some point in time "she had started to build a world of her own". She divorced Carl and shortly after, married Kevin, who filed for divorce in 2004, tired of her lies. According to the experts, she imagined she was pregnant, while she lost touch with reality. '.
Examinations to which she was subjected after her conviction showed that she had depression, borderline personality disorder, post-traumatic stress and psychosis which was a result of schizophrenia. You will allow me to define the word 'psychosis', because misuse has given rise to misinterpretations. "Psychosis is not a disease, but a syndrome that can occur in many disorders, psychological and physical. It is a lack of reality control, i.e. the person perceives and evaluates, in his own personal way, the stimuli of the external environment" . The individual is not aware of diversity. It is certain that he feels what is really happening, no matter what others say.
All the disorders that were diagnosed and 'blocked' contact with reality, arose as defensive 'mechanisms' for survival. Meanwhile, from the repeated blows he had received, he had suffered permanent brain damage.
This evidence was not available at her first trial, where she appeared impassive and unfeeling (as if she had no regrets) to those who saw her in the defendant's chair. Her apathy had to do with the antipsychotic medication she was taking. Clinical sociologist Janet Vogelsang spent many hours with Montgomery in 2016. In her 184 page report https://beta.documentcloud.org/documents/20429811-jan-vogelsang-social-history, she writes that "speaking with her it was like talking to war veterans who were kept in cages and underground, under the worst conditions. Sexual assaults, gang rapes, sex trafficking and violence were just the beginning. She was always humiliated and belittled.
Since she was little, her mother put tape over her mouth so she wouldn't talk, while leaving her naked outside the house for drunk visitors to see. He had assured her that if she made the slightest noise he would send her somewhere far away. Her parents made her beat her sister with a board until she bled. As for the abuse from her stepfather it was not only physical, but mostly mental. He had made a hole in the wardrobe to watch when she came home from school and spent hours watching her. She would curl up, like a fetus where she knew Jack wasn't making eye contact, and sit still for hours. She was isolated, constantly brainwashed, humiliated, degraded and beaten whenever they wanted ".
Those mental health specialists who had visited her said that while they were talking she would 'disappear'. When she was asked about her childhood, in the narration she had a 'blank' look', her voice 'came out with difficulty and she referred to herself, in the third person.
When Duchardt was asked to explain his omissions (why he didn't even do the basics), he wrote more than 100 pages to defend his work, insisting that none of these issues raised by the appeals team have merit. '. The US Supreme Court rejected the request for reconsideration on 3/19/2012 and set the execution date for December 8, 2020. Due to her lawyer's positive Covid-19 sample, the execution was moved to January 12, 2021.
On New Year's Day, a three-judge panel of the Columbia Court of Appeals denied a new request to move the date back - due to technical issues. Trump had given a relevant order. In one of his last decisions as Planetary, he pushed for the execution of 10 death row inmates. The last postponement that was given was obviously not liked and with the most concise procedures the case went to the Supreme Court of the country, which during the night decided to carry out the execution immediately. The victim's family spoke of 'completion'. This abuser did not say anything to her. Now I would like you to think about how you feel.