The monarchs did not have it easy in matters of the heart. Political alliances and dynastic aspirations have always been put before their personal feelings and impulses of passion. The French kings and queens knew it all too well. It was already starting on the wedding night. And then it only got worse.
The peace between Spain and France in 1659 was to be sealed by the marriage of Louis XIV and Maria Theresa. Philip IV was delighted with his future son-in-law:"Indeed, he is a very handsome young man." The groom did not share his enthusiasm. He did not like the fact that he had to give up his affairs (including with Maria Mancini) and for the sake of the country to be married to a Spanish princess.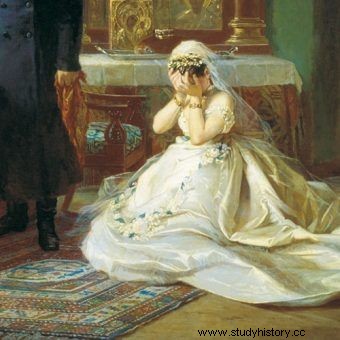 Marriage, especially in royal houses, was often the beginning of a difficult, loveless relationship in the name of politics.
At first, the mere thought of marrying Maria Theresa disgusted him. However, he soon changed his mind. According to the words of Madame de Motteville, on the wedding night, the Queen, on the news that Louis had already undressed, "sat down on two pillows next to the balusters of the bed to do the same, not taking up a seat at the preparation room ... She undressed without any fuss (...), she said these are the words: «Quick, quick, the king is waiting for me» ". She won her husband's sympathy by submissiveness, but did not cool down his aspirations for love adventures outside the marriage bed.
Beauty and the Beast
Princess Maria Ludwika of Orleans, famous for her beauty, did not have the right to choose a life partner. Upon hearing that her hand was given to the King of Spain, the girl fainted. And it's hardly surprising her despair. Charles II was the fruit of a multi-generational incest among the Habsburgs:mentally retarded, with a deformed lip, which made him unable to speak clearly and constantly drooled, rather than arousing lust and warm feelings.
The groom, on the other hand, fell in love with his newly married wife immediately and strove for her favor . As Nicolas Mietton described in his book "The Erotic History of French Diplomacy":"They see him sneaking into her chambers in the evening, wearing only his nightgown, a cap on his head, a lantern in one hand, a sword in the other and a bottle of water under armpit ".
However, nothing happened. To this day, it is not known whether the relationship was consumed at all. The king was accused of ineptitude in these matters, and the queen, who was depressed by marriage, was accused of infertility. One monk even suggested that Karol perform unusual, even blasphemous exorcisms, consisting in rubbing "(...) relics against the naked bodies of the spouses stretched out on the bed" .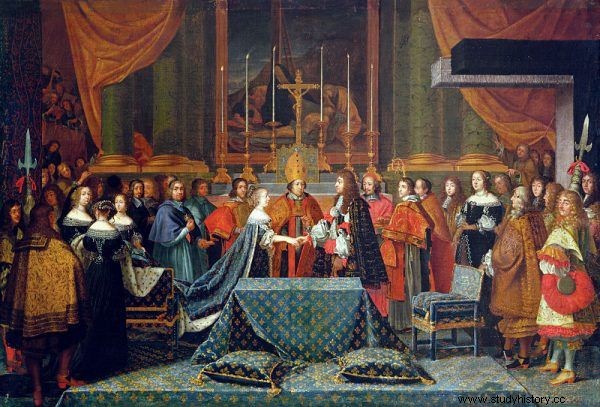 Louis XIV was in no hurry to get married. And although he even liked his wife in the end, he cheated on her all the time.
However, this procedure also proved to be unreliable, and the royal spouses did not have children in the end. So much good that a common goal (to beget a child, which they tried to achieve to a large extent ... with prayers) finally united them. Maria Ludwika accepted her fate and, in her own way, even loved her husband. And perhaps they would have lived happily ever after, had it not been for the sudden death of the queen in 1689. Officially - for natural reasons, but the court was buzzing with rumors about her poisoning.
Monster in the matrimonial bed
Marriage was also a way to take over the property of its other half. Prince Étienne-Franҫois de Choiseul, descended from the Lorraine family related to the Capetian dynasty, was not very wealthy. In order to slightly improve his finances, he had an affair with the Duchess de Gontaut, née Antoinette Eustachie du Châtel.
A woman in love on her deathbed forced her then ten-year-old sister, Louise Honorine, to take a controversial oath. The girl promised the dying person that she would… marry her lover . In this way, the duchess wanted to provide him with a prosperous life - he would have to enrich himself by 120,000 livres. Blinded by her feeling, she did not even imagine what fate she had for her little sister.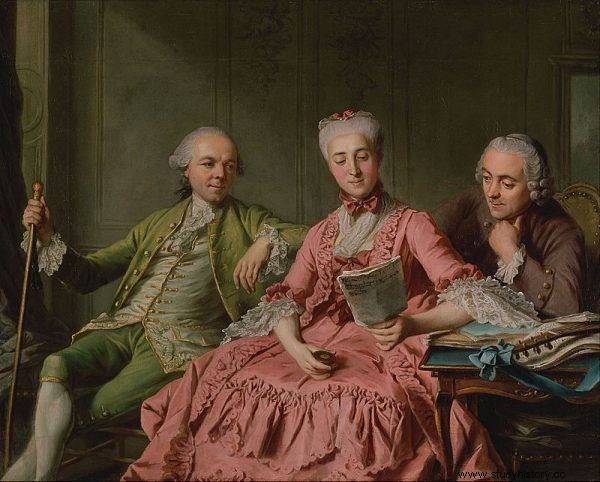 Étienne-Franҫois de Choiseul could be gallant towards women. Unless it was about his young wife.
Likewise, Louise Honorine could not have suspected the price she would pay for fulfilling her obligations to Antoinette. For, although the body of the duchess had not yet cooled down, he eagerly took up the fulfillment of obligations on the part of his future wife. He was so eager to get her dowry that he arranged the wedding almost immediately, regardless of the young age of his fiancée.
But he had to do more than just money. Although he had received it, he did not intend to "let go" of the young wife. He was neither understanding nor gentle with her. The lust blinded him so much that he did not wait for her to reach sexual maturity. He raped her. He abused her body to the point where she was unable to produce offspring . Surprisingly, she did not hold a grudge against him and stuck with him to the end.
Awakened passion
Louis XV, on the other hand, was more lucky in the marriage bed. In his case, you can even talk about the romantic course of the wedding night! On Sunday, May 27, 1725, the French dolphin announced that he would marry Maria Leszczyńska, although it was not entirely clear whether this would happen. The Polish princess was not a good party, and the opponents of this union did their best to discourage the ruler from joining her . However, the first meeting between Louis and Mary on September 4, 1725, near Fontainebleau, turned out to be very successful. Benedetta Craveri's book reads:
The queen got out of the carriage and tried to kneel down, but the king, who was standing on the ground, gave her no time for this:he picked her up and kissed her cheeks so vigorously, never seen on him before .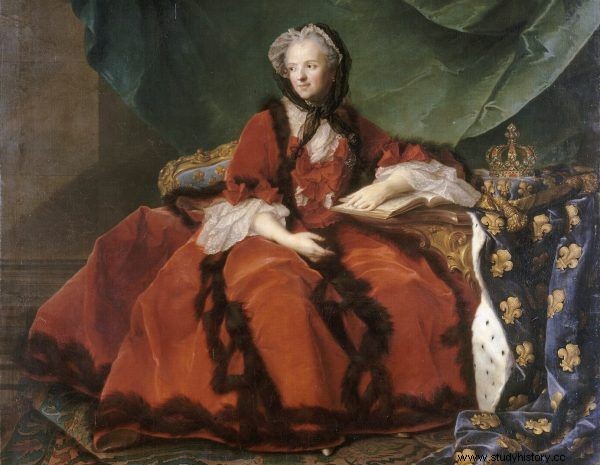 Maria Leszczyńska could not complain about an unsuccessful relationship. The husband did everything to please her.
The next day there was a wedding. Fearing whether Louis would cope with his first marriage duty, Cardinal de Fleury entrusted the mission of making the king aware "in these matters" to the butler Bachelier. He put up twelve paintings depicting making love in the monarch's chamber and placed lascivious figurines.
It worked. On the wedding night, " the spouse waited impatiently for the queen to lie down, and having undressed, he came to her bed with extraordinary enthusiasm . They stayed in bed from Wednesday night at eleven until ten in the morning the next day. " During this time, he gave his beloved "seven signs of affection."
Then Ludwik announced to all people about his love achievements, which were happening during the "royal" night. Over the years, he met his wife's needs with such eagerness and frequency that de Fleury wanted to introduce "Lenten Nights" for the royal couple.
Cold or warm?
The same cannot be said of Louis XVI. Unlike his grandfather, he retained sexual abstinence after marriage for a long time. In the king's circle, even rumors began to spread that Louis Augustus could not fulfill his marital obligation because of his impotence - phimosis.
He explained himself that the pain he felt in his intimate place kept him from getting closer. However, dryness and reluctance to reconcile bodily with one's wife can also be explained by prejudices he felt to her because of her Austrian ancestry.
Maria Antonina did not hide her irritation. In addition, she complained about the behavior of her husband, who in her opinion devoted too much time to his favorite activity - hunting and returned late from it. Concerned, Louis XV personally examined the grandson and concluded that no surgical intervention was necessary.
The marriage with Maria Antonina was finally consummated on July 22, 1773. As Nicolas Mietton describes in his book "The Erotic History of French Diplomacy", four years later Joseph II, brother of the Queen of France, summed up the whole matter in the following way:"The King of France (...) finally managed to accomplish a great work , and the queen may become pregnant. (...) Laziness, awkwardness and apathy were the only obstacles that prevented this.
Bibliography:
Baszkiewicz J., History of France , National Institute for them. Ossoliński 1974.
Baszkiewicz J., Louis XVI , National Institute for them. Ossoliński 1983.
Craveri B., Mistresses and Queens, Power of Women , Polish Scientific Publishers PWN 2010.
A woman unknown throughout history , ed. Obara-Pawłowska A., Miączewska A., Wróbel D., Maria Curie-Skłodowska University Publishing House 2017.
Magdziarz W. S., Louis XIV , National Institute for them. Ossoliński 2004.
Mietton N., The erotic history of French diplomacy , Bellona 2019 publishing house.