Official instructions for washing glasses. Searching for a replacement wife. Fighting supernatural forces and smuggling people. Are these scenes from an unrealized comedy by Stanisław Bareja? No, this is the everyday life of Polish ambassadors.
As the authors of the book "Ambassadors" have just been published, at one time in the corridors of the building of the Ministry of Foreign Affairs there was a saying describing a typical career of a diplomat:"Counselor, senior counselor, and a very old counselor".
Promotion was faster in the People's Republic of Poland, when points for origin were of key importance. No wonder that… a textile worker became the ambassador in London at the turn of the 1950s and 1960s. The biggest problem was that he had an overwhelming urge to touch the clothes of his interlocutors. He was too curious what material they were made of.
Terrified of what it might end up in the UK, the head of protocol gave him advice just before leaving:" Comrade ambassador, don't touch the queen , she has everything 100% wool. "
Furniture brawl
The worst exile was considered to be a commune to an outpost in Ulan Bator. Meanwhile, it happened that two Polish diplomats resided in the capital of Mongolia - the other, Tadeusz Strójwąs, was sent on behalf of the United Nations.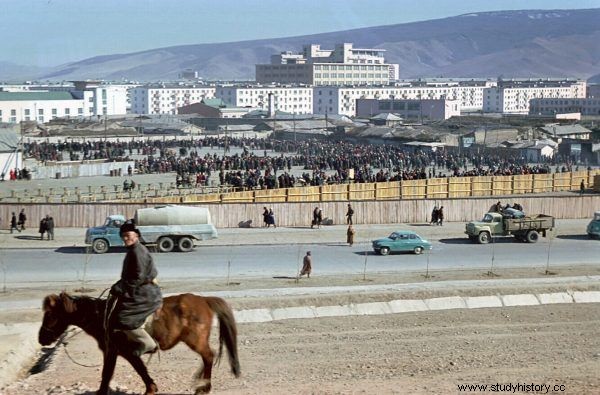 In Ulan Bator, several decades ago, the acquisition of furniture was almost a miracle. The Polish ambassador found out about it very painfully ... A flea market in the capital of Mongolia in 1972 (photo:Vadaro, license CC BY-SA 4.0, 3.0, 2.5, 2.0 and 1.0).
In poor Ulan Bator, many products were unavailable. Like the furniture. The Polish ambassador asked Strójwąs to take away a few old and damaged rubbish:a chest of drawers, a cupboard, a table and chairs. The UN representative renewed them - and it was so good that soon he was met with… demands to donate the furniture! As Strójwąs recalls:
The ambassador seated me in front of the window. It was morning, the sun had just risen and it was shining right in my face. And how did it start at the audition: "Where did you get this furniture from, Strojwas? Why did you take them? "
And the Stuffed Mustache had to return the restored equipment with difficulty.
But not to Venezuela
In 1976, Jerzy Bahr was offered to go to the post. The only man in the Ministry of Foreign Affairs who knew Romanian was supposed to go to… Venezuela. A stunned Bahr, who had nothing to do with South America, heard that Spanish and Romanian were such similar languages ​​...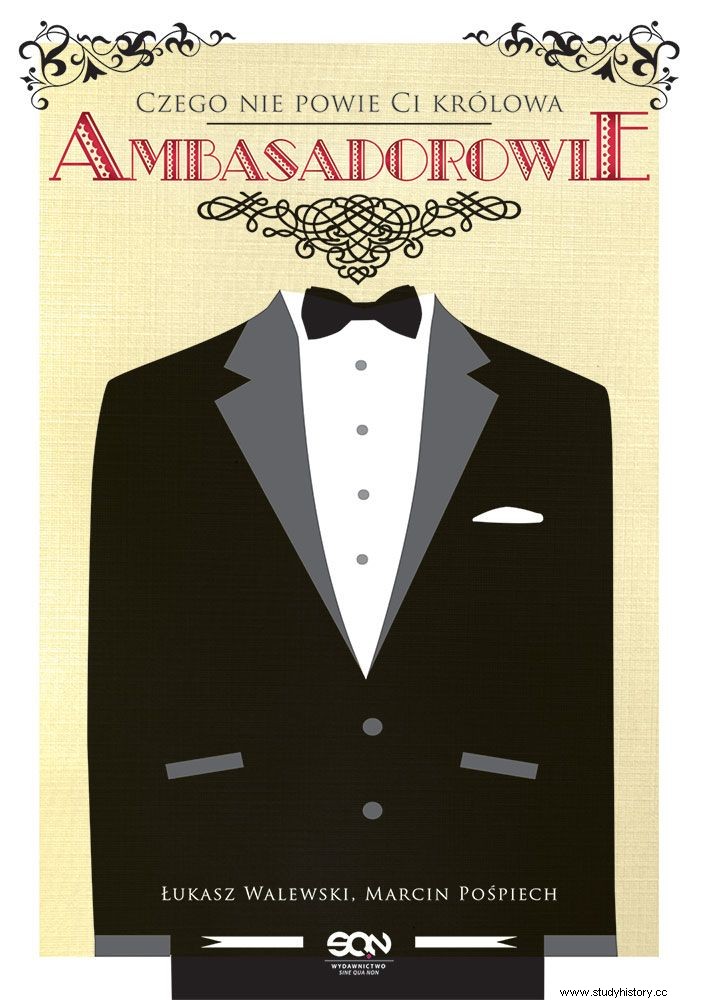 Somehow he managed to get away. And I guess it turned out well. As Łukasz Walewski and Marcin Pośpiech write, representatives in Caracas fought then with ... a curse! The wives of successive ambassadors died prematurely as a result of sudden illnesses or accidents. In the house, sometimes pictures fell off the walls unexpectedly and wardrobes opened by themselves.
Is this an embassy or a brothel?
A foreign mission - a showcase of Poland in foreign capitals - should be located in a representative district. But in 2003, the new ambassador to Bangkok, Bogdan Góralczyk, was horrified to discover that not only is his headquarters in a wooden hovel, but also a red light street in the center of the street. Even used condoms were scattered around the plot.
The ambassador decided to change the headquarters, but the headquarters had trouble getting money for this purpose. Finally, he purchased a floor in a skyscraper. And the former embassy building? It was sold to the owner of an adjacent premises and is now part of a nightlife facility…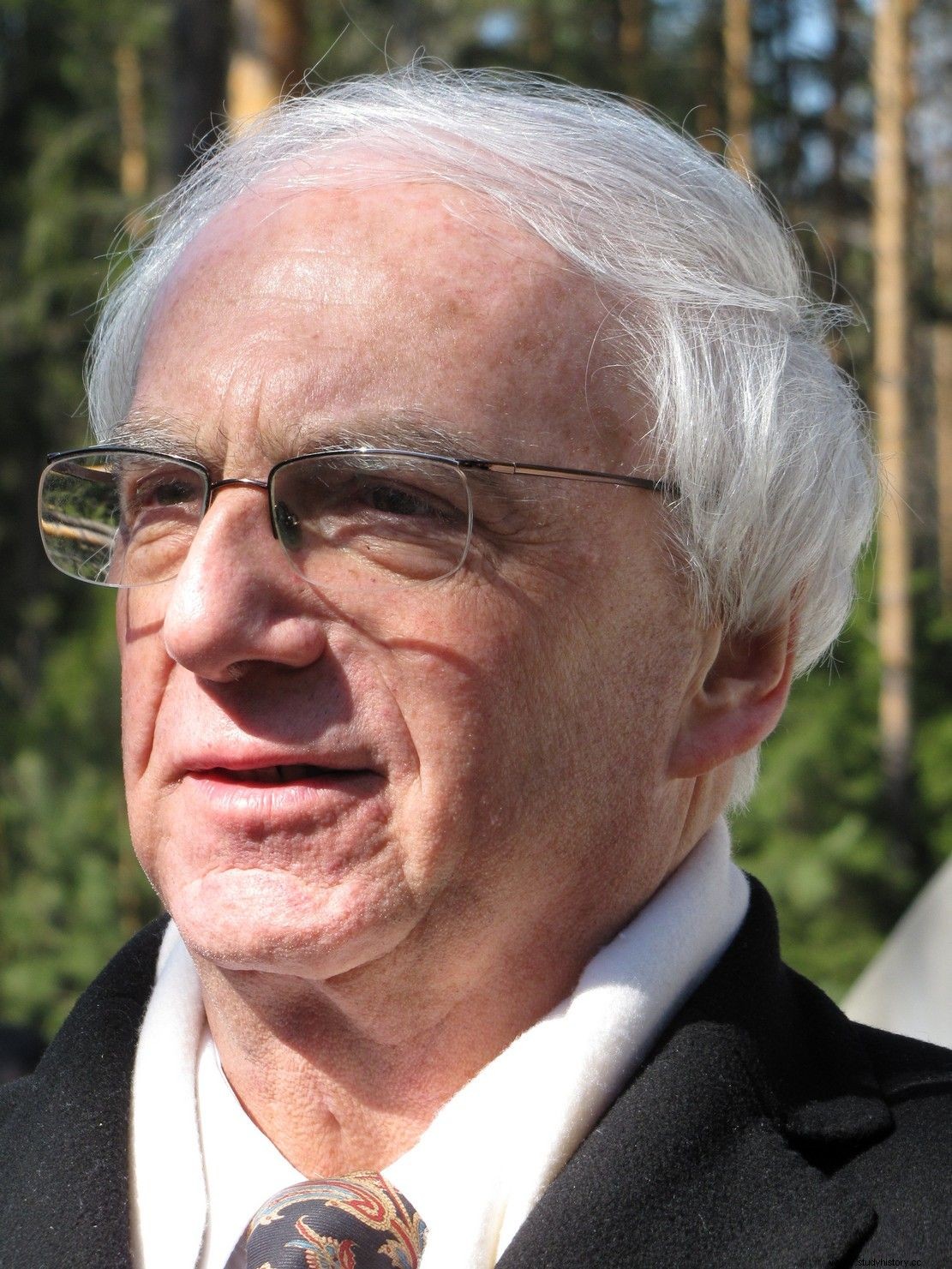 Jerzy Bahr managed to save himself from going to the cursed post in Caracas, but later he had more than one adventure residing in ... Kaliningrad (photo by Mariusz Kubik, license CC BY 3.0).
On the other hand, the building of our embassy in Algiers during World War II was a famous brothel for French officers. For many decades, giving her an address in France caused ironic smirks in the public.
Ridiculous boss
Although Krzysztof Skubiszewski made great contributions in the field of Polish foreign relations, his everyday attitude shocked. This head of the Ministry of Foreign Affairs in 1989-1993 was able to start his visit at the post with the ambassador's question with surprise in his voice: "I haven't canceled you yet?" .
A frequent reason for his visits was the refusal to eat - "Skubi's" sandwiches have become legendary. One ambassador first had a row about not having dinner with him and called for his sandwich. Meanwhile, the invited representatives of the Polish community sat down at the table. And Skubiszewski replied:"You're the ones who feast there, and you bring me some sandwiches ?!".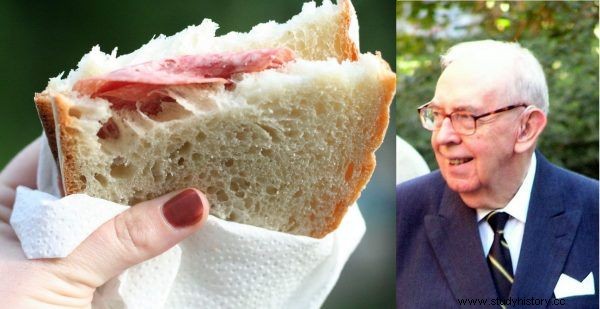 "Minister, here is your sandwich" (photo:sandwiches by leigh wolf (Flickr), license CC BY 2.0, photo:"Skubi" by Eter, license CC BY-SA 3.0).
On another occasion, he flew to Moscow at night, locating himself in a hotel by the embassy. A modest meal was included. But when Skubiszewski saw food that he did not order, he began scolding his subordinates that they had arranged a "sumptuous dinner". He immediately asked for the sandwich he had made on the plane. After the luggage was searched, she was found, and the minister ostentatiously consumed her. If only he knew she was found in his shoe…
Illegal consul
Sometimes - despite the best intentions - not everything can be done according to the letter of the law. The consul in Kaliningrad, Jerzy Bahr, would have been without cash if he had not exchanged money on the black market, because the banking system was in an incredible mess. The Azeri, with whom he was arranging the exchange, did not know who he was dealing with. Once he suggested Bahr to ... smuggle his friend in the trunk to Poland. As Bahr himself recalls:
I replied as you should talk to people of the East with a parable: they find - and I am one of the latter. " "Oh, I didn't know that," he replied and the subject never came back.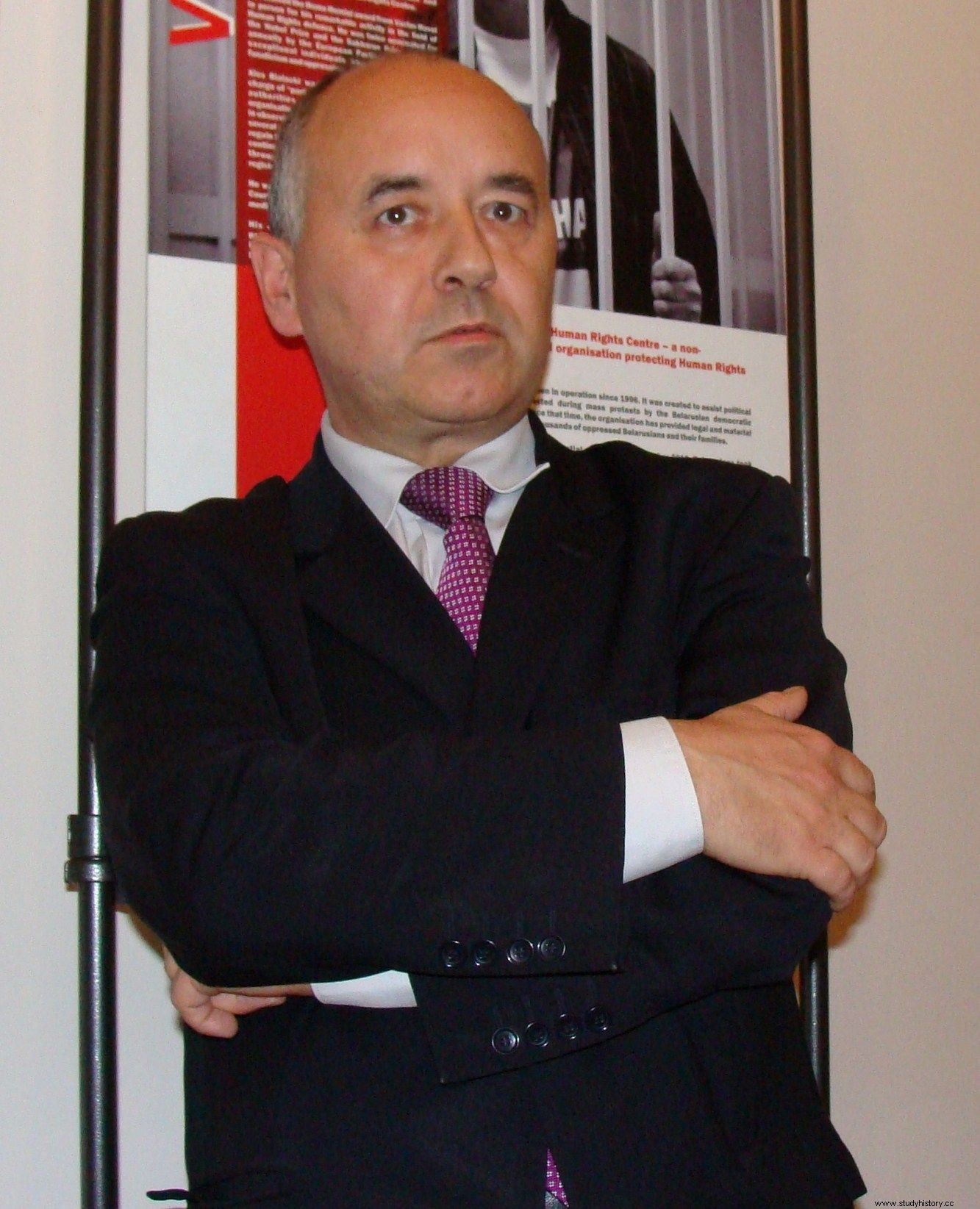 Mariusz Maszkiewicz. A man who can set up a consulate even in a tiny broom closet (photo:Bladyniec, license CC BY-SA 3.0).
Consulate in… brush cupboard
When in 1994 an employee of the embassy in Lithuania, Mariusz Maszkiewicz, received an order to establish a Polish consulate in Grodno, he considered it an interesting mission. He did not know what awaited him ... After arriving he heard that without the deputy he would not get the keys. And this one went on a plot for the weekend.
At that time, Belarusian hotels presented a standard below criticism. Fortunately, Maszkiewicz heard about a member of the Polish community, Stanisław Bojnicki, an entrepreneur. The businessman gladly spent the night of the consul's family in a newly renovated former tobacco factory in the city center. Although there was still a smell of cement and the bulbs were hung on wires, Maszkiewicz preferred it to the hotel anyway.
The consul decided to create an outpost there. When there was no armored wardrobe yet, Maszkiewicz used the cleaner's room. As he recalls himself:
There was a desk where she would fold rags, buckets, and so on. I cleaned it all up, set up the computer and printer. I hooked up the telephone line and so the tiny broom closet became the first consular post in Grodno, with a flag and emblem of course.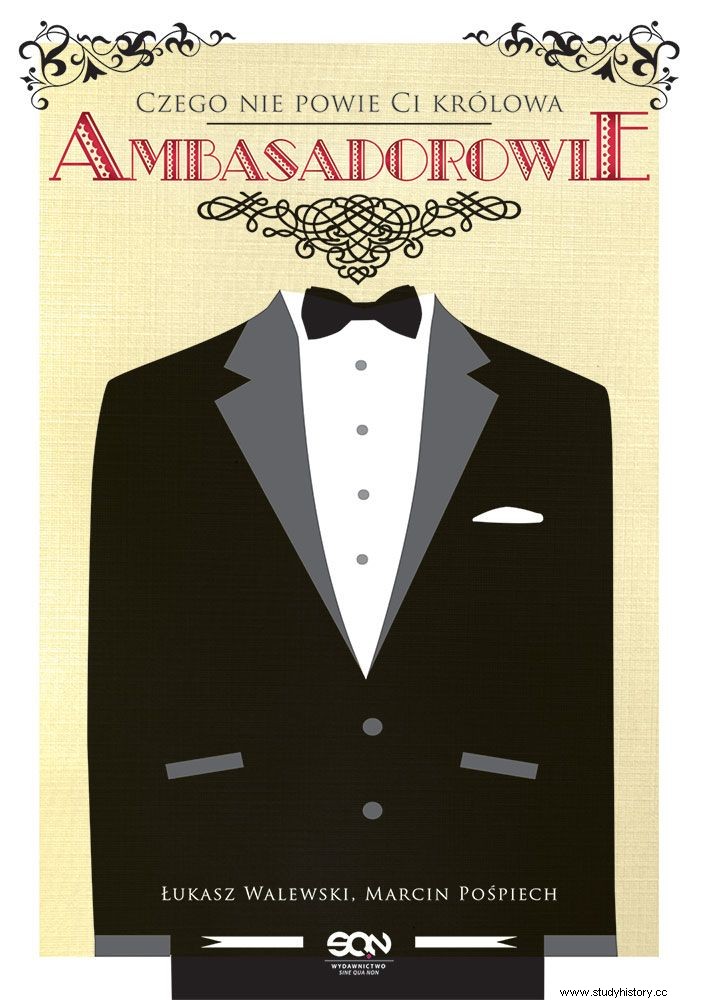 To Arabia without a wife and favorites, no move!
What can be given to people who can have it all? Polish diplomats in Saudi Arabia faced such a problem. Krzysztof Płomiński focused on the smallest thing - he added a packet of faworks to invitations to his parties.
As the authors of the book "Ambassadors" write, the effect exceeded all expectations. The unconventional method increased the attendance at Polish banquets. The fame even made its way to the media, and journalists were delighted that Poles ... are restoring old traditions! It turned out that Bedouins used to prepare similar delicacies.
Worse, however, than without wings, to appear without ... a wife. The Minister of Foreign Affairs, Prince Fajsal, hearing that Płomiński's wife had not arrived yet, told him:"If the wife does not come for three months, you should think about finding a replacement partner here,". And the head of the Saudi protocol even decided to help the ambassador in the search for a temporary spouse!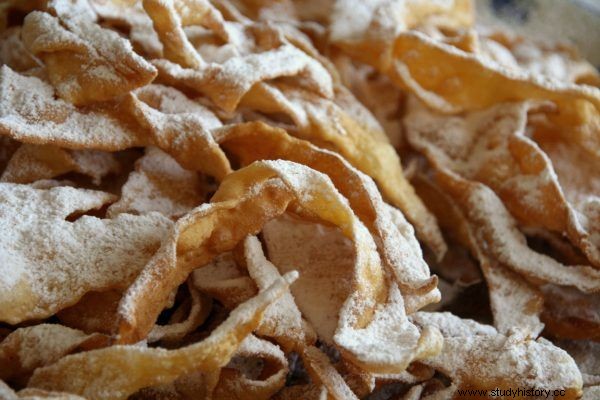 Don't know what to offer to the Saudis? No, not sandwiches. Faworki are better. And remember not to accidentally give them the freedom to choose ... your wife (photo:Marcin Floryan, CC BY 2.5 license).
Sensing the threat, the ambassador explained that he would have to look under the outer garments beforehand to meet the woman. And for such a violation of morality, he would be flogged. "So just imagine what would happen if the first ever Polish ambassador to Saudi Arabia had been beaten at the beginning of his mission!"
Eagle disappearing from glasses
Two years ago, the Chancellery of the President purchased beautiful replicas of 19th-century glass goblets in a greenish shade. Unfortunately, not always the dinnerware purchases were so fortunate. About 15 years earlier, a website decorated with a golden pattern and an eagle was delivered to our facilities.
The whole thing was neither aesthetic nor practical. The glasses turned out to be so thin that, according to the ambassador to Chile, Daniel Passent, "during the first wash it turned out that the golden eagle was washed away and disappeared (...), glasses made of tissue-thin glass broke in the hand.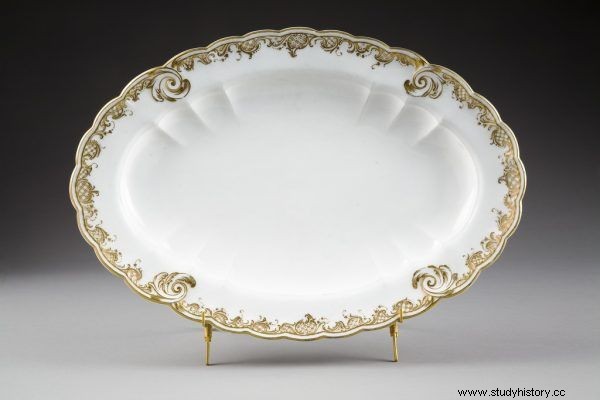 This plate with gilded edges somehow survived the quarter of a millennium, and the Polish diplomats' tableware had a problem to last until the second reception ... The photo shows an exhibit from the Swedish Hallwyl Museum (photo:Jens Mohr, source:public domain).
Soon a letter came from the headquarters on how to clean the glass with the image of the emblem on it. It explained that these products should be washed by hand in a mild detergent solution, using soft materials. After washing, rinse them, set aside to dry, and then gently wipe with a cloth. The letter was signed by the director himself. As Daniel Passent recalls:
I would give a lot to see the director (washing) after taking hundreds of plates and glasses, setting them up in some huge space, and then gently rubbing them one by one with a soft cloth . I would gladly wash away and rub with a rough cloth the people responsible at the Ministry of Foreign Affairs for this pathetic order and its contractors.
Do you prefer to Afghanistan, Iraq or North Korea?
The Polish ambassador, sent to Kabul, when asked about his tasks, received a short and disillusioned answer:"experience". The performance of normal diplomatic tasks was relegated to the background.
And what was the reward for the ambassador who survived in a country torn by war? After completing his mission in Baghdad, Edward Pietrzyk received an offer from Foreign Minister Radek Sikorski:"General, we all know about your experiences in Iraq. That is why we have now found a facility for you in a country where no one looks at you, let alone touches you - you are going to North Korea! ". "Thank you very much for your concern," he merely replied.
You can buy the book "Ambassadors" at empik.com