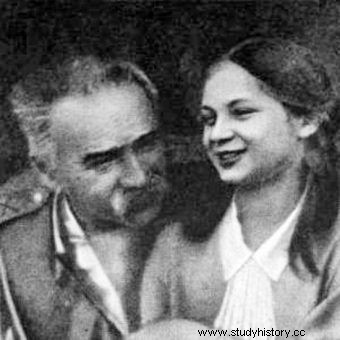 Jadwiga Piłsudska with her father (photo:public domain)
Jadwiga Piłsudska proper Jadwiga Jagoda Piłsudska-Jaraczewska (1920-2014) - Polish pilot, daughter of Józef Piłsudski. Jadwiga was born on February 28, 1920 in Warsaw as the second extramarital daughter of Marshal Józef Piłsudski and Aleksandra Szczerbińska. Walery Sławek was her godfather. When Piłsudski's first wife died in 1921, he legalized the relationship with the mother of his daughters and the family moved to Belweder Palace, then moved to a villa in Sulejówek, funded by the army. This is where Jadwiga spent her youth.
Together with her sister, she attended the Gymnasium for Women. Wanda née Posseltów Szachtmajerowa, where in 1939 she passed her high school diploma. After the death of his father in 1935, the Family Council, appointed to take care of Piłsudski's daughters, decided to buy a farm for them in eastern Poland. In 1937, Jadwiga began her adventure with glider flying. After the outbreak of the war in 1939, together with her mother and sister, she was evacuated through Lithuania and Sweden to London. In Great Britain, she studied architecture.
Jadwiga Piłsudska also started efforts to join Air Transport Auxiliary (ATA), an auxiliary service of the RAF. Eventually, she was accepted into military service in 1942. Its tasks included, among other things, transporting airplanes, which were often in a terrible technical condition (e.g. they were given a permit for one flight - to a workshop or scrapped). As a pilot, Piłsudska did not have any accident. In 1944, she married a Polish officer, Capt. Andrzej Jaraczewski. After the war, she remained in exile, where she was involved in the work of the Józef Piłsudski Institute in London. In 1990, she returned to Poland for good. She died in 2014 in Warsaw.