Kamala Harris was California's attorney general (the first black woman to hold that position), a senator, and elected vice president of the United States in 2020.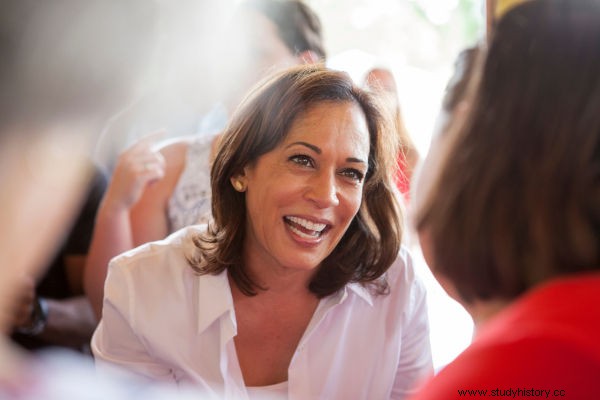 Kamala Harris is an American politician and attorney who served as attorney general of San Francisco and California. She entered politics and was elected to the position of senator in 2016, assuming it in 2017. She acted in opposition to the Trump administration, and, in 2020, she was invited to run as Vice President of the United States, being elected along with Joe Biden. .
Login also :How is the president of the US elected?
Summary on Kamala Harris
Kamala Harris was born into an immigrant family, her father Jamaican and mother Indian.
She completed her high school education in Canada and returned to the United States to pursue degrees at two universities.
she has held the positions of Attorney General of San Francisco and California.
she was elected senator in 2016.
she joined Joe Biden's ticket and was elected vice president of the United States in 2020.
First years of Kamala Harris
Kamala Devi Harris born in Oakland , in the state of California, United States, on October 20, 1964 . She is the daughter of Shymala Gopalan, an Indian physician and researcher, and Donald J. Harris, a Jamaican university professor.
She grew up in a multicultural environment , relying on her father's Afro-Jamaican influences and her mother's Indian influences. Being part of an American community, naturally, she was influenced by African-American culture, and came to attend Christian and Hindu religious temples.
Harris lived in Berkeley for a while, then moved to Montreal, Canada. This change was due to two factors:her parents had divorced and her mother had been hired as a researcher in that country. Kamala Harris completed her basic education in Canada and returned to the United States to attend two universities.
Kamala Harris' Professional Life
Kamala Harris studied at Howard University, located in Washington, between 1982 and 1986, obtaining degree inScience Policies and Economy . Then she joined the Law course from Hatings College of the Law, University of California. She completed this course in 1989, and the following year began her professional career.
From 1990 to 1998, Harris served as Assistant Attorney General for Alameda County , prosecuting individuals responsible for various crimes. From 1998 to 2000, she served in a criminal division attached to the San Francisco Attorney General's Office.
In 2003, Kamala Harris waselected San Francisco Attorney General , which made her the first black woman to assume that position. She held on to her post when she was re-elected in 2007, but the following year, she took a step forward in her career by announcing her intention to run for California's attorney general. Harris was elected California Attorney General in 2010 and re-elected in 2014. Her performance has earned her a reputation for being tough on fighting crime.
Login also :Rosa Parks — important name in the struggle for civil rights for blacks in the USA
Kamala Harris in politics
Years at the California Attorney General's Office have given Kamala Harris the chance to enter US politics. She announced that she would run for the Senate position following the retirement of Barbara Boxer, a senator for the Democratic Party. Once again, Harris emerged victorious from an election and thus becameUnited States Senator .
Kamala Harris took office in January 2017, during the administration of Donald Trump, president-elect in 2016. Harris remained an opposition to the Trump administration , bluntly questioning that government's immigration policy.
Harris also took on a number of committees and held progressive positions , advocating a gun control policy in the United States; the decriminalization of marijuana; taxation of owners of large fortunes; and questioning your country's immigration policies.
Presidency race
Kamala Harris has decided to enter the race for the presidency of the United States and made her interest public in 2018, but the following year, withdrew from the bid because her candidacy showed signs of weakening. In her party, the Democrat, the candidacy of Joe Biden proved to have more strength among the electorate.
Even though she dropped out of the race, Kamala Harris was invited to join Joe Biden's slate , endorsed as the Democrats' candidate after the party's primaries. Joe Biden is an important member of the Democratic Party and was vice president of the United States during the administration of Barack Obama.
At the end of that election, Joe Biden and Kamala Harris emerged victorious by winning a majority of the Electoral College votes. The victory in the US presidential election made Kamala Harris the country's first black woman vice president .
Also read :Harriet Tubman — black abolitionist who escaped slavery
Personal Life of Kamala Harris
Kamala Harris is married with a lawyer Doug Emhoff . They met in 2013 and were married on August 22, 2014. Her husband has two children from other relationships, and Kamala Harris is childless. Harris and Emhoff met through a mutual friend who introduced them.
Image credits
[1] Michael F. Hiatt and Shutterstock