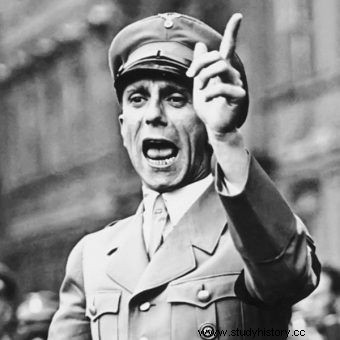 Goebbels (photo:Bundesarchiv, Bild 102-17049; Georg Pahl; CC-BY-SA 3.0)
Joseph Goebbels
German politician, minister of propaganda and public enlightenment in the government of Adolf Hitler, one of the members of the leadership of the NSDAP. Joseph Goebbels was born into a Catholic family of a factory clerk and farm laborer, one of five children. From childhood, he had a deformed right leg, which resulted in a limp. For this reason, he was not accepted into the army during the First World War. Goebbels attended a Franciscan boarding school and then went on to study (literature and philosophy).
He obtained a doctorate in literature at the University of Heidelberg in 1922. In the same year, he joined the National Socialists, but he joined the NSDAP only in 1924. He was convinced that the defeated and ruined Germany after World War I needed a strong leader who would rebuild the country's power. In his opinion, it was Adolf Hitler.
In 1930 he became the person responsible for propaganda in the Nazi party and he continued his career with it. When Hitler came to power in 1933, Goebbels Joseph became minister of propaganda and public enlightenment. As a propagandist, he was perfect, he had an oratory talent and he was very good at dealing with all polemics.
In his work, he used mass media - press, radio and film. Until the end of the war, he remained loyal to Hitler, a true fanatical Nazi. He hid with him in the basement of the Reich Chancellery. In his political will, Adolf Hitler appointed him his successor. After the fall of the Third Reich, his whole family parted with life - his wife Magda, who had previously served as the informal first lady, killed their six children and swallowed a cyanide capsule herself. Goebbels Joseph shot his wife in the back of the head and killed himself. After 1945, he was recognized as one of the main war criminals of the Third Reich.