Kenyan activist, Nice Nailantei Leng'ete (born in 1991) fights against female circumcision and child marriage, and promotes rites of passage to adulthood without violence. In 2018, you voted for her for the Nob'Elle Peace Prize!
Fleeing female circumcision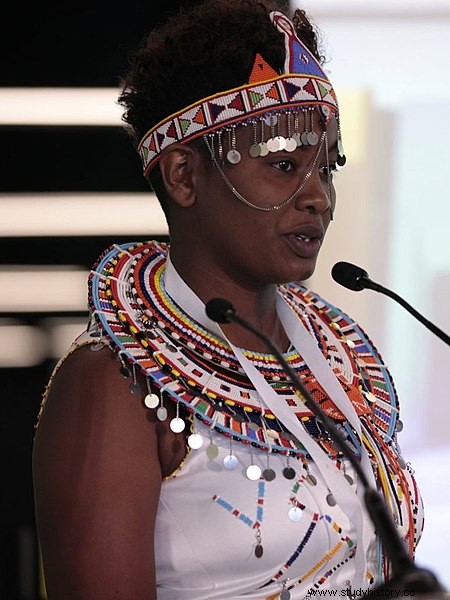 A member of the Maasai people, Nice Nailantei Leng'ete was born in 1991 in the village of Kimana, in southern Kenya. As a young orphan – her parents died in 1997 and 1998 – she spent her younger years from house to house in her village.
Growing up, Nice attended excision ceremonies, a rite of passage to adulthood in Maasai culture. "It's what makes you a woman, she explains. Even if you are 40 years old, you are still a girl. » (That's what makes you a woman. Even at 40 [if you're not circumcised], you're still a girl). Nice witnesses the suffering of her friends, some of whom die of hemorrhage as a result of excision. All of them are forced to leave school when they are still only 10 or 12 years old, to marry older men.
At the age of eight, Nice was sent to school in a boarding school. There, she meets people who explain to her that excision is not compulsory, that it is not a necessary step to become a woman. When the time comes for her excision, understanding that she will then have to leave school and get married, Nice decides to run away.
The leak
At the age of eight, Nice Nailantei Leng'ete convinces her older sister to run away with her to avoid excision. In the morning, they leave their village with the aim of taking refuge with an aunt living 70 kilometers away. Despite their efforts to avoid the road and walk through the bush, men from the village and an uncle of the two sisters find them about twenty kilometers from the village. The two little girls are beaten and threatened; their uncle orders them "not to shame the family".
Nice and his sister go back to school, but their uncle picks them up. Nice then flees again, without his sister who fears reprisals. She goes first to her school, then to her grandfather, whom she begs to protect her against excision. Faced with his reluctance, she threatens him to run away and never come back, to become a street child. His grandfather finally gives in, and summons the uncles of Nice to inform them of his choice.
"A bad example"
Thanks to the support of his grandfather, Nice Nailantei Leng'ete returns to his school. Her older sister does not escape excision; at the age of twelve, she was the victim of a forced marriage. Nice's refusal of excision earned her ostracism within her community:"Families wouldn't let me play with their daughters. Everyone saw me as a bad example, someone who disrespected her family and went against the ways of the community. » (Families refused to allow me to play with their daughters. Everyone saw me as a bad example, someone who did not respect their family or the traditions of the community).
However, when Nice becomes the first girl in the village to enter high school, she notices that some girls admire and envy her uniform. She then explains to them that they have a choice, that they can refuse their excision as she did. Some fled in turn, and Nice hides several of them. Actions that earned him new threats of being beaten. Nice then decides to change her approach, and to negotiate with the council of elders as she did with her grandfather.
The council of elders
In the Maasai culture, women are not allowed to address the council of elders. When she attends a course on health and sexuality with AMREF Health Africa, Nice Nailantei Leng'ete sees it as an opportunity to address the village, to share what she has learned. The council allows him to address the young men, but none remain to occupy him.
Nice does not let itself be discouraged. For two years she insisted, until the elders told the young men to listen to her. The first time, they are only three, but gradually become more numerous. Nice talks to them about many topics, from pregnancy to HIV prevention, before coming to child marriage, education, female genital cutting and potential complications of childbirth. Little by little, by dint of perseverance, she convinces the men that leaving the girls in school and abandoning female circumcision can only be beneficial to the community.
After almost four years of negotiations, the council of elders decided to go against tradition and ban female circumcision. With Nice, they are developing a new rite of passage to adulthood. From the following year, the number of girls in school soars.
Activism
Nice Nailantei Leng'ete's campaign against female circumcision and child marriage quickly spread to neighboring villages, all the way to the highest seat of power:the council of Maasai elders of Mount Kilimanjaro. She is the first woman to address this assembly, arguing against excision while highlighting her pride and her love of her culture and her roots:
"It's just the cut that's wrong, All the other things — the blessings, putting on the traditional clothes, dancing, all that — that's beautiful. But whatever is harmful, whatever brings pain, whatever takes away the dreams of our girls — let's just do away with that. » (It's only the excision that's bad. The rest, the blessings, the traditional clothes, the dances, everything, it's beautiful. But everything that hurts, that hurts, that destroys the dreams of our girls – let's get this over with.)
In 2014, the Council of Maasai Elders of Mount Kilimanjaro officially ended the practice of female circumcision for the 1.5 million Maasai in Kenya and Tanzania.
Nice continues its militant commitment to AMREF Health Africa by leading, since 2014, the ARP (Alternative Rite of Passage) project. This program aims to move from village to village, to dialogue to change mentalities and apply the ban on excision, by the Maasai council as well as by the Kenyan government in 2011. It is estimated that his work would have avoided the circumcision to about 15,000 girls.
In 2018, Nice Nailantei Leng'ete was named one of the 100 most influential people in the world according to Time.