Julia de Burgos (1914 – 1953), Puerto Rican woman of letters and civil rights activist, is one of the great poetesses of Puerto Rico and South America.
"And my childhood was a poem in the river"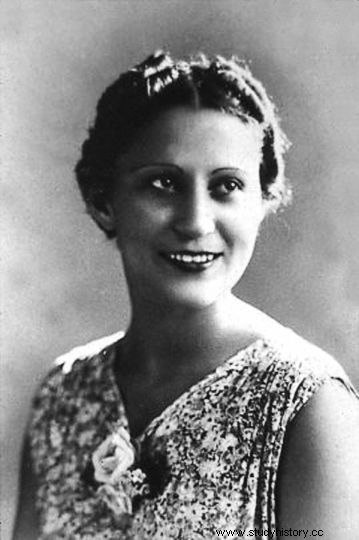 Daughter of Paula García de Burgos and Francisco Burgos Hans, Julia Constanza Burgos García was born on February 17, 1914 in Carolina , northeast of the island of Puerto Rico. She is the eldest of thirteen children, six of whom will die of malnutrition. A member of the national guard, his father owns a farm near the city. Little is known about his childhood. In her first poem, dedicated to the Río Grande De Loiza that crosses Carolina, she will write:
---
"(…) y mi niñez fue toda un poema en el río,
y un río en el poema de mis primeros sueños.
Llegó la adolescencia. Me surprised the vida
takeida en lo más ancho de tu viajar eterno; (…)
And my childhood was a poem in the river,
And a river in the poem of my first dreams.
Then came adolescence. Life surprised me,
caught in the widest part of your eternal journey; »
---
"For my enslaved people"
In 1928, Julia de Burgos graduated from Muñoz Rivera Primary School. The same year, his family moved to Rio Piedras, a municipality wedged between Carolina and San Juan, capital of Puerto Rico. There she received a scholarship to study at the Escuela Secundaria de la Universidad de Puerto Rico , educating students from about 12 to 18 years old. Julia is the only one, among her brothers and sisters, to continue her studies. In 1931, she enrolled at Universidad de Puerto Rico en Río Piedras to learn the profession of teacher.
At the same time, Julia devotes herself to poetry and publishes her works in the newspapers. His poem Río Grande De Loiza earned her a first success, and she quickly published two first collections of her works. At the release of these first collections, Julia travels the island to read them. His works are sometimes intimate, talking about love, sensuality, his relationship to his country, and sometimes more political, exploring the fate of women and the Puerto Rican people. She is influenced, among others, by the poets Luis Lloréns Torres, Clara Lair (English), Rafael Alberti and Pablo Neruda. His poem Río Grande De Loiza ends with these lines:
---
"¡Río Grande de Loiza!…Río grande. Llanto large.
El más grande de todos nuestros llantos isleños,
si no fuera más grande el que de mi se dirty
por los ojos del alma para mi esclavo pueblo.
Río Grande de Loiza! … Great river. Big tear.
The greatest of our island's tears,
If the one that comes out was not bigger
Eyes of my soul for my enslaved people. »
---
"My cry in the world"
In 1933, at the age of 19, Julia de Burgos graduated from the Universidad de Puerto Rico, and became a teacher for only one year. In 1934, she married Ruben Rodrigues Beauchamp and put an end to her teaching career. A member of the Nationalist Party of Puerto Rico, she became secretary general of the Daughters of Freedom, the women's branch of the party. In 1937, she divorced her husband and began an affair with Juan Isidro Jimenes Grullón, a Dominican doctor who would inspire many of her poems. Together, they settled in Cuba for a while, where Julia briefly attended the University of Havana, before leaving for New York. The poetess writes for the progressive newspaper Pueblos Hispanos .
The couple does not last. In 1943 Julia married Puerto Rican musician Armando Marín but their marriage only lasted four years. This divorce plunges the poet into depression and alcoholism. She will be hospitalized several times. In February 1953, during her last stay in hospital, she wrote one of the few works she wrote in English:
---
"Farewell in Welfare Island
It has to be from here,
right this instance,
my cry into the world.
My cry that is no more mine,
but hers and his forever,
the comrades of my silence,
the phantoms of my grave.

Farewell to the island of well-being [nickname of Roosevelt Island, an island long occupied by hospitals and asylums]
He must come from here,
Right of this instance,
My cry to the world,
My cry that is no longer mine,
But theirs and theirs forever,
The comrades of my silence,
The ghosts of my grave. »
---
In June 1953, Julia disappears. It was only weeks later that her friends discovered that after collapsing in the middle of the street, Julia de Burgos died of pneumonia in hospital on July 6, 1953. For lack of relatives to support her burial, she was buried in a common grave. In Puerto Rico, a committee is calling for his remains to be repatriated to the island. In September, she is buried as a heroine in the municipal cemetery of Carolina, where a monument is erected to her.