Lucila de María del Perpetuo Socorro Godoy Alcayaga, known as Gabriela Mistral (April 7, 1889 in Vicuña – January 10, 1957 in New York), was a Chilean woman of letters and feminist, who won the Prize in 1945 Literature Nobel.
First poems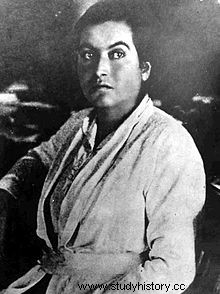 Lucila de María was born in Vicuña (in the Andes Mountains, northern Chile) on April 7, 1889. She was only three years old when her father, a teacher, left the family, which lived in difficult conditions. The young girl could still go to school, before becoming a teacher's assistant at the age of fourteen. The following year, she published her first poems under a pseudonym, including "Ensonaciones", "Junto al Mar" and "Carta Intima", in a local newspaper.
Readings for mujeres
In 1906, Lucila de Maria, who was then seventeen, became a teacher. She befriends a railroad employee, Romeo Ueta, who commits suicide three years later. This drama will have a profound influence on his writings, marked in particular by nostalgia and death. In 1914, his collection Sonetos de la Muerte (Sonnets of Death) wins the Juegos Florales prize in Santiago. It was then that she chose a pseudonym contracting the names of her favorite poets, Gabriele D'Annunzio and Frédéric Mistral:Gabriela Mistral.
In 1922, the Mexican Ministry of Education asked Gabriela to set up a system of libraries and schools. The same year, his collection Desolacion enjoys international success. In 1923, his Lecturas para Mujeres (Readings for Women) evoke motherhood and the education of children. She subsequently published a collection of nursery rhymes, Ternura (Tenderness), celebrating women's bodies.
Nobel Prize for Literature
Having become a professor of Spanish at the University of Chile, Gabriela Mistral left to give lectures in the United States and Europe, then traveled through Latin America. From 1925 to 1934, she lived in France and Italy and took part in actions for the intellectual cooperation of the League of Nations. She also became consul of Chile in the United States, France, Italy and Spain. In Madrid, she meets the poet Pablo Neruda. In 1929, his mother, Petronila Alcayaga, died; in 1938, Gabriela dedicated the first part of her book Tala to him. . The profits obtained thanks to this work are used to help the orphans of the Spanish Civil War.
In 1943, his seventeen-year-old nephew committed suicide and this new drama marked his last work, Lagar . In 1945, she was the first writer from Latin America to receive the Nobel Prize for Literature. In 1951, the National Literary Prize of Chile was awarded to him. Gabriela writes on various themes, such as her native country, her Indian origins, motherhood, the feminine condition or even love and death.
Weakened by her many travels, Gabriela Mistral spent her last years in New York State. On January 10, 1957, she died of cancer and the Chilean government declared three days of national mourning. Ten years later, his friend Doris Dana will publish a last posthumous collection of his works, Poema de Chile .
Absent

I leave you and go on your own breath;
I am the moistness of your body evaporating.
I leave you and go with sleep and wakefulness,
and in your clearest memory I fade.
And I become in your memory like those
Who in the plains and woods were not born.