Marie-Louise Lempérière, who through marriage became Marie-Louise Giraud (1903 – 1943), was guillotined in 1943 by the Vichy regime for performing 27 abortions.
Helping a neighbor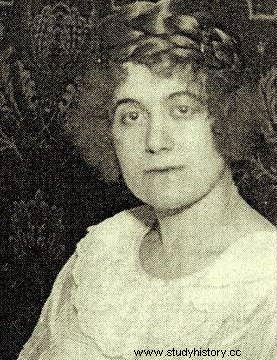 Marie-Louise Lempérière was born into a poor family on November 17, 1903 in Barneville, Lower Normandy . Quite young, she was imprisoned for two months in Cherbourg for theft and fraud. Subsequently, she became a servant, housekeeper, then laundress. In the thirties, she married Paul Giraud, a sailor with whom she had two children.
When the Second World War broke out, Cherbourg became a base for the German navy, many prostitutes settled in town. Marie-Louise rents her house to them, by the month or by the pass, even leaving her own bed in case of crowds.
At the end of the summer of 1940, Gisèle, a neighbor, asked her for help with an abortion, an illegal act at the time. The abortion goes well and Gisèle offers a phonograph to Marie-Louise to thank her. This is the first abortion recorded in her court file. The next will take place on May 31, 1941, when Marie-Louise helps to abort Yvonne, a prisoner's wife pregnant by a passing man. She is then paid 1,000 francs.
Clandestine abortions
Because of the war, the separation of couples, food deprivation, pregnancies are less desired and clandestine abortions more numerous. Thereafter, Marie-Louise Giraud will practice at least twenty-five others, for 600 to 2,000 francs. In January 1942, one of these abortions went wrong and Louise died of sepsis.
On February 15 of the same year, the Vichy regime promulgated a law making abortion a crime against state security and punishing it with the death penalty. In October 1942, Marie-Louise was denounced in an anonymous letter and arrested. During her trial in 1943, before a special court, Marie-Louise was presented as immoral and the indictment of the Advocate General took up the themes of Vichy propaganda, associating abortion with an attack on the state. Marie-Louise is condemned to death and Pétain refuses her presidential pardon.
Marie-Louise Giraud was guillotined on July 30, 1943 in the courtyard of La Roquette prison in Paris. She is the only woman executed by the Vichy regime for this reason; an "angel maker" will be guillotined the same year.
In 1988, Claude Chabrol adapted the story of Marie-Louise Giraud in his film A women's affair .