Japanese mountaineer, Junko Tabei (1939 – 2016) became the first woman to climb Everest in 1975.
Ladies Climbing Club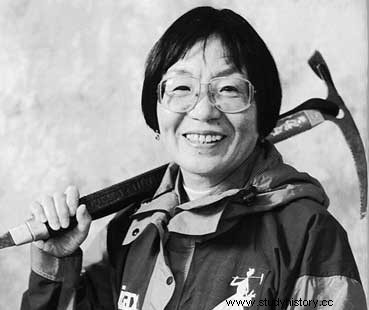 Junko Tabei was born on September 22, 1939 in Fukushima Prefecture. At ten years old, his teacher took him on an excursion to the summit of Mount Nasu and this expedition made a strong impression on him. Passionate about mountains from that day on, Junko embarked on mountaineering. She joined a club while studying English literature at Showa Women's University and, after graduating, in 1969, she founded a mountaineering club for women:the Ladies Climbing Club:Japan (LCC).
With her husband, she embarked on the ascent of the peaks of Japan then went mountaineering in the Alps and quickly became famous in Japan.
Ascent of Everest
In the early 1970s, the newspaper Yomiyuri Shimbun and Nihon Television decide to organize an all-female expedition to the summit of Everest and Junko Tabei is one of fifteen women selected from many applicants. The project was highly criticized, Junko being told that she had better raise children, but after intensive training, the fifteen mountaineers traveled to Kathmandu in early 1975.
With nine Sherpa guides, the group embarks on the ascent of Everest. On May 4, while they were camping at 6,300 meters above sea level, an avalanche buried their camp, but without causing any casualties. The climbers and their guides all find themselves buried under the snow, but they manage to get out. When she lost consciousness, Junko is saved by one of the group's guides. Determined to continue, she took the lead of the group and, on May 16, 1975, she was the first to reach the top. In 1992, she was the first woman to climb the Seven Summits, the highest peaks in seven regions of the world:Everest in Asia, Aconcagua in South America, Mount McKinley in North America, Kilimanjaro in Africa, Elbrus in Europe, the Vinson Massif in Antarctica and Mount Kosciuszko in Australia.
Director of the Himalayan Adventure Trust of Japan, Junko Tabei continues to work for the protection of the environment in mountainous areas.
She died of cancer in October 2016.