Elizabeth Jane Cochrane , known as Nellie Bly (1864-1922) was a pioneer of investigative journalism. She is also the first woman to circumnavigate the globe unaccompanied by a man (unlike Jeanne Barret a century earlier).
"Pinky"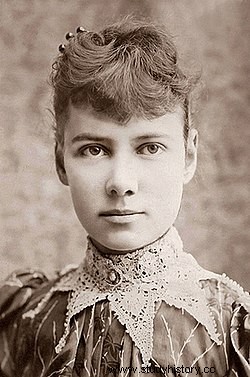 Daughter of Mary Jane and Michael Cochran, Elizabeth Cochran was born on May 5, 1864 in Cochran's Mill, near Pittsburgh in Pennsylvania; the city is named after his father, an Irish immigrant who, through hard work, was able to buy back a good part of the local land and mills. Elizabeth, nicknamed "Pinky" for her perpetually pink clothes, is one of five children born to her parents, but her father also had ten from a previous marriage.
Michael dies when Elizabeth is only six years old, and his branch of the family is expelled. To find a situation, Mary remarried three years later but her new husband is alcoholic and violent and must divorce. Faced with the financial difficulties that her family is experiencing, Elizabeth knows that she must work.
Her situation destines her to become a governess or a companion, but she dreams of something else. Literary, she already writes poems and stories at the age of 16. She enters Illinois Normal School to become a teacher but, for lack of money to pay for her training, had to give up after one semester.
"Lonely orphan girl"
In 1880, the family moved to Pittsburgh and Elizabeth helped her mother run a boarding school there. In January 1885, she read in the newspaper Pittsburgh Dispatch an article titled "What Young Girls Are Good For admonishing young girls who pursue studies, calling working women "monstrosities" and enjoining them not to leave the circle of the hearth and household chores. Furious, Elizabeth writes a heartfelt letter to editor George Madden, which she signs "Lonely orphan girl." She writes in particular:"Gather up the real smart girls, pull them out of the mire, give them a shove up the ladder of life, and be amply repaid. » (Gather the smart girls, pull them out of the mire, help them climb the ladder of life and be amply rewarded). The letter is so well-turned that George Madden not only publishes it, but he offers Elizabeth a job. Fearing that her sharp pen and her status as a working woman would harm her family, he encouraged the young journalist to write under a pseudonym:it would be Nellie Bly, based on a song by Stephen Foster.
The first surveys in the working world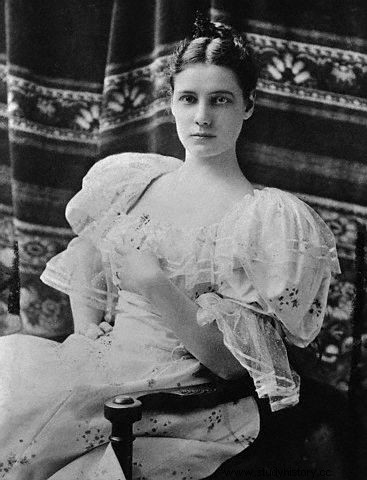 Nellie Bly carries out her first investigations in factories and factories, where she investigates the working world by being hired to experience what she denounces herself. His first report reporting the harshness and dangerousness of the working conditions of workers in a canning factory, with supporting photos, was a hit. But his indictment investigations alarm the industrialists who put pressure on the Pittsburgh Dispatch and, despite the additional sales she brings to the newspaper, she quickly finds herself confined to the art, theater and gardening sections.
Dissatisfied, Nellie then leaves on a trip with her mother for six months in Mexico. She draws articles from it that are increasingly critical of the Mexican government. After denouncing the arrest of a journalist, she is forced to leave the paymaster or risk being arrested herself. The Pittsburgh Dispatch continues to confine her to fashion and gardening when she wants to deal with social subjects and, in 1887, Nellie Bly leaves Pittsburgh to go to New York. There she laid siege to the New York World for several hours. of Joseph Pulitzer, who ends up agreeing to receive her and promises her a job if she delivers a report on an asylum.
Nellie trains all night. The next morning, the doctors declared her insane and put her on the internet at Blackwells Island Hospital at Roosevelt Island. She stays there for ten days, and draws from it an incriminating report against asylum, denouncing disastrous living and hygiene conditions and cruel methods and treatment. His story, Ten Days in a Mad-House, has a resounding impact and leads to a change in practices. She writes in particular:
"What, excepting torture, would produce insanity quicker than this treatment?" Here is a class of women sent to be cured. I would like the expert physicians (…) to take a perfectly sane and healthy woman, shut her up and make her sit from 6 a.m. until 8 p.m. on straight-back benches, do not allow her to talk or move during these hours, give her no reading and let her know nothing of the world or its doings, give her bad food and harsh treatment, and see how long it will take to make her insane. Two months would make her a mental and physical wreck. "
(Apart from torture, what could produce insanity faster than this treatment? Here are women sent to be treated. I would like the expert doctors (…) to take a healthy woman in body and of mind, make her shut up and sit from 6 a.m. to 8 p.m. on a bench, that they do not allow her to speak or move during all this time, that they do not give her any reading and no news from the world, let them give her bad food and bad treatment, and let them see how long she takes to go mad. Two months would make her a physical and moral wreck.)
Around the world in 80 days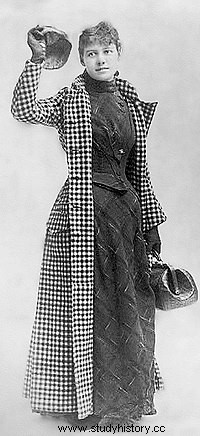 Subsequently, Nellie Bly will use this infiltration technique on several occasions to carry out her investigations. In 1887, she infiltrated the entourage of a trafficker who was brought to justice after his report. In 1888, sixteen years after the publication of Around the World in 80 Days by Jules Vernes, she put forward the idea of ​​carrying out a world tour herself in the footsteps of Phileas Fogg. At first, the New York World thought she wouldn't be able to and refused, and it wasn't until a year later that she set out.
On November 14, 1889, Nellie sailed from New Jersey on the Augusta Victoria , which takes her to England. In France, she meets Jules Verne to whom she makes a good impression. She then continues her journey by train, hot air balloon, boat, passing through Italy, Egypt, China, Singapore, Hong Kong, Japan...
At each stop, Nellie sends sensational stories of her adventure. She completed her tour by returning to Jersey City on January 25, 1890, in 72 days, becoming the first woman to circumnavigate the globe without being accompanied by a man.
On the announcement of his success, Jules Vernes published in the Écho de la Somme :
"Amiens, January 25
Nellie Bly's success was never in doubt, her fearlessness foreshadowed it.
Hurrah! For her and for the director of the World!
Hooray! Hooray! »
Business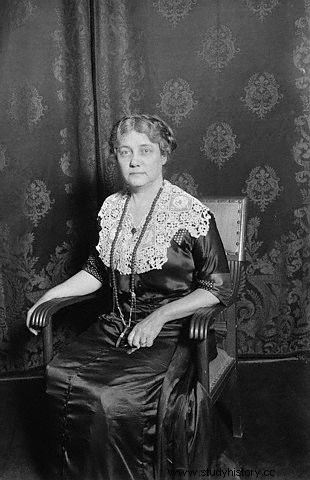 At the New York World, Nellie Bly continues her investigations and publishes committed articles on social issues, attacking the corruption of the political class and focusing as much as ever on the living conditions of workers and women. She will notably meet and interview activists Emma Goldman and Susan B. Anthony. At this time, however, her brother dies and Nellie decides to take care of his widow and orphans; she then found herself in a delicate financial situation. In 1895, she surprised everyone by marrying the old millionaire Robert Seaman, 42 years her senior.
Little by little, Nellie moved away from journalism and became more and more involved in the management of her husband's metal milk can factory. It even creates a new type of canister. When Robert died in 1904, she took over the reins of the business and offered her workers unique living conditions at the time:better salaries, health insurance, creation of leisure centers and libraries for the workers... But her business management did not keep them afloat, and she had to sell the factories in 1914.
"The best journalist in America"
During World War I, Nellie Bly moved to the United Kingdom and became a war correspondent for the New York Evening Journal . She also attends the fight of the suffragettes, which she follows closely and which she predicts will be quickly followed in the United States. After the armistice, Nellie returned to New York and continued her investigative journalism work there on her favorite themes:the working class, the political world, the status of women. She is also committed to women's right to vote.
Nellie Bly died on January 27, 1922 of pneumonia. The next day, the press announces the death of "the best journalist in America" .