Germaine Tillion ( 1907 – 2008), is a French ethnologist and resistance fighter. She has worked extensively on the Second World War and the Algerian War.
Graduate in Ethnology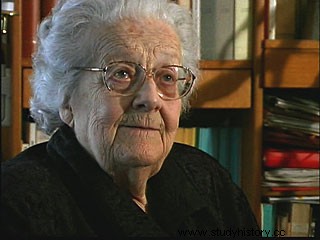 Daughter of Émilie Cussac, writer, and Lucien Tillion, magistrate, Germaine Tillion was born on May 30, 1907 in Allègre (Haute-Loire). She began her schooling in her hometown before going to boarding school in Clermont-Ferrand and then joining her parents in the Paris region.
After the death of her father, when she was not yet eighteen, Germaine embarked on higher education at the Ecole du Louvre at the Sorbonne, at the Collège de France and then at the Institute of Ethnology. She graduated in 1932 and embarked on a thesis, for which she traveled several times to Algeria in order to meet the Berber ethnic group of Chaouias. She is particularly interested in social ties, gender relations, the place of women.
"I was put on a special diet to stimulate my imagination…"
Germaine Tillion returned from Algeria at the time of the armistice of June 1940, and this event shocked her deeply. She immediately joined the Resistance, helping to escape prisoners, participating in intelligence activities, hiding fugitives, writing leaflets... After the arrest and execution of members of her network, Germaine became the head of the a resistance movement. But following a betrayal, she was arrested on August 13, 1942 and kept in detention for many months. During this period, she wrote a letter full of irony and courage to the Gestapo:
"Gentlemen,
I was arrested on August 13, 1942, you know, because I was in an arrest zone. Still not knowing exactly what to charge me with and hoping that I could come up with an idea myself, I was put on a special diet for about three months to stimulate my imagination. Unfortunately, this regime ended up stupefying me and my superintendent had to fall back on his own genius (…). »
The Verfügbar in the Underworld
Despite her denials, Germaine Tillion was deported to Ravensbrück in December 1943. Her mother, a resistance fighter, was also arrested and died in the gas chambers in 1945. During her internment, she gathered evidence and documents to denounce the crimes of which she and the other prisoners are victims. She also wrote an operetta Le Verfügbar aux Enfers which describes with a certain humor their conditions of detention. On April 23, 1945, she managed to leave the camp thanks to a Swedish Red Cross convoy; she and other survivors leave for treatment in Sweden. There, she embarked on work on the history of the Second World War, on the history of the liberated prisoners, of her comrades in the resistance, of the camps and of Nazi war crimes.
The Algerian War
In 1954, when the situation became tense in Algeria, Germaine Tillion returned there for a mission of observation and analysis. She is shocked by the deterioration of living conditions, which she attributes to an excessively brutal urbanization process. In 1955, it launched social centers to carry out practical literacy, training and even health missions. In 1957, she collected numerous testimonies of torture and abuse and devoted herself to trying to negotiate peace. It does its best to inform civil society and political leaders, to denounce torture and to obtain the pardon of those sentenced to death.
Grand Cross of the Legion of Honor
After the Algerian war, while remaining linked to the southern Mediterranean, Germaine devoted herself to university teaching. Every year, it takes its students to Africa for long scientific missions. She is also involved in movements at the service of migrants and minorities, and fights for the recognition of torture during the Algerian war. During this period, she published several works, on ethnography, on Algeria or on the war.
In 1999, Germaine became one of six women to be elevated to the dignity of Grand Cross of the Legion of Honor.
Germaine Tillion died on April 19, 2008 at the age of 101. She symbolically entered the Pantheon in May 2015.