Myra Maybelle Shirley Reed Starr ,known as Belle Starr (1848 – 1889) was a legendary American outlaw and a famous figure in the Conquest of the West. She dated, among others, the James brothers, the Younger brothers and the Starr clan.

A classic education
Born on February 5, 1848 in Carthage (Missouri, United States), Myra Maybelle Shirley, nicknamed "May", is the daughter of Elizabeth Hatfield Shirley and John Shirley. His parents worked the land until the 1860s, when John sold the family farm to buy a hotel, a forge and a stable in Carthage.
In Missouri, Belle dated brothers Frank and Jesse James, as well as the Younger brothers. However, she received a classical education and notably learned to play the piano. She graduated from Missouri's Carthage Female Academy, a private institution her father helped found.
Jim Reed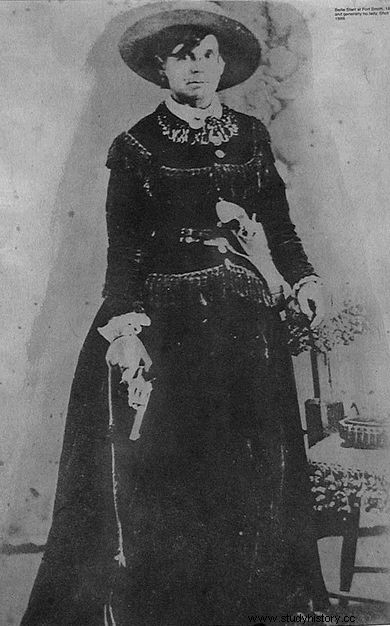 The Civil War broke out in 1861. After a Union attack on Carthage in 1864, the Shirley family leaves town to settle in Texas. Belle and her brother John "Bud" acted as agents for Confederate troops, providing them with information about Union troop positions. Bud, who joined Cole Younger, Frank James and Jesse James in Quantrill's brutal gang, was killed for Unionist soldiers that year.
After the war, Belle married Jim Reed, a childhood friend she met in Carthage. They will have two children:Rosie Lee (nicknamed Pearl) and James Edwin (Eddie). After failing to make a living farming, Jim grows closer to outlaws like his wife's friends Frank James, Jesse James, Cole Younger, and also Sam Starr. Wanted for murder in Arkansas, Jim moved with his family to California in 1871; they left the region barely two years later, following a case of counterfeit money.
In 1873, Jim and two accomplices raided a stagecoach and got their hands on $30,000. Despite the lack of evidence, Belle is accused of complicity and the couple must flee and hide on their own. Jim travels to Paris, Texas, where he will be executed in 1874.
The Starr Clan
Belle, she goes to Dallas where she lives thanks to the money from the theft of the stagecoach. Her behavior and style of dress have already made her a legend in the West:frequenting the saloons, she drinks, plays, does not hesitate to shoot in the air in the street on her galloping horse. She wears a feathered Stetson, tall boots, two pistols and cartridges on her belt.

Belle ends up entrusting her children to her family and leaving Texas to join the clan of Sam Starr, an outlaw of Cherokee origin who lives with his gang in a mountain range in Indian Territory, on the borders of Arkansas. and Oklahoma. Participating in their criminal activities, she organizes and plans the thefts alongside them and learns to protect her accomplices from the law, in particular through bribery or seduction. In 1880, Beautiful married Sam Starr.
In 1883, Belle and Sam were arrested for stealing horses and sentenced to a year in prison. Released after nine months, they immediately resumed their criminal activities. In the years that followed, Belle was again arrested for theft or attacking post offices on several occasions, but the lack of evidence always allowed her to remain free.
In December 1886, Sam died in a shootout due to a family dispute, and this new widowhood was a very hard blow for Belle.
An unsolved murder
Subsequently, Belle Starr married a relative of Sam Starr, Jim July, in order to be able to maintain her residence in Indian Territory. In February 1889, two days shy of her 41st birthday, Belle Starr was shot in the back as she rode home. As she falls from her mount, her assassin fires again to ensure her death.
The versions differ on the circumstances of the murder, the identity of the murderer, and even on the possible conviction of a suspect. Presumably, in the absence of witnesses, no convictions have occurred for Belle Starr's murder. Without the crime ever being solved, several people were suspected:
Jim July, her new husband, with whom she would have had differences
Her son Ed, who also fell into crime and whom she allegedly beat for taking bad care of his horse
A neighbor named Edgar Watson, whom she allegedly refused a dance
Belle Starr is buried on his land; his daughter Pearl had these words engraved on her grave:
Shed not for her the bitter tear,
Nor give the heart to vain regret;
'Tis but the casket that lies here,
The gem that filled it sparkles yet.