Swedish artist, Hilma af Klint (1862 – 1944) was a discreet pioneer of abstract art. Having never shown her works to her contemporaries during her lifetime, it was only after her death that she would be recognized at her fair value.
A gift for artistic creation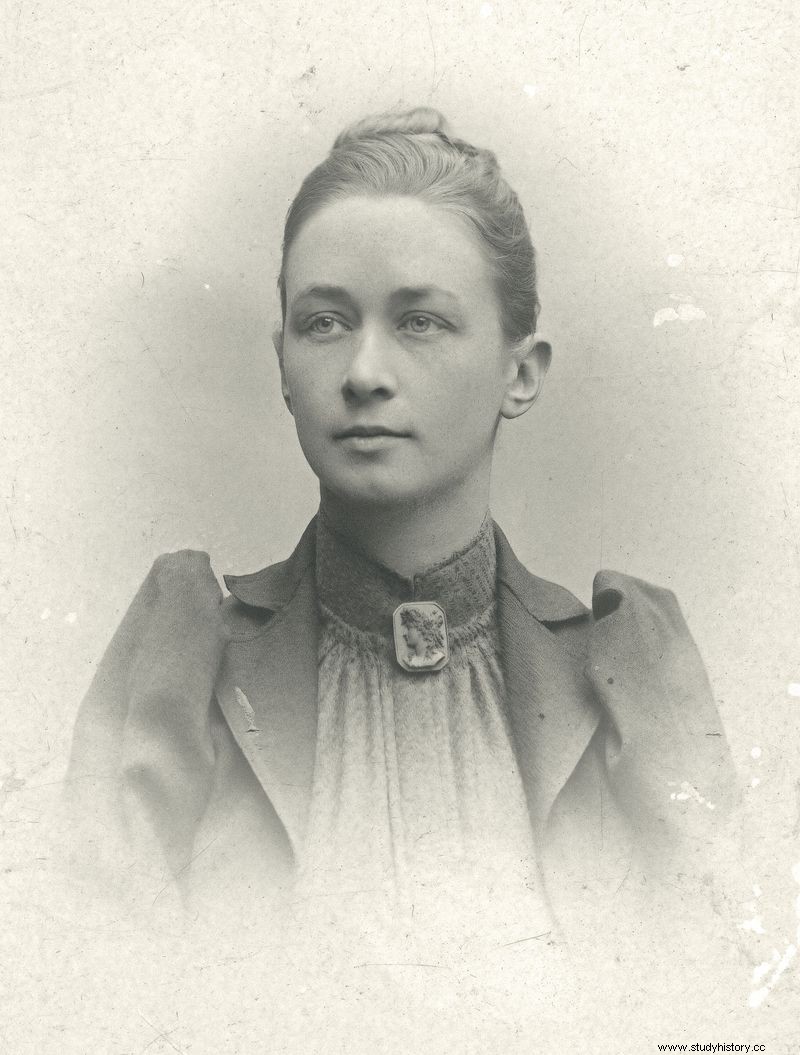 Born October 26, 1862 in Stockholm, Sweden, Hilma af Klint was the fourth child of Mathilda af Klint (née Sonntag) and Victor af Klint. Like his parents over several generations, Victor is a naval officer.
The af Klint family spends their summers at a family mansion on Adelsö Island, located on Lake Mälaren. In the heart of its wooded hills covered with pines and oaks, its rocky ridges, in the middle of the expanse of water of the lake, the child is there very early in contact with nature, near Stockholm. This bucolic setting will mark his art thereafter.
Interested in mathematics like her father, Hilma quickly showed herself to be very gifted for artistic creation. In particular, she took painting lessons and, at the age of 18, entered the Technical Art School in Stockholm and then the Academy of Fine Arts in Stockholm, where women were very rare at the time.
For five years, she will learn the art of portraiture and landscape, developing a classic art that will serve as a cover for her much more avant-garde creations.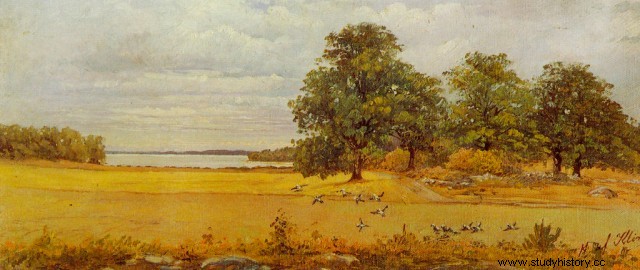 "The Five"
During her studies, Hilma af Klint met Anna Cassel. With three other women, they will form de Fem ("the five"), a group of artists who are particularly interested in the paranormal. Since the death of her younger sister Hermina, in 1880, Hilma has been particularly interested in spirituality and in particular in theosophy and anthroposophy, which are gradually intertwined with her art. Through spiritualism sessions, "the five" seek to come into contact with spirits. These sessions greatly influence the art of Hilma, who sees herself invested in transmitting a spiritual message to men through her art.
Exploration of abstract art
To earn a living, Hilma af Klint puts into practice the techniques learned during her studies by painting traditional landscapes, inspired in particular by her summer stays on the island of Adelsö. In parallel, from 1906 and before the pioneers Wassily Kandinsky, Piet Mondrian and Kazimir Malevich, she embarked on the production of a first series of abstract and symbolic paintings. His research in non-figurative painting is unrelated to contemporary modernist movements. In 1909, Hilma met the anthroposophist Rudolf Steiner, who introduced her to his own conception of art and influenced her creations. Hilma experiments with "automatic painting", for example creating in a state of trance. She explores abstraction while pursuing her quest for spirituality through art.
Hilma af Klint died in 1944 following a road accident, at the age of 82. She leaves a work of more than 1,000 paintings. She exhibited and sold her classical works, but never showed her abstract work to her contemporaries. Judging that the world was not ready to understand them, she specified in her will to her nephew Erik, to whom she bequeathed her work, that nothing should be revealed before 20 years after her death. It was finally in 1985, in Los Angeles, that the abstract work of Hilma af Klint was shown to the public for the first time.