A favorite of King Henri II of France, Diane de Poitiers (1499 or 1500 – 1566) exerted a great influence on him for 20 years.
Meeting the dolphin Henri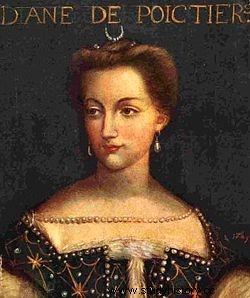 Only daughter of Jean de Poitiers, viscount of Estoile, lord of Saint-Vallier, and Jeanne de Batarnay , who died in 1506, Diane grew up with Anne of France (known as Anne de Beaujeu), princess and regent of France.
In 1515, Anne de Beaujeu married Diane, who was then 15 years old, to Louis de Brézé, grandson of Charles VII and Agnès Sorel, almost 40 years her senior. They will have two daughters together.
In 1524, his father, Jean de Poitiers, was accused of complicity in the treason of the Constable of Bourbon and pardoned at the last moment on the scaffold, in recognition of the good services of his son-in-law Louis de Brézé who warned the king of this plot.; Jean de Poitiers will end his days in the fortress of Loches.
Diane de Poitiers becomes lady-in-waiting to Queen Claude, to the king's mother, Louise of Savoy, then to Queen Eléonore. In 1525, King Francis I was taken prisoner at the Battle of Pavia; in exchange for his release, the dolphins of France François and Henri (future Henri II) are handed over as hostages to Charles Quint. They will spend almost four years in detention. It was Diane, then 31, who gave 11-year-old Henri a goodbye kiss as he left for Spain. And it is to Diane that the court education of the prince will fall upon his return to France.
Influential mistress
Louis de Brézé died on July 23, 1531 and Diane de Poitiers put on mourning clothes. She then undertook to defend her interests and make her fortune prosper, surrounding herself with lawyers and showing great financial acumen. A skilful negotiator, she managed to obtain the wages that her husband received as Governor of Normandy and Grand Seneschal and herself took the title of "Sénéchale de Normandie". She administers the property of her daughters and collects the income.
In 1533, Henri II marries Catherine de Médicis, choice supported by Diane. It was in 1538 that she became the dolphin's mistress. Intelligent, cultivated and influential, she exercises great influence over him. At the time, their relationship was well known. On the death of King François I, Diane was made Duchess of Valentinois in 1548 then Duchess of Etampes in 1553. King Henry II covered her with honors and wealth. And until the death of the king, Diana retains this influence over him.
Henry II was mortally wounded in 1559; Catherine de Medici forbids Diane first any visit to her bedside and then access to the funeral. The regent recovers the crown jewels offered by Henri II as well as the Château de Chenonceau. Her influence lost, Diane de Poitiers retired to Anet where she died in 1566.