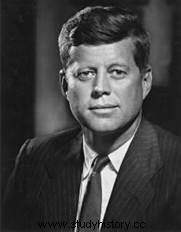 John Fitzgerald Kennedy was an American politician from Massachusetts and a member of the Democratic Party. Elected in 1960 by a narrow majority against the Republican Richard Nixon, he became at 43 the youngest president of the United States . Kennedy fights for more social justice and proposes a series of laws ensuring greater equality for black Americans. As crises with the Soviet Union deepen, he wants the Cold War to end. At the same time, he was suspicious of the rise of communist regimes and sent 16,000 men to South Vietnam. His assassination in Dallas on November 22, 1963 will deeply shock the United States, conferring on its main victim the status of a symbol, that of an era of prosperity and optimism, a way of a golden age preceding the dark years. of the Vietnam War.
John Fitzgerald Kennedy, the Product of a Dynasty
From his birth on May 29, 1917, John Fitzgerald Kennedy (or Jack Kennedy) seems destined to become an influential politician, or even more. It's because his father, Joseph 'Joe' has big ambitions and more than enough to satisfy them. He, like his wife Rose Fitzgerald, came from an upper-class Boston Irish family. The Kennedys and the Fitzgeralds quickly distinguished themselves in their adopted homeland with a keen sense of business. Political commitment went hand in hand with this integration into the business community of New England.
Joseph Kennedy, whose economic activities ranged from cinema, to banking, to shipbuilding, inherited from his father a certain influence with the Irish community of Boston and also joins the ranks of the Democratic Party. Despite all liberal convictions and practices (in the current French sense of the term) on the economic level, he played a significant role in the election of Franklin Delano Roosevelt. He will also be the architect of several of his financial and banking reforms and will even consider, for a time, running for the presidency.
The pinnacle of his career will nevertheless remain the two and a half years he will spend in London, as US Ambassador (a great victory for a descendant of Irish immigrants.. .). Once again, we will see the ambiguity of his democratic commitment, because where the president discreetly supports American support for the democracies against the Reich, Joe displays his confidence in the Munich line and does not hide his admiration for the results. of the Nazi regime. A position that will eventually lead to the decline and then the end of his political ascent...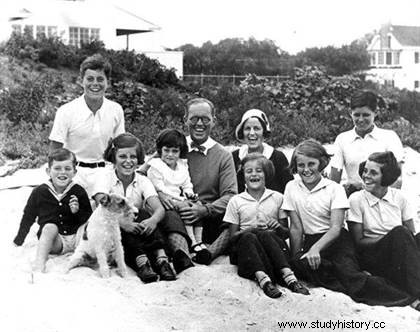 JFK is trained with care, in an atmosphere of permanent emulation, just like his eight other brothers and sisters. Within the siblings, he is only the second behind his brilliant eldest Joseph Patrick Jr, whom his parents hope one day to see settle in the White House. John himself, is hardly illustrated in the excellent schools he attends (including Princeton, Harvard and for a short period the London School of Economics). Agitated and even sometimes rebellious, he is nevertheless endowed with a strong capacity for work (which will always surprise his collaborators) and he is a born competitor in the field of sport. His enthusiasm for American football combined with a very fragile spine earned him a severe back injury that would torment him all his life.
Certainly JFK is a sportsman and a ladies' man (one could even speak of sexual addiction) but he is above all in fragile health (since he suffers from Addison's disease ) and it is young that he gets used to it, then falls into addiction to various drugs. He must also resort to crutches and a corset, which, like FDR's wheelchair, will be cleverly concealed from the public. Over time, he nevertheless became more seriously involved in studies and many people ended up predicting a good career for him, perhaps in journalism.
From his father, JFK inherited a taste for politics, but especially for international relations. He is passionate about Europe, which Joe's stay as an ambassador in London allows him to visit and appreciate. His graduation thesis was published in 1940 under the title "Why England was sleeping? and deals with the question of the British position on the Munich agreements. With the discreet support of his father, the work will become a success of esteem which is worth to its author a growing celebrity. It will be noted that in this book JFK adopts a very measured position with regard to the decisions of Prime Minister Chamberlain. If he does not pour into the same philo-Germanic excesses of Joe, John is not on the same interventionist line that Roosevelt adopts in private either.
An American Hero
When the United States plunged into World War II, after the Japanese attack on Pearl-Harbor, JFK affected by numerous and serious health concerns seemed to be doomed to pass the war behind a desk. This is counting without his incredible will and the influence of his father, of course. If his eldest becomes an aviator (he flies a US Navy B-24 based in England), JFK ends up serving on several Navy buildings in the Pacific. Having jostling to be sent as close as possible to the action, he obtains the command of a patrol boat (a fast ship 24m long, armed in particular with torpedoes), as a lieutenant.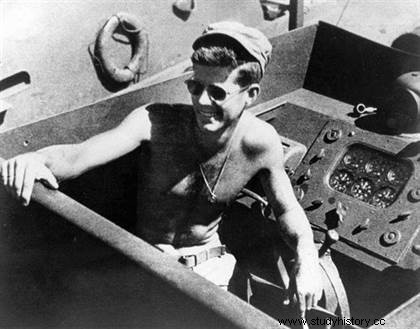 The PT 109 is assigned to the Solomon Islands sector where Americans and Japanese engage in fierce combat. On the night of August 2, 1943, the ship was rammed and cut in two by the Japanese destroyer Amagiri. In the minutes and hours that follow, JFK will demonstrate true heroism to save his men. Although thrown onto the deck and once again seriously injured in the back, he manages to save one of his seriously injured men from drowning by hauling him for miles and allows the surviving members of his crew to take refuge on a first, then a second island. Rescuers finally recover Kennedy and his men, promised a few hours earlier to death or captivity.
For his courage, endurance, and leadership, JFK will receive the Navy Medal and Commendation. This experience will mark him deeply, but above all will serve him once the war is over to build up the stature of a man of action and a leader. The PT 109 epic would later inspire several books, songs and even a film in 1963.
JFK continued his career in the Pacific until the beginning of 1944. His serious back injury finally earned him demobilization, not without obtaining several additional decorations. The end of the conflict is nevertheless a tragic period for the Kennedy clan. Joseph Jr is indeed killed at the controls of his aircraft over England, following an accident. John then becomes the object of all the hopes of his clan and the ambition of his parents.
JFK in Congress
After covering the Potsdam conference as a correspondent for the Hearst group, John quickly prepared his entry into politics. His father finds him the ideal constituency, the 11th district of Massachusetts, which is not only a stronghold of the Democratic Party, but also populated by many Irish people. The community and catholic vote, as well as Joe's clientele network are in play and JFK can count on his aura of young and handsome Pacific hero to tip the undecided. His program is certainly rather vague, but he compensates for this shortcoming with his inexhaustible energy (supplemented by numerous pick-me-ups) and the attention he pays to the question of the fate of veterans (particularly in terms of housing). P>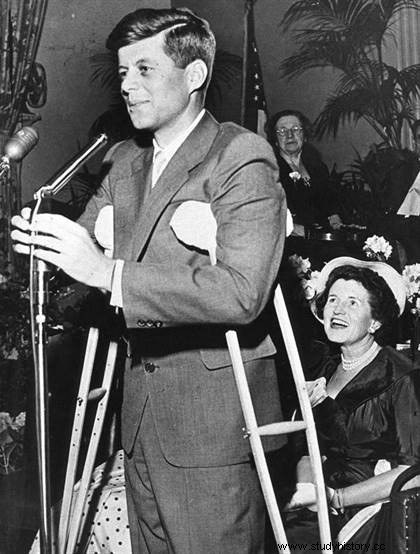 In the campaign, Kennedy proved to be a real machine for seducing voters, chaining meetings shaking thousands of hands during that his whole family contributes to his electoral logistics. He is logically elected and joins the House of Representatives for the next six years. Representative Kennedy will constantly nurture his local roots ensuring that his constituency benefits from his tenure. Nevertheless, he is preparing for more prestigious responsibilities by making himself known nationally. His physical presence, his youth and his enthusiasm hit the mark with journalists and the public. Politically he hardly takes any risks, conforming in general to the line of the Democratic Party.
In 1952, JFK ran for a senator's seat, an almost obligatory step for anyone running for the White House. During this election he defeated Henry Cabot Lodge Jr, an important figure in the Republican party and future partner of Nixon on the presidential ticket in the 1960 elections. Suffice to say that Kennedy entered the Senate through the front door. Brilliant entry into the big leagues, but an all in all lackluster mandate. It cannot be said that Kennedy stands out from the mass of senators with the rhetorical courage and ardor that will make the reputation of the President of the 'New Frontier'. The senator from Massachusetts hardly opposes McCarthy, close to his father and for whom his brother Robert even worked. The Kennedys will always be careful not to anchor themselves too far to the left so as not to cut themselves off from vital support in the midst of captains of industry and finance. They will even make many enemies in trade union circles, then, it must be said, plagued by corruption (one will think of Jimmy Hoffa's 'Teamsters').
The 50s were also busy for JFK on a personal level. In 1953 he married Jacqueline 'Jackie' Bouvier, a multilingual journalist and above all a wealthy heiress of a Long Island family. With her the future president finds not only an understanding companion but also a sharp mind. The modern, handsome and wealthy couple embodies the American dream and further bolsters Kennedy's media stature. Jackie espouses her husband's ambitions and supports her when he faces the worst, after multiple back surgeries (the senator received Extreme Unction three times). She even pushes him to take advantage of long periods of bed rest to write a book. This offers the portraits of eight senators (both Democrats and Republicans) who have distinguished themselves by their political courage. The book will be a certain success and will even win the Pulitzer Prize in 1957. We will learn 41 years later that it was in fact largely the fruit of the work of Ted Sorensen, future éminence grise of the president...
JFK openly displayed his presidential ambitions at the 1956 Democratic Convention. Lyndon B Johnson. Defeated by the senator from Tennessee, Kevaufer, Kennedy suffered the only real electoral failure of his career. A perhaps salutary failure in view of the results of the presidential election of 1956. President Eisenhower was re-elected there more than comfortably, crushing the Democratic ticket.
Kennedy to conquer the White House
As soon as Eisenhower was re-elected for his second and final term, JFK knew that he had a good chance of becoming the Democratic Party's candidate for the 1960 presidential elections. America in the late 1950s was relatively prosperous and the undisputed leader of the Western bloc, but all was not well. Senator Kennedy emphasizes the various challenges that the next decade is sure to bring.
The economy lacked dynamism (even plunged into recession in 1960) and the countryside was hard hit by the excessive mechanization of the means of production. The coal industry is collapsing (with the increasing use of oil and gas) and pockets of poverty are forming in the northeast of the country. The USA must increasingly face increasingly acute competition from very dynamic foreign economies (from Japan to economic Europe which is being built). Of course, JFK also insists on the question of civil rights, which is still unresolved, but where he is most offensive is in matters of international relations.
Like many opponents of Eisenhower, the senator from Massachusetts denounces the loss of prestige of the United States against the Soviets. The USSR was the first to put a satellite into orbit and is strengthening its influence on the five continents (from Cuba to Laos). There is also this question of the 'missile gap' (the highly fantasized advance of the Soviets in terms of the number of intercontinental nuclear missiles, against the USA) on which the senator from Massachusetts insists heavily. In short, Kennedy, opposes his dynamism and his firmness in the face of the immobility of the Republican presidency. He poses as a champion of a triumphant modernity, full of hope in the capacities of the United States to lead the march of the world.
JFK is in the running for the presidency, however, with some handicaps. He must first prove that he will not be the candidate of the Catholic Church. It is that in a country still culturally dominated by the WASP (White Anglo Saxon Protestant), steeped in anti-popery, the candidacy of an Irish Catholic for the presidency is cause for concern. The subject will regularly poison the senator from Massachusetts, who, behind the scenes, really needs the Catholic vote, the existence of which he denies in public.
He, the representative of the establishment of New England, liberal (in the American sense of the term, we would say progressive) and sophisticated, he must convince deep America and in particular the old south that he will not forget. To do this, his ex-rival Lyndon B Johnson of Texas will play a key role. Defeated at the 1960 Democratic convention, Johnson agrees (to the chagrin of many of Kennedy's advisers, including the now ubiquitous Robert Kennedy...) to join the presidential ticket with JFK, eventually becoming his vice president.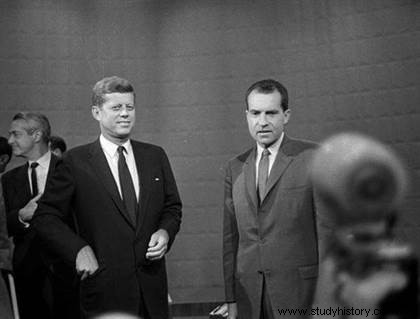 Opposite, on the Republican side, it is Eisenhower's Vice President, Richard Nixon who will compete. He certainly does not have the charisma or the sex appeal of the Democratic candidate, but he is a man of experience who can claim to know the essential files at his fingertips. Pugnacious and from a modest family of farmers in California, this jurist is a self-made man, the complete opposite of the aristocrat of Massachusetts. Endowed with a certain penchant for the bottle and a very assertive character, he lacks the social ease of his adversary. He is said to be tough, fiercely anti-communist and yet his positions are not so far removed from those of Kennedy. The opposition between the two men is more that of two styles and two images, more than that of two ideologies.
Their confrontation promises to be one of the tightest in the history of the United States. Legend has it that their television contests (the first of their kind) tipped the scales in favor of the Democratic candidate. The most serious studies on the question prove that in reality, they had only a very marginal impact on the choice of voters. The fact remains that during these, JFK demonstrated a great mastery of the codes of audiovisual communication in the face of a Nixon who was not always in his best shape, nor comfortable in front of the cameras.
In terms of discourse, Kennedy made his mark with his emphatic speeches referring to the mythology specific to the Democratic party. His approach to economic recovery is reminiscent of the Keynesian policies of the 1930s and 1940s. His 'New Frontier' program echoes Roosevelt's 'New Deal', Truman's 'Fair Deal' and raises a real hope among young people whom JFK invites to act for their countries, particularly within the framework of the "Peace Corps" that he proposes to create. Progressive, Kennedy certainly is, in any case he fits in with the times.
President Kennedy and the "New Frontier"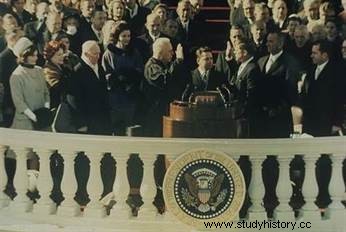 On November 8, 1960, John Fitzgerald Kennedy won the presidential election with 49.7% of the vote and became 43 years old the 35th President of the United States. A lead of only a few thousand votes separates him from Richard Nixon. Have there been frauds? Did Joe Kennedy's networks, his hypothetical contacts in the middle of the underworld, make the difference? There is nothing to say with certainty, even if it seems possible given the political mores of the time.
Admittedly badly elected (the 1960 election being the tightest in US history), but elected all the same, Kennedy put together his team during the fall preceding his taking office. If the young president-elect knows how to surround himself with brilliant personalities, he nevertheless has to deal with multiple cliques to recruit his ministers.
For foreign affairs it is finally Dean Rusk who is chosen. This jurist, specialist in East Asia is a combative anti-Communist, but also a fervent supporter of development aid which JFK has made one of the essential axes of his diplomacy. Getting along badly with the very active president on the international level, he is also in competition with the inevitable Ted Sorensen. Given the activism of President Kennedy on the international scene, he will always struggle to impose his mark on the foreign policy of the United States.
In defense, JFK chose Robert McNamara, initially tipped for the treasure. Surprisingly, the man is a Californian businessman, until then the centerpiece of Ford's management. He nevertheless kept from his time in the US Air Force during the war (at the office of statistical controls) a certain taste for the military thing. Very familiar with the most modern management methods, he intended to energize the American armed forces, in a favorable budgetary context (the funds allocated to defense increased significantly between 1961 and 1963).
In the end, it is Douglas Dillon who is finally chosen. This dyed-in-the-wool Republican, who played a significant role in Eisenhower's election in 1952, has both solid business and diplomatic experience. He will be responsible for defending American interests during GATT negotiations and will act as an important interface between the President and the business community.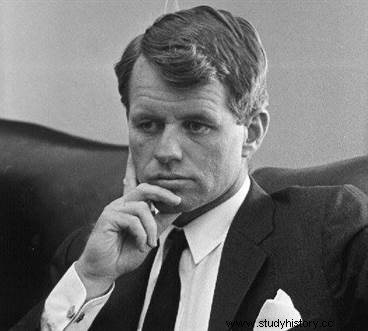 Finally, in justice, and this was indeed the most controversial choice, JFK named his own younger brother , Robert. A lawyer by training, who has always been involved in the preparation and conduct of JFK's campaigns, there is no doubt that despite his young age he is a fine connoisseur of American politics. Although a Democrat, he will always maintain links with certain Republican circles (he even votes for Eisenhower in 56...) and, as we know, was a close collaborator of Joe McCarthy.
His appointment caused a lively controversy and JFK was quickly accused of nepotism. It must be said that Robert Kennedy is much more than a simple 'Attorney General'. He advises the president on all subjects and remains his confidant for the most delicate cases. A man of action, he does not hesitate to take liberties with the law and strengthens the influence of the federal state. He is in many respects a bis president which is not without causing some confusion of genres...
John Kennedy facing American realities
From his brief inaugural speech on January 20, 1961, JFK displayed great ambitions for his term. He adopts the posture of a man ready to take up historical challenges and to profoundly change, not only his country, but also the whole world. It is a question of reaching this famous New frontier so fantasized and dreamed of. The reality of power will turn out to be somewhat different in this respect.
In domestic policy, President Kennedy intends to revive an economic machine that is beginning to show certain signs of running out of steam, in an increasingly competitive international context. His knowledge of economic matters being limited (he regularly has fun with it), he will show real pragmatism in his choices. A moderate positioning reinforced by the need to find a balance between a pseudo Rooseveltian positioning (inspired by John Kenneth Galbraith, in particular) and the need not to offend big business too much.
Thus if JFK practiced a certain revival by a conciliatory monetary policy and the deficit, he also worked out a tax reform (which would not finally be voted on until 1964) marked by reductions significant taxes. Despite some controversies (notably the conflict which opposed the Kennedy brothers to the steel majors in 62), President Kennedy's economic balance sheet remains rather positive. Growth is picking up and unemployment seems to be under control. It should be noted, however, that a particularly favorable economic climate will have contributed in part to these good results. In addition, the question of deficits was still largely unresolved in November 63, which would not be without consequences thereafter.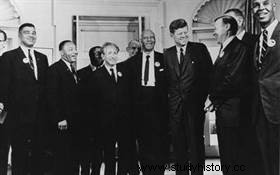 On the social level, JFK will have to face a burning issue, that of racial segregation. Since the end of the 19th century, the States of the Old South have practiced a regime of racial separation which is reminiscent of South African apartheid. Blacks, through a whole series of legislative artifices (the famous 'Jim Crow laws') see their main freedoms severely amputated on a daily basis. They cannot attend the same schools as whites and are reserved specific places in public transport or in public places. They are bluntly dismissed from the most qualified or most remunerative jobs and they are also deprived of the right to vote with the backing of legal measures. Added to all this is an atmosphere of exacerbated racism that the Ku Klux Klan perfectly embodies.
Since the mid-1950s, a segment of public opinion, supported by a 1954 Supreme Court ruling declaring segregation unconstitutional in schools, has called for an end to this state of fact. What is known as the civil rights movement took on a national dimension under the leadership of charismatic leaders such as Pastor Luther King. If Kennedy displayed anti-segregationist positions during his campaign, he is however hardly aware of the living conditions of black populations in the south. On the other hand, he has to deal with elected Democrats from the south, most of whom are fiercely attached to the racial status quo. Any intervention by the federal government on this issue would also risk being considered as an attack on the rights of the federated states, which was, let's not forget, one of the causes of the Civil War.
At first cautious or even wait-and-see, JFK and his brother Robert were forced to intervene when incidents, sometimes very violent, gradually broke out in the south. One thinks in particular of the riots at the University of Mississippi in 1962, provoked by the registration of its first black student. Feeling the situation slipping away from them, confronted with local authorities using the Ku Klux Klan more or less openly, the Kennedy brothers federalize the crisis. These events lead to a reversal of public opinion against segregation, which the president accompanies with executive (then legislative) measures prohibiting it. Robert Kennedy openly displays his support for Martin Luther King.
In the end, it will be up to Lyndon Johnson to definitively bury segregation in 1964, but there is no doubt that the essentials will have been accomplished under the Kennedy presidency. This will also earn him his mythical aura with the black community, despite his initial hesitations.
JFK and the Cold War
On the outside, JFK has never hidden his ambition to put an end to what he sees as a loss of influence of the United States vis-à-vis the Union Soviet. If, on a symbolic level, this involves enhanced cultural and economic cooperation with developing countries (without great results, we will think of the mistakes of the Americans in India, in particular) or by the emphasis placed on the conquest of space (the Apollo program), the main thing is elsewhere.
Kennedy displays good intentions and in particular that of leading by example, displaying the virtues of liberal democracy in the face of Soviet imperialism. The United States intends to conduct a pacifist foreign policy, based on the establishment of partnerships, arguing that common economic development is the best bulwark against communism. It is clear that these principles do not stand up to the test of facts. JFK remains the president of a great power, determined to impose his interests wherever he sees fit, whatever the methods. The management of the two Cuban crises being an excellent example.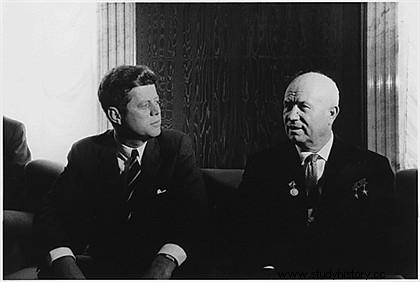 When he came to power in Cuba in 1959, Fidel Castro was widely appreciated in the United States. If the public opinion is initially rather favorable to him, if some are indebted to him for having put an end to the collusion between the Cuban authorities and the American underworld, President Eisenhower and especially Nixon, are hostile to him. Castro is then not an objective ally of the USSR, but his entourage (whether it is his brother or of course Che Guevara) does not hide his communist opinions. The threat they pose to American interests is real. Quickly, plans are being made to overthrow his regime.
Kennedy, although interested in increasing US aid to Latin American economies, nevertheless inherited these plans and practiced an ambiguous policy from the outset. If he refuses that the United States intervene with their own forces to overthrow Castro, he leaves the CIA free to arm and train an anti-Castro force in Florida and Guatemala. Perhaps too confident in the armed forces and the intelligence services, the Kennedy brothers finally approved the idea of ​​a landing of the anti-Castroists in the Bay of Pigs, on April 17, 1961. The operation, hastily prepared, badly coordinated is a total failure. Not only does it strengthen Castro's power and push him further into the arms of Moscow, but it completely discredits Kennedy's international position. Peace Corps or not, the United States has not renounced its imperial practices.
JFK will assume, not without a certain courage, the magnitude of the disaster, without however renouncing his desire to eliminate the Cuban leader. The CIA will carry out in the 60s a whole series of incredible missions intended to assassinate Castro, without ever succeeding. The latter now abandons all neutralist pretensions and firmly joins the camp of the USSR. Mid October 62 the Americans discovered, thanks to their U2 spy planes, that the Soviets were installing nuclear missile launch sites on the island. Miami, Dallas, or even Memphis are directly threatened. Kennedy condemned to firmness, can only react. During the 13 days that the missile crisis will last, he will have to govern on the edge of the abyss. However, he has the opportunity to make people forget the Bay of Pigs disaster by adopting a policy of force.
The Soviets and especially Khrushchev do not have a very high opinion of JFK. Outre le fiasco cubain, l'année 61 a vu les USA accuser un autre coup sur le plan international. Malgré ses discours (ich bin ein berliner, 26 juin 1963 ), Kennedy n'a concrètement rien fait pour empêcher la RDA et l'URSS d'édifier le Mur de Berlin. Une mesure pourtant tout à fait contraire aux accords liant les 4 puissances occupantes de la ville. Persuadés que les américains entendent toujours envahir Cuba, influencés par Castro, les dirigeants de l'URSS estiment qu'une fois leurs missiles installés, un président aussi faible que JFK ne pourra que céder devant le fait accompli. Après tout, les américains n'ont-ils pas des missiles en Turquie prêts à détruire Kiev, Kharkov ou Odessa ?
Le fait est que dans l'épreuve et malgré de nombreuses hésitations, JFK et son frère, tiennent bon. Le blocus imposé par la marine américaine à Cuba est fermement maintenu et les soviétiques ne peuvent renforcer leur dispositif sur l'ile. JFK use de l'US Navy habilement, mais surtout sait se rallier l'opinion américaine, notamment grâce à la Télévision. En sous main, les américains, avec le soutien des Britanniques et même des Français (malgré des relations compliquées entre JFK et De Gaulle, empoisonnées par les options anticolonialistes de Kennedy et la politique de prestige national du général), négocient avec Moscou. Un discret accord est conclu, voyant l'URSS retirer ses fusées de Cuba, en échange d'une promesse américaine de ne pas envahir Cuba et démanteler les sites de missiles en Turquie. Fin octobre 62, le président Kennedy est devenu le héros du monde libre, apte à traiter d'égal à égal avec Khrouchtchev très affaibli sur le plan intérieur. Il n'empêche qu'avec la crise des missiles de Cuba, John Kennedy aura joué au pompier pyromane, le tout dans un contexte nucléarisé...
Il faut dire que JFK, peut-être revenu de ses illusions initiales, n'hésite pas à prendre de gros risques pour contrer l'influence communiste. Retenons tout de même, que ce sera lui qui poussera les Etats-Unis dans l'engrenage vietnamien. Les USA, avec une certaine légèreté et sans vraiment connaitre la situation, s'impliquent progressivement pour défendre le Sud Vietnam face au Nord et à l'insurrection Viêt-Cong. Si fin novembre 1963, JFK affiche publiquement sa volonté de réduire dans l'avenir le dispositif US dans ce pays (17 000 hommes déjà !), dans le secret des discussions de cabinet, il sait à quel point la gravité de la situation sur le terrain rend improbable tout retrait rapide. Ce sera à son successeur, Johnson, d'en assumer les conséquences...
Kennedy assassiné à Dallas :la naissance d'un mythe
Le 22 novembre 1963, JFK se rend à Dallas au Texas. Le président prépare la campagne de 1964 et il lui faut à tout prix remporter cet état clé, où l'hostilité à son égard est marquée. Les républicains y semblent en progression et les démocrates locaux sont divisés. Il faut donc convaincre, marquer les esprits, au prix d'une prise de risque quant à la sécurité. Pour être sûr de faire mouche dans l'opinion, John voyage avec sa femme et traversera la ville visible de tous, dans une décapotable. Il faut attirer les foules, malgré des menaces de mort, à peine voilées de certains milieux d'extrême droite (qui considère le président et son frère, comme des crypto communistes, sic ! ).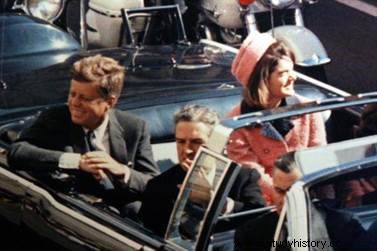 A 12h34 alors que la limousine présidentielle sur Elm Street, des coups de feu éclatent. JFK s'effondre sur les genoux de sa femme, le gouverneur du Texas :Connally, présent dans la voiture, est lui aussi touché, la panique la plus totale s'empare de la ville et c'est dans une incroyable confusion que l'Amérique vit les heures suivantes. Ultra médiatisé, cet assassinat plonge les Etats-Unis dans un psychodrame aux multiples rebondissements qui alimentera les plus folles spéculations.
Au-delà du récit événementiel, au-delà de toutes les controverses qui surgiront par la suite sur l'identité de l'assassin (Lee Harvey Oswald, seul ?), c'est à ce moment précis que John Fitzgerald Kennedy, devient non plus seulement un sujet d'étude historique mais un mythe, reflet de la projection de l'inconscient, des doutes et des traumatismes de toute une nation. Une image bien difficile à décrypter, brouillée par des perceptions contradictoires et des revendications divergentes. JFK intégrera la grande mythologie américaine au côté de figures comme Lincoln ou FDR, sans que l'on parvienne véritablement à en cerner la nature profonde.
Ce patricien de la côte est, pétri de contradictions, esclave de ses sens et miné par la maladie, laisse derrière lui un héritage dont tous les progressistes se réclament. En 1000 jours parvint-il cependant à changer le monde, à mettre les Etats-Unis sur le chemin de cette mythique nouvelle frontière ? Il nous semble que non. Kennedy ne fut ni un grand président, ni un président médiocre. Son bilan reste au final contrasté, la réalité des résultats n'épousant pas le clinquant des discours. Un hypothétique second mandat lui aurait-il permis de se faire une place, réellement légitime, au panthéon des chefs d'états américains ? Nul ne le saura jamais.
Bibliography
- John F. Kennedy. Une famille, un président, un mythe, par André Kaspi. André Versailles éditeur, octobre 2013.
- Kennedy ou l'invention du mensonge, par Stéphane Trano. L'Archipel, novrembre 2013.
- John Fitzgerald Kennedy, par Frédéric Martinez. Perrin, septembre 2013.