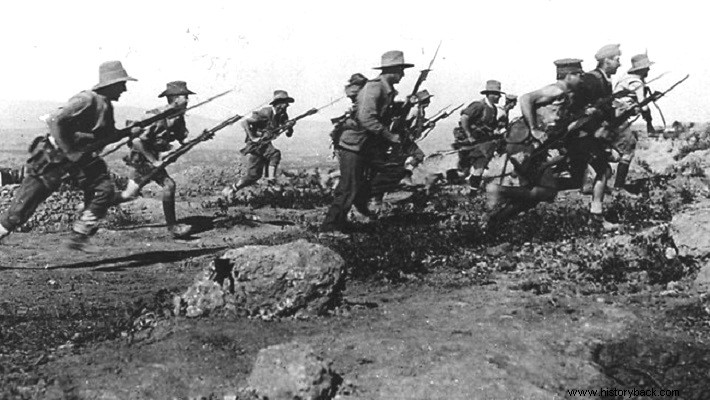 William (Billy) Edward Singh was of Chinese descent. He was born in Australia in 1886 and early on he showed that he was an amazing shooter by overcoming the racist stereotypes of the time and achieving great victories in shooting competitions.
On 24 October 1914 he was commissioned into the 5th Australian Light Cavalry after he managed to convince a recruiting officer to overlook the fact that Billy was only 1.65m tall. At the start of the Gallipoli campaign his regiment was sent there as part of the Australian New Zealand Corps Army (ANZAC).
There the Turks held more advantageous positions and had literally mowed down the Australians who were lower down. Billy because of his experience was placed as a sniper with Ion "Jack" Eadries and later Tom Sheehan as an observer. Billy took up duty at a point the Australians had named Chatham Post. That's where Billy Singh literally made history. Armed with a standard British 7.7mm Lee Enfield rifle. began to execute, literally, the Turks.
In order not to be in danger from the Turkish artillery, he often ambushed in the dead zone near the Turkish positions. With his fire he covered three positions in the end and not one, a Turkish trench at a distance of 350m. a communication trench at a distance of 500m. and a path at a distance of 900m. Billy Sign sometimes felt sorry for the Turks he killed but forgot it when he remembered what the Turks did to his colleagues. However, one of his colleagues, in an interview, describes him as a particularly hard man with nerves of steel.
Duel with the Turkish sniper
To deal with Billy Singh, the Turks sent into the field an elite sniper of their own whom the Australians called "Abdul the Terrible". Probably from this real story someone was inspired by the story of the Soviet sniper Zaitsev and the German sniper in Stalingrad. The Turkish gunner after several days of observation realized that Billy was in ambush at Chatham Post and took up a position opposite. A few days later Singh's spotter spotted a possible target. Abdul tried to shoot but Singh caught him and killed him with a shot instantly. In response the Turkish artillery began to plow their position forcing the two Australians to retreat.
It was the pinnacle of the Sig shooter. In August 1915, he contracted influenza, while shortly after, he and his observer were injured. Singh scored over 200 victories against the Turks at Gallipoli before the ill-conceived campaign ended, although opinion on his exact number of successes varies. Some sources speak of 119 or 150 victories. However, his corps commander Lt. Gen. Birdwood gave 201, while Major Mignelli reported that Singh had killed nearly 300 Turks.
It should be noted that the Lt. General had, on one occasion, acted as Singh's observer! His colleagues called him "the killer" and "angel of death"... In November 1915, however, Singh fell seriously ill again. He was treated for two weeks on a hospital ship and then sent to Egypt. After recovering he transferred to the infantry and was posted to the 31st Battalion of the Royal Queensland Regiment.
On the Western Front
In January 1917 Singh found himself on the Western Front where he was wounded several times. The free shot, however, came during an enemy chemical gas attack. Singh was sent to Scotland to recuperate where he met a waitress whom he married but the marriage ended ingloriously. In August 1917 he returned to the Western Front but the state of his health no longer allowed him to fight as effectively. Nevertheless, he particularly distinguished himself in the battle of Polygonos Forest in September 1917, being honored for his action by the Belgians. A little later he was again in the hospital as his health was, in fact, never restored by the gases.
Forgotten hero, inglorious end
Nevertheless, he continued to fight until February 1918 when he was again seriously wounded by German fire. With his lungs in dire straits, the heavily wounded Singh was finally discharged and returned to Australia in July 1918. Although the army acknowledged that Singh's health had been damaged by his combat service, it did not help him. Thus searching for resources and despite his tragic health, in order to live he came to work as a miner.
His wife never followed him to Australia. The forgotten hero of Gallipoli and killer of the Turks lived the rest of his life in pain and poverty. He died alone in a shack in Brisbane, Australia, where he was working as a labourer, on 16 May 1943. Only 5 shillings were found in his shack. In 1995, a statue of him was placed in the place where he died.