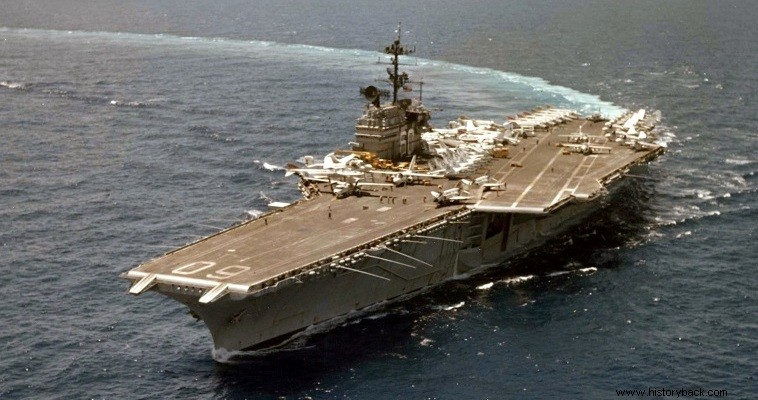 In the fall of 1992, the US and Turkey participated in NATO's "Exercise Display Determination 1992". Naval units from the two countries participated in the exercise under the supervision of American Admiral Jeremy Michael Burda.
The forces involved were divided into two with one representing the friendly force and the other the enemy. The "Brown Force" that represented the "good guys" was commanded by American Admiral Lopez and this force included the aircraft carrier USS Saratoga . The rival, "Green Power", also owned the Turkish narcotic Muavenet (the former US DM-33 Gwin destroyer/mineslayer). The head of this force was the Dutch admiral Kroon.
The scenario of the exercise provided for the landing of the "Brown Forces" in the Gulf of Saros on the Gallipoli peninsula. The "Green Force" was supposed to prevent the landing. On September 30, 1992 Saratoga, simulating an enemy air attack, it was decided to launch two RIM-7 Sea Sparrow surface-to-air missiles.
This "internal" exercise on the ship was an emergency and was ordered by the master . The missile operators were suddenly put on high alert without being told if it was a drill or a real threat. American officers failed to coordinate with each other, nor did they inform anyone and as a result, shortly after midnight on October 1, 1992, two Sea Sparrow missiles were fired but hit the Turkish vessel Muavenet.
The Turkish vessel was hit on the bridge and in the Battle Direction center. The result was the complete destruction of both. Five Turkish officers were killed, including the captain. Almost all of the other officers on board were wounded. The second Sea Sparrow hit the rear ammunition depot of the Turkish warship but did not explode.
The usual interrogations followed. The master and seven other officers and sailors of the Saratoga were held responsible and disciplinary action was recommended against them. But in the end nothing happened. The episode caused an uproar in Turkey. The Americans, however, compensated the Turks by granting them the frigate USS Capodanno Knox class. In 1994, several members of the Turkish ship's crew requested compensation from the US, but received nothing.