Martin Luther King Junior was a Georgia-born Baptist pastor who was known as one of the great leaders of the civil rights movement that fought racial segregation in the United States during the 1950s and 1960s. He advocated civil disobedience and nonviolence and was murdered in Memphis, year 1968.
Login also :Who were the Black Panthers?
Birth and Youth
Martin Luther King Junior was born in Atlanta, Georgia, in the southern United States, on January 15, 1929. He was the son of a Baptist minister named Martin Luther King , while his mother was called Alberta William King . Martin Luther King Jr. had two siblings :Christine and Alfred Daniel.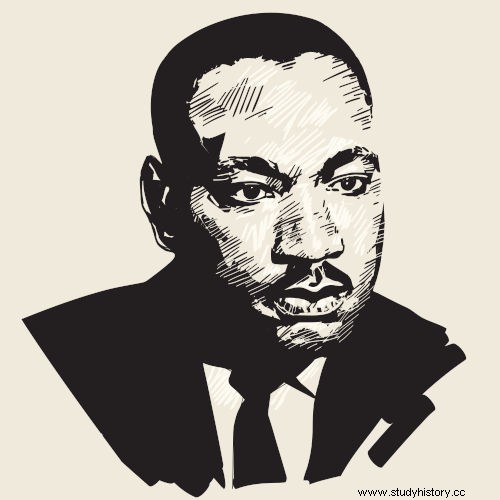 The original name given to Martin Luther King Jr. was Michael King Jr. , amended in 1935, when he was six years old, by his father. The name change was due to a trip that his father made to Germany, in 1934. His father was called Michael King Sr., and, in addition to changing his son's name, he changed his own name, starting to call himself if Martin Luther King Sr. The move was a tribute to the reformer Martin Luther.
As ​​might be expected, the upbringing of Martin Luther King Jr. was quite religious, and he grew up in a well-to-do family that occupied a middle-class position. As a child, he attended a school specifically for black students, Yonge Street Elementary School.
At the age of 19, Martin Luther King Jr. graduated in Sociology , at Morehouse College in Atlanta. At 25, he obtained a doctorate in Theology from Boston University, which he had entered in 1951. In this process of humanistic training, he had contact with the ideals of civil disobedience and the peaceful protests made by Gandhi in India.
As ​​far as religious life is concerned, the vocation of Martin Luther King Jr. started early. At age 19, he was ordained minister, and in 1954, at age 25, he was ordained to be a pastor of Dexter Avenue Baptist Church in Montgomery, Alabama, one of the most racist states in the United States at the time.
Personal life
During his time in Boston, Martin Luther King met the musician Coretta Scott . When Coretta first met him, she was a little apprehensive about his interest in her, because she didn't want to get involved with a minister. This fear was overcome, and their relationship resulted in a marriage on June 18, 1953.
From the marriage of Martin Luther King and Coretta Scott, born four children :Yolanda, Martin Luther King III, Dexter and Bernice. They remained married until 1968, when King was assassinated, and Coretta was a great support to her husband in the years he was engaged in the fight against racism.
Still, Coretta suffered from her husband's infidelity. Martin Luther King maintained extramarital affairs throughout his life, and this was exploited by the FBI, the US investigative service that ran a smear campaign against the religious leader. Even after finding out about her husband's affairs, Coretta didn't divorce him.
Login also :The conflict that ended slavery in the United States
Activism
In the 1950s, Martin Luther King joined anti-racist militancy. The United States was still an extremely racist country, and a number of rights were denied to blacks, especially in the South. In that decade, King was already a member of the National Association for the Advancement of Colored People (NAACP).

The big turning point in Martin Luther King's life came when he and other members of the NAACP decided to turn the Rosa Parks case into a major boycott against black segregation

strong> on buses in Montgomery, Alabama. The boycott resulted in the end of racial segregation across the country in 1956.

This gave Martin Luther King national prominence, and he became a big name in the civil rights movement, which fought racial segregation in the United States. The projection as a black leadership made King a target, and he began to receive threats frequent of supremacists .

Martin Luther King continued to engage in the anti-racist struggle in the United States, and a symbol of this was when he founded the Southern Christian Leadership Conference (SCLC) in 1957. This institution was made up of black ministers and pastors and played a very important role in the struggle for black civil rights.

Martin Luther King was a strong advocate of disobedience civil and, therefore, the holding of protests based on the principle of non-violence . This tactic divided the black movement, as there were those, like Malcolm X, who argued that blacks should react violently to state violence.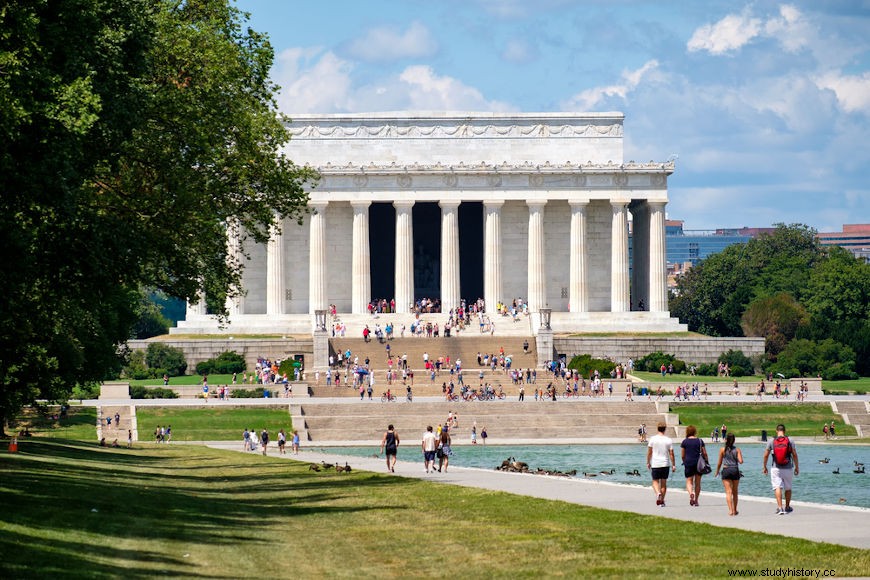 In any case, King led dozens of protests in which the protesters acted in a non-violent manner. One of them took place in Birmingham, Alabama, in April 1963, and images of police violence against protesters ran across the United States. This tactic helped to win supporters for his cause, as blacks and many whites were outraged by the violent response of the police forces.
Still in 1963, Martin Luther King starred in one of the most symbolic moments of the struggle for civil rights in the United States. He led 200,000 people, who marched to Washington and gathered to hear one of the Baptist pastor's most iconic speeches:I have a dream (I have a dream, in a free translation).
This speech was given on August 28, 1963, on the steps of the Lincoln Memorial, and in it, Martin Luther King, recognized as a great orator, announced:
I have a dream that my four little children will one day live in a nation where they will not be judged by the color of their skin, but by the content of their character. I have a dream today!|1|
Login also :Alfred Nobel, the creator of the Nobel Prize
Last years
The year 1963 it represented the heyday of Martin Luther King as a leader of the civil rights movement. That's when he was named Person of the Year by Time magazine and won a Nobel for Peace .
From then on, health problems, threats and internal dissent contributed to the Baptist pastor moving away a little from the leading positions . Still, he was a very important name in anti-racist militancy in the United States.
Martin Luther King engaged in demonstrations against the Vietnam War and acted against poverty in the United States. He was a victim of frequent threats and was also a victim of the smear campaign promoted by the FBI and his boss, J. Edgar Hoover . FBI and J. Edgar Hoover are credited with blackmail against King in the case of adulteries.
The FBI sought to explore King's history of depression, and during the blackmail actions, the Baptist pastor received a letter that would have encouraged him to commit suicide . The FBI's efforts to destroy the Baptist pastor's reputation were disclosed in a Senate report in the 1970s.
On April 4, 1968, Martin Luther King was on the balcony of a hotel in Memphis, Tennessee, when he was shot in the face, killing him for an hour. later. He was in town to support a workers' strike. When he passed away, King was only 39 years old.
The shot would have been by James Earl Ray , who confessed to the crime, but retracted his confession. A report prepared in Tennessee points out that the death of Martin Luther King had the involvement of members of the US government. However, there is no substantial evidence for this, and the murder of the militant pastor is still a big mystery.
Notes
|1| To read the full transcript of Martin Luther King's speech, click here.
Image credits
[1] Uncle Leo and Shutterstock
[2] Kamira and Shutterstock
Watch our video lessons: