August von Hohenzollern fervently supported Hitler. And it's hardly surprising. He promised him that he would restore the monarchy in the Third Reich and put him, Auwi, on the throne.
Although he was the son of the Prussian emperor and a candidate for his successor, he traveled by tram to work in Poznań. In addition, despite his noble origin, he was a supporter of Hitler, who promised him the restitution of the monarchy in the Third Reich. He was married but fell in love with his adjutant ... Here is August Wilhelm von Hohenzollern - an unlucky aristocrat whose fate has tempted him twice with the crown.
Augustus is hardly mentioned today in the serious diaries of the ruling families. And yet he had exceptionally good references. He was the son of the Emperor and King of Prussia, Frederick William II Hohenzollern. However, his overwhelming liking for men in uniform ruined his chances of winning the throne . In addition, times were not favorable to him. With the roar of World War I, the monarchies fell, and with them, August's prospects for royal life. However, the inhabitants of Poznań know his character. He lived and worked in Poznań, although he did not have time to deserve anything special.
August Wilhelm, or Auwi
August was born on January 29, 1887. He was first named after his mother, August Victoria, and his paternal grandmother, Princess Augusta of Saxony-Weimar-Eisenach. In total, he had five names:August Wilhelm Henryk Günter Wiktor von Hohenzollern, but was called Auwi . He had five brothers and a sister with whom he grew up in Sanssouci.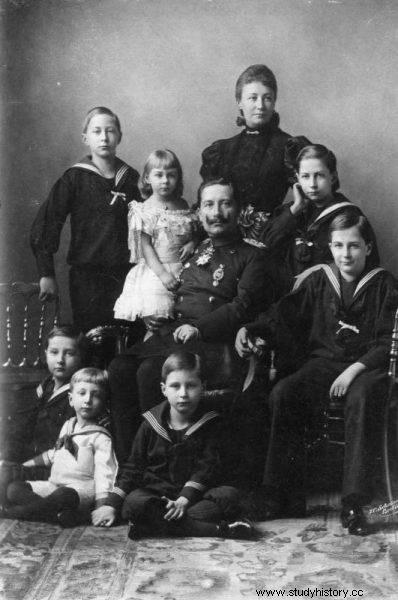 August Wilhelm had five brothers and a sister with whom he grew up in Sanssouci.
Young Augustus did not make a dizzying career at his father's court at the beginning. He was learning. He later studied history, economics and sociology in Bonn and Berlin . In 1907 he obtained his doctorate. A year later he married Aleksandra Wiktoria Holsztyńska , your cousin. The wedding took place in a chapel in a castle in Berlin. The bride and groom moved to a villa in Sanssouci, where they gladly hosted artists. After four years they became the parents of a son, who was named Aleksander Ferdynand.
The emperor then decided that the son should already take up some state duties. He invited him over and said that the young man had to go to work. You didn't have to look for that. There was a position in the state administration waiting for the prince, however, on the condition of official internship . A good place to gain knowledge and experience was - in the opinion of Frederick William II - Poznań.
By tram to work
August Wilhelm liked the city. The office at Kolegiacki Square - exactly the same where today the seat of the municipal authorities is located - took in an "apprentice". For the visitors of these walls, the visit of the distinguished guest was not a first priority. After all, the building was the seat of governor Antoni Radziwiłł, he delighted with music Fryderyk Chopin, and tsar Alexander I, tsar Nicholas I, Emperor Napoleon Bonaparte, Emperor William I and Prussian King Frederick William IV entered the threshold.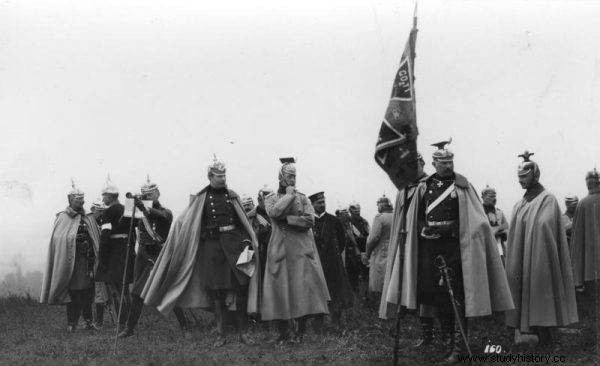 Young Augustus did not make a dizzying career at his father's court at the beginning.
August Wilhelm did not exalt himself. He gave up the carriage or the horse. He commuted to work by tram or on foot - like many Poznań residents. He spent his free time, among others on walks with my wife and two big dogs. He did not enter any spectacular events in the life of Poznań. After completing the administrative training required by his father, he left for Brandenburg. He took office as landrat in Ruppin , i.e. an official managing the poviat. As it turned out, my father could not have foreseen that this was where the event would break the plan ...
A prince who liked men
The prince was assisted by an adjutant, Hans Georg von Mackensen. The gentlemen got along so well that August Wilhelm ... fell in love with his friend and subordinates. He informed his father about it. He told him that the marriage with Alexandra had burned out, and that he was not interested in state and dynastic duties. He said he was thinking of divorcing and moving in with an adjutant. The emperor was concerned. If this news spread around the world, the reputation of the Hohenzollerns could suffer severely .
On the other hand, he seemed to understand his son a bit, because he himself was not interested in women. He had a wife because it was required by dynastic reasons. However, he felt best surrounded by his officers and ... friend, Prince Philip von Eulenburg - a diplomat who had a great influence on him and who was involved in a moral scandal because of his homosexual inclinations.
Frederick William accepted his son's divorce. However, fate mocked August, already lonely. Then von Mackensen proposed to ... a woman. Auwi had a great heartbreak . In order not to get depressed, he took up raising his son and drawing. He didn't have much free time anyway. He fell into a whirlwind of new events that had just gripped Germany. Brown SA shirts appeared on the streets. Members of the paramilitary Stahlhelm performed at rallies, proclaiming monarchist slogans - it was something for August! He joined the NSDAP and then the SA. He became - to the dissatisfaction of Wilhelm II, who was in exile in the Netherlands - a supporter of Adolf Hitler.
The defeated king dies…
The leader of the Third Reich kept a close eye on his surroundings. He recognized careerists and people who could personally be useful to him in seizing and strengthening power. The characteristic colonel of the SA with an imperial pedigree could attract aristocrats and monarchists to Hitler. Until absolute power, at least.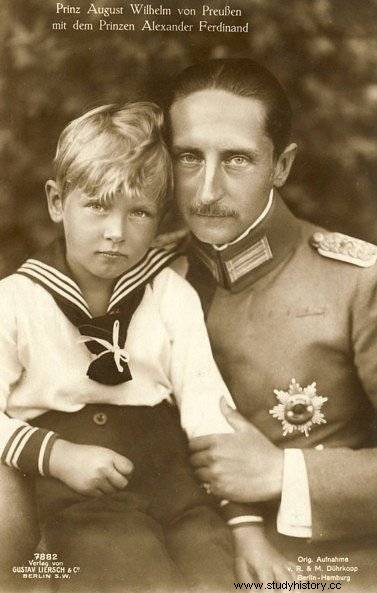 August Wilhelm Hohenzollern with his son Aleksander
Besides, Adolf Hitler did not need a renaissance of the emperor's power which he often emphasized. He recalled how he and many brave soldiers shed blood for the monarch during the war. This one, however, did not lead the state to victory, but to defeat. At the rallies, the audience repeated the words of the leader: "The defeated king of Prussia dies at the head of his soldiers, and does not flee abroad" . And they did not notice that Hitler, on the one hand, pays tribute to brave fighters against Jewish shopkeepers, and on the other, until a caste of dedicated young commanders is formed, he needs professional officers. And these - horror of horrors - often sign with the noble "von".
The throne of the Führer
And since Hitler did not like to wait, in August 1932 ... he met with Emperor Wilhelm. Apparently, he promised him the restitution of the monarchy! In such an arrangement, Hitler would become president of the Reich from which he will step down to the emperor at the right moment. And these were the words he conveyed to Auwie, whom he invited to a separate meeting. Our "brown shirts" officer heard then that the return of the monarchy is possible for the good of Germany . The problem is that you have to find someone to sit on the throne and lead the country to new glory days. The last emperor - with all due respect - was out of the question.
- Do you know who could be king? Maybe you know the right person? I think about you, but I don't know if you, Colonel, have such a role ... Hitler asked. August Wilhelm began to understand that he was facing a unique opportunity. Surprised, declared that if the people wanted it, he would agree for Germany . He or maybe his son already. Hitler nodded. These are good candidates and he would remember them in good time. For now, however, he was asking for support for the hard work for the good of the state.
Propaganda movement
Auwi eagerly undertook this task, meeting the aristocrats and convincing them to the brilliant strategist that Hitler had become in his eyes. He also instilled in his son respect for Hitler. He awakened in him the hope that a throne was waiting for them in fascist Germany. Alexander joined the Luftwaffe , however, did not live to see his coronation, of course, and died in 1985.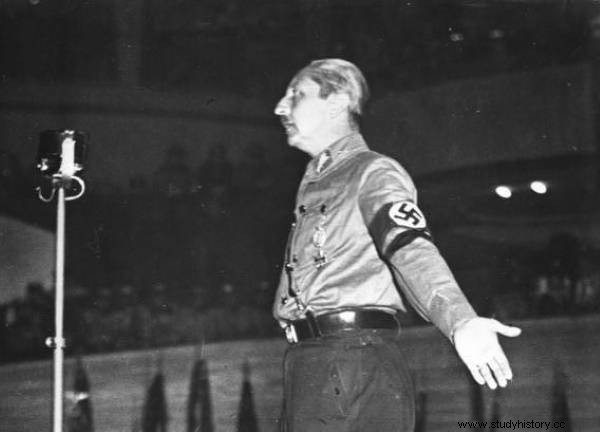 Adolf Hitler was just about propaganda. He didn't need Auwi for anything else.
Meanwhile, Adolf Hitler was just about propaganda. He didn't need Auwi for anything else. Moreover, the SA members themselves and Ernest Rohm, their leader, disturbed him more and more with each passing day. He decided to make a drastic move: initiated the "night of the long knives" which prevented the formation from looking up after June 1934 . Auwi survived because he was arrested as a precaution before the pogrom. However, until the end of the war, he held minor administrative positions. He was awarded the SA-Obergruppenführer degree as a sweetener.
Ironically, the old tastes for men stood in the way - as in imperial times. The master of intrigue, the Minister of Propaganda Joseph Goebbels, who called Auwi the "Brown Staniczek", used it willingly. August Wilhelm survived the war, evacuating west in 1945 and surrendering to the Americans. He was sent to prison, where he spent three years as a high-ranking Nazi officer. He settled in Stuttgart. He died on March 25, 1949.
Bibliography:
Grzegorz Okoński, Tsar Alexander I, Napoleon Bonaparte and ... Fryderyk Chopin hosted here, in:https://plus.gloswielkopolski.pl, 15/12/2017
Zbigniew Zakrzewski, The Streets of My Poznań, Poznań 1985
http://kamienie-wilhelma.net.pl/ Wilhelm II - based on the book by Andrzej Czapliński "Stones of William"