The newlyweds could only dream about a cake, a wedding dress and a true feast. Nevertheless, participants of modest insurgent ceremonies remembered them as one of the most beautiful moments in their lives. Because although almost everything was missing - the most important was in abundance.
"Irka" (Irena Kowalska) and "Czarny Jaś" (Jan Wuttke) could talk about true happiness. After their wedding, on September 4, 1944, there was quite a large wedding reception, organized by Captain Ryszard Białous "Jerzy" ... in the hall of the Bulgarian embassy! "The menu consisted of canned sandwiches, horse meat steaks and, of course, wine. As part of the rarity, each guest received a thimble of real black coffee "- he says in the book" Miłość ". 44 true stories of insurgent love "Agnieszka Cubała.
Admittedly, the bride and groom did not have ceremonial costumes - the sacramental "yes" they said to each other in leopard print - but as for the insurrectionary conditions, they were even showered with gifts. They received fragrant soaps, handkerchiefs, socks and ... a pack of pistol cartridges. In addition, (which few could count on) they were granted a separate room and a day off from service . "It was a bright, joyful moment in the sea of ​​cruelty, death and pain," recalled priest Józef Warszawski, who led the ceremony, many years later.
"We dressed these girls in what who could"
Weddings, sometimes arranged quickly, did not always have such a solemn setting. "There was nothing to eat, nothing to drink. We were constantly in the fight "- said Jan Władysław Maciejewski" Henryk ". He himself, by chance, actually from the march, became a witness at the wedding of a cadet and a liaison officer. On their lucky day, the young did not manage to organize any, even the most modest party. Later it was not given to them either - they both died in the uprising.
The nurse "Zosia" (Zofia Szczepańska) swore allegiance to her beloved in a similar hurry. As he explains, there was no chance of organizing a larger celebration. "There was refreshment, sandwiches," she recalled, "I don't think there was even alcohol, because you had to [be] able to leave at any moment." One element, however, remained in line with tradition: the bride had a white dress arranged by her friends from Konduktorska .
As a rule, efforts were made to celebrate short moments of happiness as much as possible, illuminating the gloomy everyday life of the insurgents. "We dressed these girls in what who could. Some lady brought a white blouse from home, from the apartment. Someone lent her a skirt or gave her to wear. Some flowers here "- reported" Magda ", that is Maria Halina Kucenty.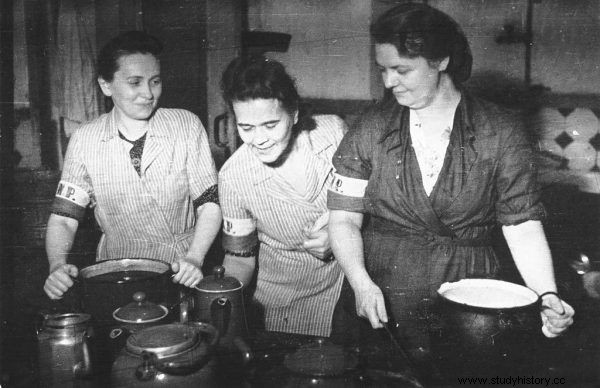 Wedding feasts were largely "contributory". Illustrative photo.
In turn, "Krysia" (Krystyna Kunowska-Szybecka) remembered that one of the wartime brides had gone to the wedding in her coat and slippers. "Who had some possible clothes, we obviously gave her everything to make her as elegant as possible," she explained.
There were no rules regarding the dress code. Young people performed in their ordinary costumes, sometimes in leopard print. During the ceremony, Beata Branicka "Atka" was dressed in an ordinary surgical gown, and Maria Nowotna "Róża" appeared in a yellow silk blouse ... made of a drop parachute!
Equally coincidental were often mentioned by young wedding rings. Some got them from their family, others managed to get rings made of, for example, bronze, and still others were content with ... curtains. On the other hand, wheels made of a machine gun bearing were truly "insurgent". This is the symbol of marriage that "Rose" received. "We used [them - ed. A.W.] for a very long time, she said, Until our fingers started to turn green.
Two tomatoes and seven herrings
Wedding feasts were also organized in "Składkowo". As "Magda" said:
Well, when it was a wedding, every gift was brought. Everyone had something there. One had some chewing gum, he picked it up somewhere from the drops, the other one brought some tomato. Oh, we had two tomatoes. (...) they were divided into all participants, that is, a dozen or so people. And it was a gift for the bride and groom. They got the biggest pieces.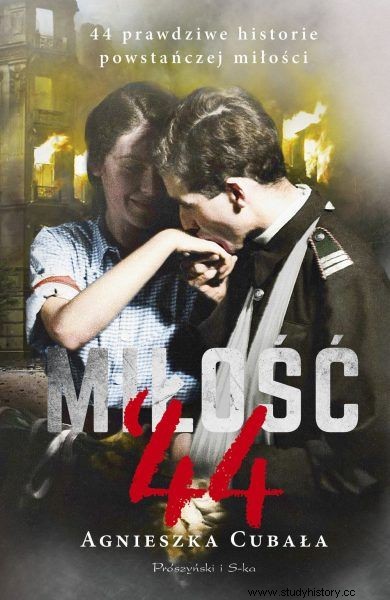 Tomatoes were also on the table during the celebration of the relationship between "Atka" and Leszek Rybiński "Pat", on September 3rd. In this case, the young people also treated their guests to many hard-to-reach delicacies. "The wedding feast consisted of slices of dry sausage, biscuits, strawberry compote, a box of sardines and sandwiches with pieces of the last two tomatoes" - describes Agnieszka Cubała in the book "Miłość '44". The toasts were made with the ancient slivovitz from the Branicki cellars.
At the wedding of the nameless couple, which was attended by "Krysia", the highlight of the program was ... potatoes. "It was an amazing rarity" - she emphasized years later - "One potato or half a potato per head".
The availability of food, of course, has changed over time. The most famous (because immortalized in the beautiful photos of Eugeniusz Lokajski) insurgent couple, Alicja Treutler and Bolesław Biega, or "Lili" and "Bill", on August 13 offered French pates, Portuguese sardines and biscuits.
Less than a month later, on September 7, Jan Nowak-Jeziorański, when marrying his "Greta", enjoyed a treat consisting of a can of English canned food, two sardines and a bottle of wine. And during another ceremony on October 2, only two slices of bread appeared on the table, each with a slice of bacon . Of course, the bride and groom consumed it - it was their wedding gift.
Giving delicacies as a gift was also common. Halina Czarniecka "Karolina" and Stanisław Jastrzębski "Kopeć" received, for example, on the occasion of their marriage ... seven herring. They enriched a loaf of loaf bread and rabbit stew for ten people.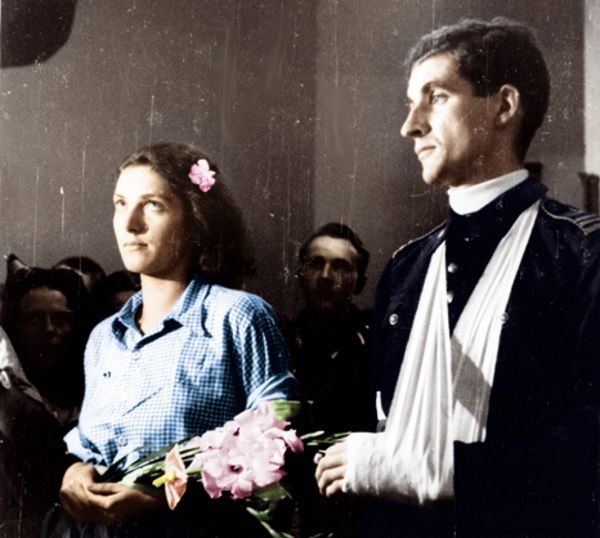 Alicja Treutler and Bolesław Biega, or "Lili" and "Bill", on August 13, treated guests to French pates, Portuguese sardines and biscuits.
"The bride's blouse turned gray from the dust and plaster"
Even during the most sumptuous feasts, the wedding guests had to reckon with the fact that it would be necessary to quickly return to the difficult reality. "Karolina" and "Kopeć" experienced it the hard way. Their wedding was delayed first because of an air raid which temporarily prevented the groom's brother from seeking the necessary breviary for the sacrament. And after that, everyone had a few terrifying moments. As Agnieszka Cubała writes in the book "Miłość ´44":
When the priest was finally ready to begin the ceremony, a bomb exploded. It hit their home - luckily another wing of it . The bride's white blouse turned gray with dust and plaster. For a moment, you literally couldn't see anything. When the dust settled and the raid stopped, the apartment had to be cleaned up a bit. After thirty minutes, the priest returned to the ceremony.
Andrzej from the "Nałęcz" battalion was married to a liaison officer under fire. One of the guests, Wiesław Feliga "Huragan", mentioned him:
(...) the fire was terrible and all the time, when the priest was giving the wedding to the bride and groom, we were standing, everything was falling on our heads:windows, iron, everything in what hit the bullet from the so-called roaring cows or from "wardrobes" (...). This episode was also shelled from the railway gun at the Gdański Railway Station. It was a "Berta", six or six hundred and fifty in diameter, a "calf" which, when it struck, was not half of the house at once. German artillery was firing (...), but they got married happily . We were wounded by glass.
Best memories
Despite the many difficulties that arose when organizing a wedding and a wedding reception, during the uprising as many as 256 couples decided to enter into a relationship . This means that on average, there were as many as four such ceremonies a day! Didn't the young people wait for the war to end and get married "normally"? "No, I didn't want to. I just wanted a husband, because I knew what kind of man he was "- she simply said" Zosia ".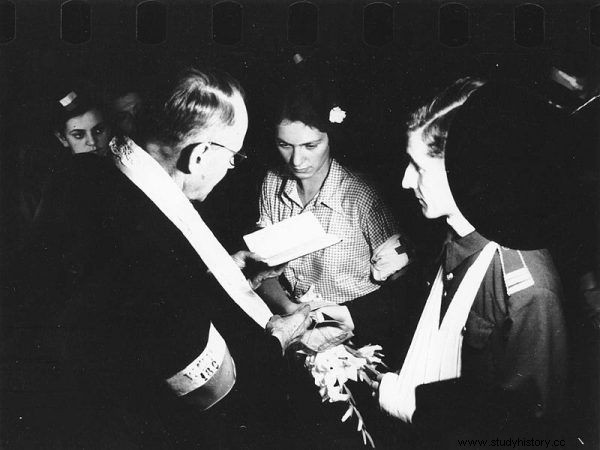 Alicja Treutler and Bolesław Biega became the most famous couple of repeat newlyweds - their wedding was immortalized in photos by photographer Eugeniusz Lokajski.
In extreme conditions of the uprising, such decisions were made faster. Young people who risked everything every day did not want to wait for a life that might never come. And for many, unfortunately, it really did not come - not all young spouses lived to see the end of the fight ...
During the uprising, however, love was a real consolation. Also for others. "These insurgent weddings were warm," said Magda. And "Leszek" (Leszek Dąbrowski) points out that his friend's wedding was for him one of the most beautiful moments of this period . "There was a wedding and I was playing the accordion. It was the best memory of the few hours we had fun, "he recalled. After all, it was possible to forget about bombs and rifles for a while and live happily and simply ...
Bibliography:
Jan Nowak-Jeziorański, Courier from Warsaw , Horizon 2019 sign.
Agnieszka Cubała, Miłość '44. 44 true stories of insurgent love, Prószyński Media 2019.
Anna Swatowska, Love and Marriages in the Warsaw Uprising , wPolityce.pl 30/07/2012.
Archive of Oral History of the Warsaw Rising Museum, testimonies of Wiesław Feliga, Zofia Szczepańska, Anna Uklejska, Maria Halina Kucenta, Leszek Dąbrowski, Krystyna Kunowska-Szybecka.
Learn about real love stories from the Warsaw Uprising, read Agnieszka Cubała's book "Miłość". 44 true stories of insurgent love. "