It's hard to consider it top-notch literature, but it became a milestone in Polish everyday life in the 19th century. It was there that entire generations of women studied, and a modern approach to the subject saved many people from atherosclerosis and heart attack. Are you sure you know this book?
When "365 dinners for 5 zlotys" by Lucyna Ćwierczakiewiczowa first appeared on the market in 1860, the entire circulation disappeared immediately. This was not the first publication by this author and readers knew what to expect.
Ćwierczakiewiczowa has become known to the whole of Warsaw as a invigorating lady who has no conventions and, above all, knows the kitchen very well which she had already proved two years earlier by issuing "The only practical recipes for all pantry stocks and baking cakes", which quickly became a bestseller.
From the memorable year 1860, countless editions of "Dinners" were printed, and the book at one time outperformed the circulation of the most widely read Polish authors, including Sienkiewicz (before the "Trilogy") and Prus. As Marta Stockfisz comments in her biography Ćwierczakiewiczowa with a much meaningful title "Lady of dinners" :
He is thirty-nine years old, clearly overweight, five feet tall, and the strength of a giant. And yet it is she, and not Warsaw beauties, that sets the tone for the social life of the capital, arousing contradictory emotions. Her bestseller "365 lunches for 5 zlotys" stands on a shelf in every home, right next to the prayer book, but it is more read.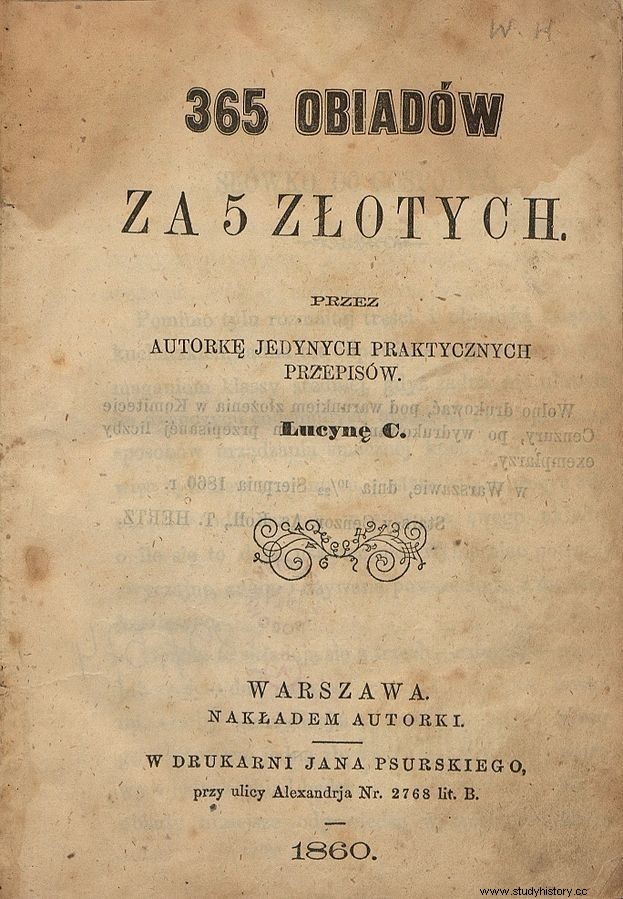 The title page of the first edition of Ćwierczakiewiczowa's 365 lunches (photo:public domain)
The success of the book is also noted with sneer by the writers compared to the famous cook, whose opus magnum it resumes again and again. Prus even argues that to marry a woman only needs three "qualifications" - adulthood, free will and just "365 lunches".
Polish cuisine, or what?
What is the success of the book? From the author's innovative approach to the subject of Polish cuisine. Traditionally, the dishes that were served on the tables in richer homes would scare many a modern dietitian - meat in a thousand ways and heavy, thick sauces. Not to mention sweets dripping with sugar, although the latter is hardly surprising. The first sugar factory in Poland was established at the beginning of the 19th century, and the Vistula River was choked with sugar, the production of which continued to grow, ultimately making Poland a sweet power in Europe.
Ćwierczakiewiczowa decided to try to bite the subject differently. Instead of duplicating recipes that required whole pots of fat and other heavy and expensive ingredients, where she could replace them with much healthier alternatives. In this way, without compromising the taste of the dishes, it made them much more accessible to the body.
The cook also changed the approach of Polish housewives to vegetables. She promoted their use as widely as possible, both in the raw, cooked form and, above all, in the form of all kinds of preserves. In her famous publication, she devoted a lot of space to the issue of preserving vegetables and fruits, believing that having such prepared and ready-to-use products brings only benefits.
What else distinguished "365 dinners" from other cookbooks? Certainly the recipient. Ćwierczakiewiczowa, who herself came from a well-to-do capital city bourgeoisie, also liked the everyday life of landed gentry families thanks to her first marriage. However, she intended her book not only for rich ladies. The publication was not expensive, and at the same time it was a real treasury of recipes that allowed to prepare a tasty and nutritious dinner even with a very limited budget.
Unlike her predecessors in the field of culinary counseling, the cook developed recipes in such a way that even a housewife who did not have domestic helpers at her disposal could cope with their implementation. In the mid-nineteenth century, the age of recipes that began with the call for help of a few kitchen wenches was long gone.
The author proposed many recipes, which she called in the French way which meant nothing less than:cheaply. Thanks to this, women cooking with the help of "365 lunches" did not have to worry about their budget. In addition, in her work, she included detailed menus for each month, taking into account the season of the year, the seasonality of products, as well as Catholic fasts. In the era of fridges and freezers, the hostess might have considered it a real blessing.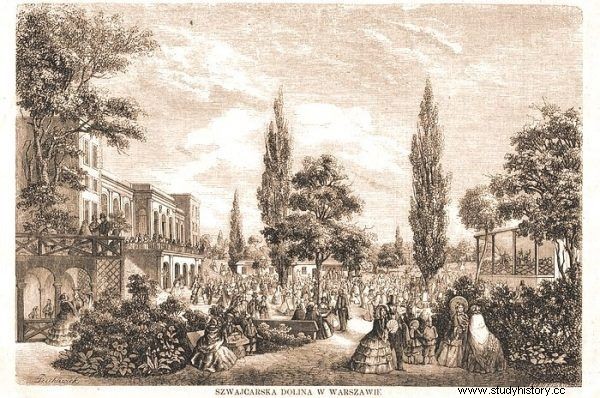 The Swiss Valley in Warsaw in 1860, that is in the year of the publication of Ćwierczakiewiczowa's work of life (photo:Tygodnik Ilustrowany, public domain)
Each subsequent edition of "365 Dinners" was better than the previous one. Ćwierczakiewiczowa returned to work and corrected and supplemented the recipes she served. When the fourteenth edition was published in 1886 and a total of 70,000 copies of the book were sold Bolesław Prus wrote a short rhyme in honor of the author:
What Mickiewicz did not dream about
This is what Mrs. Ćwierczakiewicz won.
Mrs. Lucyna with her "365 lunches" became a household teacher for entire generations of women, and her books broke popularity records in all three partitions (they even reached St. Petersburg!). It is worth opening her cooking guides to see how she patiently and in detail explained to her readers subsequent methods and recipes. Most importantly, she managed to teach them a delicate balance between exquisite and simple dishes, thanks to which even the less gifted could positively surprise their household members. Although we may not be aware of it, its influence is still visible in Polish cuisine.
And even if there were times when other books were sold in more copies, none of them was read as often, passionately, and with as much attention as "365 Dinners."
Information sources:
Franke J., Lucyna Ćwierciakiewiczowa , Polish Press History Quarterly 31/1 (1992).
Machowska M., "There is only Shakespeare and one Ćwierczakiewicz." An attempt to present Lucyna Ćwierczakiewiczowa in a new light , "Vade Nobiscum", T. X (2013).
Stockfisz M., The dinner lady , Wydawnictwo Literackie 2018.
Wodzińska I., Lucyna Ćwierczakiewiczowa, an unconventional woman, Wydawnictwo DiG 2014.