There are two speculations about the origin of the name of Big Ben's bell, both referring to two personalities from England.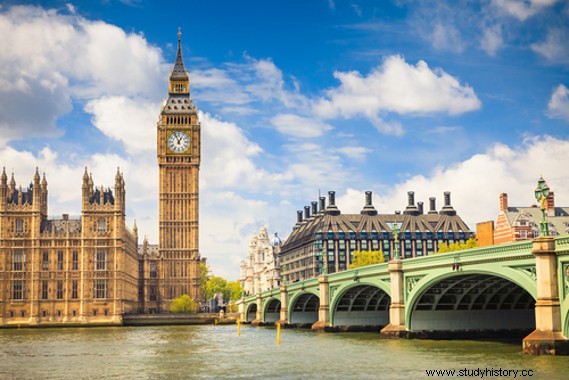 By Me. Cláudio Fernandes
The origin from name bell Big Ben , which is located in the Clock Tower, at the seat of the English Parliament, dates back to the second half of the 1850's. There is no precision regarding the attribution of the name to this bell, but there are two speculations about it.
The first one refers to the English Minister of Public Works in the early 19th century, Benjamin Hall, who coordinated the construction of the Clock Tower. The name of the bell would be a tribute to the minister's name, "Ben", short for "Benjamin". The second hypothesis refers to the much appreciated figure of the boxer Benjamin Caunt , who, because of his height and his performance in the sport, was also called "Big Ben".
In any case, the fact is that the Clock Tower and the famous "Big Ben" bell were included in the original design of the Parliament building after the fire that its structure suffered in 1834. At the time the building was being rebuilt, the company EJ Tooth & Co he took charge of manufacturing the monumental clock to be placed in the tower. And the bell, which would remain associated with it, was built by Whitechapel Bell Foundry .
The "Big Ben" bell was tolled for the first time on July 11, 1859, exactly eleven days after the inauguration of the Clock Tower and the new structure of the Parliament building . The clock rarely stopped working, even when London was hit by heavy bombing during World War II.