White civil rights activist, Viola Gregg Liuzzo (1925 – 1965) participates in Steps from Selma to Montgomery to demand the right to vote for African Americans in 1965. She was assassinated by members of the Ku Klux Klan.
A poor childhood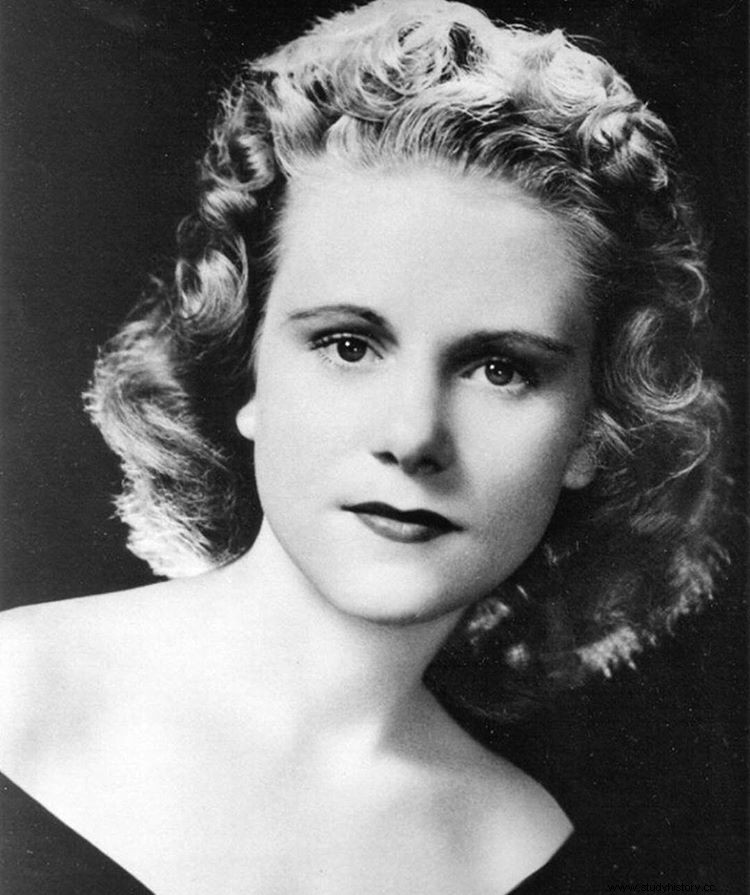 Daughter of Eva Wilson, teacher, and Heber Ernest Gregg, miner and veteran of the First World War, Viola Fauver Gregg was born on April 11, 1925, in the small town of California in Pennsylvania (United States). She will have a little sister five years her junior, Rose Mary.
Heber loses his right hand in an explosion in the mine where he works. During the Great Depression, the family depended solely on the income of Eva who, although she had a teaching certificate from the University of Pittsburgh, obtained only sporadic contracts. The family gradually fell into poverty and moved to Chattanooga, Tennessee, where Eva found a job.
Very poor, the Greggs live in one-room hovels with no running water. Viola attends schools that lack human and material resources. In this southern state strongly marked by racial segregation, she nevertheless becomes aware of the privileges which, despite her poverty, her family enjoys in comparison with African-American families. This discovery and this experience of segregation will be the soil in which his activism will grow.
Weddings and children
In 1941, the Greggs settled in Ypsilanti, Michigan, a state in the Midwest of the United States. In the middle of World War II, Heber finds a job there in the manufacture of bombs at Ford Motor Co. At the age of 16, Viola leaves high school and runs away to get married, but divorces in the year before returning to her family. . Two years later, the family moved to Detroit, which at the time was experiencing marked segregation, growing tensions between whites and blacks, sporadic outbursts of violence and riots. Events that reinforce Viola's egalitarian convictions.
In 1943, the young woman remarried to George Argyris, with whom she had two children, Penny and Evangeline Mary. They divorced in 1949, and Viola remarried Anthony Liuzzo, a Teamsters agent. From their union are born three children:Tommy, Anthony Jr. and Sally. While raising her children, Viola decides to go back to school and enrolls in the Carnegie Institute of Detroit, then at Wayne State University in Detroit.
A woman of convictions
Beyond the events that Viola Liuzzo witnessed during her childhood and youth, her activism for the civil rights movement is largely rooted in her great friendship with Sarah Evans, a black woman whom she meets in a grocery store. . In 1964, Viola began attending the First Unitarian Universalist Church of Detroit and joined the National Association for the Advancement of Colored People (NAACP – National Association for the Advancement of Colored People). Founded in 1909 by a collective of activists including Ida B. Wells and W.E.B. Du Bois, the NAACP is a civil rights organization. Firmly committed to equality, Viola attends conferences and helps organize protest actions.
A woman of conviction, Viola also opposes Detroit laws making it easier for students to leave school. In protest, she pulls two of her children – Thomas and Anthony – from school and homeschools them, breaking a state law. She will be arrested, fined and suspended for one year.
The Steps from Selma to Montgomery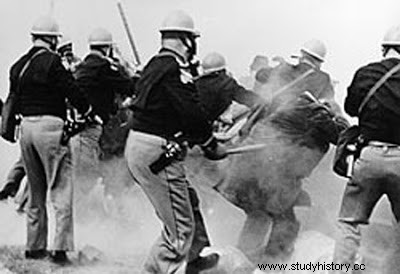 In 1965, at the initiative of black activists including Amelia Boynton Robinson and her husband Samuel W Boynton, along with Martin Luther King, marches are held from Selma to Montgomery demanding the right to vote and protesting the murder of activist Jimmie Lee Jackson. The first march is stopped after a few kilometers at the Edmund Pettus Bridge by the police and a hostile crowd who violently push them back, injuring nearly 70 people.
The images of "Bloody Sunday" and Amelia Boynton Robinson losing consciousness under the beatings of the police go around the world. Horrified, Viola Liuzzo takes part in a protest demonstration at her university and hears Martin Luther King calling on all goodwill, black and white, of all religions. She then calls her husband to tell him of her determination to join the march and go to Selma. Anthony objects that "it's not his fight"; she then replies, "It's everybody's fight" (it's everyone's fight).
Viola is involved in organizing the march, recruiting volunteers and transporting walkers from airports and train stations with her own car. On March 21, 1965, she joined more than 3,000 people of all origins, social classes and religions and began the march. During the next five days, she alternates between walking, helping with the organization, participating in first aid. On March 25, with 25,000 people, she attended Martin Luther King's speech in Montgomery, who spoke of the march as a "shining moment in American history".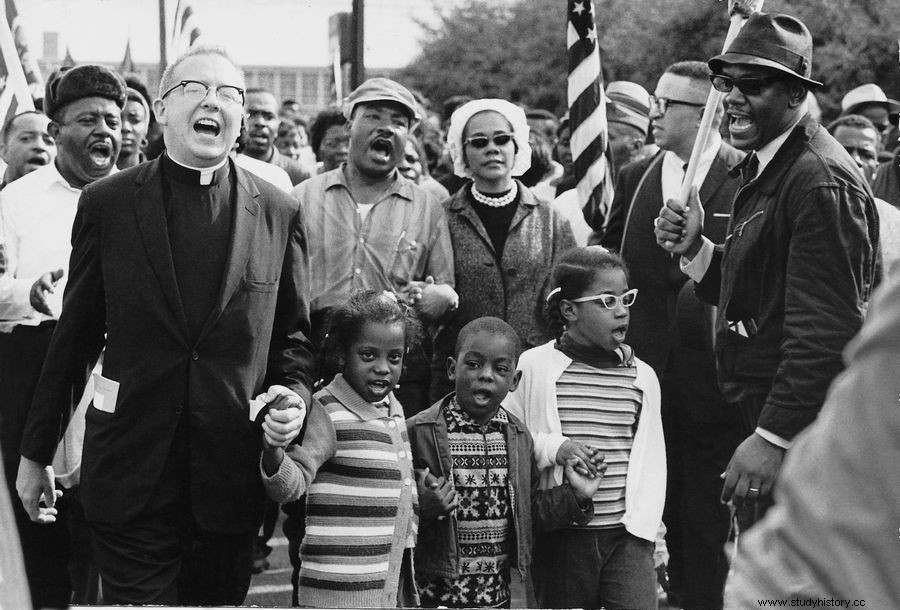 The Murder
At the end of the march, Viola Liuzzo accompanies walkers and volunteers from Montgomery to Selma with Leroy Moton, a 19-year-old African-American. As she drives down Route 80, a car tries to force them off the road. After a first trip to Montgomery, Viola and Leroy return to Selma. During a stop at a gas station, they are victims of racist insults.
As Viola waits at a red light, a car carrying four Ku Klux Klan members pulls up beside them. Seeing a white woman with a black man, they chase them for twenty minutes. When they catch up with her, they shoot Viola twice in the head and kill her instantly. Covered in blood, Leroy is uninjured but plays dead as KKK members come to see their victims. After they leave, Leroy flees and manages to stop a truck driven by Reverend Leon Riley.
Viola is buried in the Holy Sepulchre Cemetery in Southfield, Michigan. Many members of the NAACP – including Martin Luther King – and the government attended his funeral at the Immaculate Heart of Mary Catholic Church in Detroit. Two weeks later, burning crosses, a practice of intimidation by the Ku Klux Klan, are found in front of four Detroit homes, including Viola's.
Trial of the murderers
The four Ku Klux Klan members present in the car at the time of the murder were quickly arrested:they were Collie Wilkins (21 years old), Gary Rowe (34 years old), William Eaton (41 years old), and of Eugene Thomas (42 years old). Within 24 hours, President Lyndon B. Johnson publicly announces their arrest on a national television station.
Gary Rowe is revealed to be an informant for an FBI counterintelligence program, COINTELPRO, targeting internal political organizations in the United States. After Rowe's arrest, COINTELPRO spread rumors aimed at discrediting Viola Liuzzo, making her a member of the Communist Party or accusing her of abandoning her family to sleep with black civil rights activists. In the trial, Gary Rowe will be heard as a witness.
In April, Collie Wilkins, William Eaton and Eugene Thomas are convicted of Viola's murder. In May, an all-white jury fails to reach unanimity. In October, another white jury acquitted Collie Wilkins. In another trial, the three men are charged with conspiracy and violation of gun laws, and sentenced to prison terms. William Eaton died of cardiac arrest in March 1966, without having gone to prison. For the murder of Viola, despite a first acquittal, Eugene Thomas will spend six years in prison.