A brilliant and courageous photographer, Gerda Taro was the first female war photo-reporter and covered the Spanish Civil War. His work remains in the shadow of that of his companion, Robert Capa.
A young revolutionary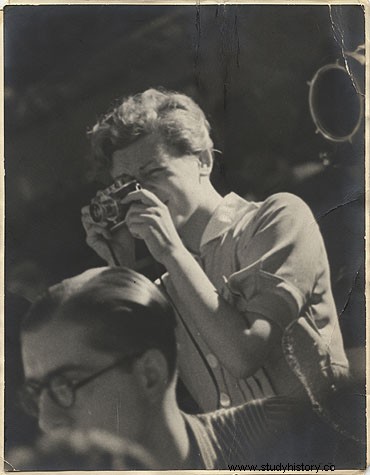 Gerda Taro is born Gerta Pohorylle, the 1 st August 1910 in Stuttgart (Germany). She comes from a middle-class Jewish family, originally from Galicia in Poland. In a Swiss boarding school, Gerta received a bourgeois education and learned, among other things, art and politics.
In 1930 the Pohorylle family moved to Leipzig due to financial problems. Gerta met the medical student Georg Kuritzke there, with whom she developed her revolutionary ideas. Gerta joins left-wing groups opposed to Nazism; in 1933, she was arrested for distributing anti-Nazi leaflets. At the end of the same year, faced with mounting repression against political opponents, Gerta left Germany to settle in Paris. The whole Pohorylle family will end up choosing exile gradually; Gerta will never see them again.
Robert Capa
In a France devastated by the global economic crisis, Gerta tries to find work but only manages to find temporary and casual secretarial positions. She spent a lot of time in the cafes of Montparnasse, frequenting circles of leftist intellectuals and activists, including members of the Socialist Workers' Party of Germany (SAP) in exile.
Gerta ends up landing an assistant position at the Alliance-Photo agency. There she meets the young photographer of Hungarian origin Endre Friedmann, who has also already been arrested for having taken part in militant left-wing activities. Having fun immediately, the two young people are inseparable and embark on a passionate affair. Noticing Endre's talent, Gerta decides to take charge of her career to get it off the ground. As his photos are bought at low prices by the press, Gerta invents for him a character of an American photographer who has just arrived in Europe, called Robert Capa. The scheme works; ensuring a perfect promotion of the work of his companion to the newspapers; Gerta gets them bought at a good price.
Gerda Taro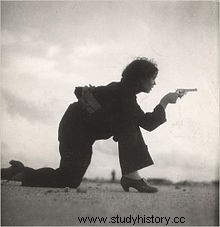 As she continues to support her companion's career, Gerta becomes Gerda Taro herself and learns the art of photography alongside her. She obtained her first press card in February 1936. Always politically engaged, Gerda and Robert covered the accession to power of the Front Populaire in May 1936. Working together, their shots were mixed and signed Capa.
As soon as the Spanish Civil War broke out, Gerda and Robert went to the front to cover the fighting alongside the International Brigades and the Republicans. Passionate about the events and rallied to the cause of the Republicans who nicknamed her "the little redhead", Gerda does not hesitate to put herself in danger to take shots as close as possible to combat and military operations. The pictures are signed Capa and Taro, and Robert gains worldwide recognition while his partner does not know success.
Brunette
Determined to conquer her independence, Gerda Taro refuses Robert's marriage proposal and, when he returns to Paris, she decides to stay in Spain to cover the bombardment of Valencia and sign her photos with her own name. During the battle from Brunete near Madrid, while nationalist propaganda claims that the region is under control, Gerda is the only one to testify to the reality of the situation.
In July 1937, as the Republican army retreated to Brunete, Gerda Taro was crushed by a Republican tank. Seriously injured, she died the next day, at almost 27 years old. First female war reporter to be killed in the exercise of her duties and a true anti-fascist symbol, she is buried in the Père-Lachaise cemetery in front of thousands of people