Eliška Junková (1900 – 1994), born Alžběta Pospíšilová, was a Czech racing driver and the only woman to win a Grand Prix event.
Clandestine driving lessons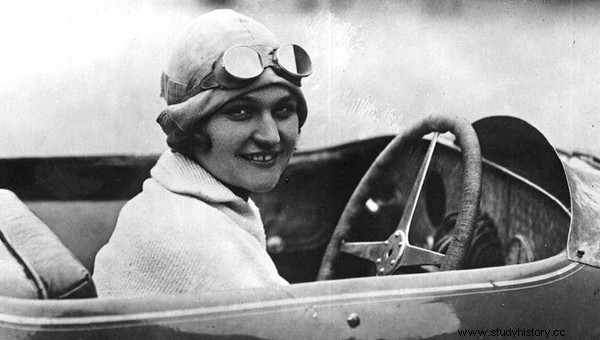 Eliška Junková was born on November 16, 1900 in Moravia, in the Austro-Hungarian Empire. Daughter of a blacksmith, she is the sixth of eight children. Very smiling, she is quickly nicknamed "Smisek". After the First World War, she found a job in the bank thanks to her foreign language skills. There, she would meet Vincenc "Cenek" Junek, who would later become her husband.
Eliška wants to travel and her job allows her to; she travels to Prague, France, to Gibraltar, then joins Cenek in Paris. Her future husband is passionate about automobiles and Eliška joins him in his passion. In Prague, she secretly took driving lessons and obtained her driver's license while Cenek, whom she married in 1922, began to participate in races.
The steering wheel queen
The couple bought racing cars, a Mercedes and then a Bugatti Type 30. Injured in the hand during the war, Cenek had difficulty shifting gears and Eliška Junková gradually replaced him at the wheel. In 1923, she won the Lachotin-Tremosna race in the Grand Tourisme category, a victory that made her famous. In 1925, she finished first in Zbraslav-Jiloviste. Increasingly famous, the "Queen of the wheel" begins to compete throughout Europe, against the best male drivers.
Eliška, whose name is anglicized to Elisabeth, is a meticulous and hardworking pilot. In 1926, she finished second in the Col du Klausen race in Switzerland. In 1927, she won the German Grand Prix at the Nürburgring and this victory made her the first and only woman in history to win a Grand Prix event.
The end of the race
In 1928, at the German Grand Prix at the Nürburgring, Eliška Junková shared the driving with Cenek. Shortly after driving, her husband veers off the road and kills himself instantly. Deeply shocked, Eliška gave up motor racing, sold her cars and began to travel again, working notably for Ettore Bugatti in Asia.
Eliška remarried after World War II. Relapsed into oblivion, Eliška Junková died in Prague on January 5, 1994, at the age of 93.