Bertha Sophie Felicitas Countess Kinský von Chinic und Tettau, or Baroness von Suttner (1843 – 1914), was an Austrian pacifist. Winner of the Nobel Peace Prize in 1905, she is one of the first people and the first woman to obtain this prize.
Private Secretary to Alfred Nobel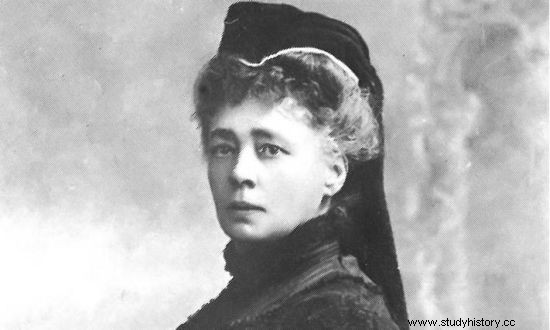 Born in Prague on June 9, 1843, Bertha von Suttner descended from a noble family. Her father, Franz Michael Graf Kinsky, died before she was born and she grew up with her mother, Sophie Wilhelmine. She has a good education, learns several languages ​​(German, English, French and Italian) and travels a lot.
Her mother squandered her father's fortune at stake, and in 1873 Bertha became governess to Baron Karl von Suttner – an industrialist from Vienna – giving language and music lessons to her daughters. She falls in love with von Suttner's son, Arthur Gundaccar von Suttner, but the family disapproves of the relationship; Arthur's mother fires Bertha and finds her a place as private secretary to Alfred Nobel, for a short time. The two, however, become friends and maintain a correspondence.
Lay down your arms!
Bertha returned to Vienna and secretly married Arthur Gundaccar on June 12, 1876; her husband, a writer, was disinherited and the couple moved to Georgia with Princess Ekatarina Dadiani von Mingrelien; they live by translating or writing popular novels. After the Russo-Turkish War, Arthur published war stories in German newspapers while Bertha worked as a journalist; under the pseudonym of B. Oulet, she writes short stories and essays for Austrian newspapers. In 1885, returning to Vienna, they reconciled with the von Suttner family and moved into the family estate.
Continuing to write, Bertha explores the theme of pacifism, confident in the ability of man to improve himself and no longer resort to war. She publishes pacifist essays and novels including Die Waffen nieder! (Lay down your arms! ), in which she describes the war from the perspective of a woman. The novel is very successful – it will be translated into 12 languages ​​and adapted to the cinema – and Bertha becomes one of the main representatives of the peace movement.
First woman to win the Nobel Peace Prize
In 1890-1891, Bertha von Suttner created a "Venetian Peace Society" (Friedensgesellschaft Venedig ) and an Austrian pacifist society, the Österreichische Gesellschaft der Friedensfreunde , of which she was appointed president – ​​a position she held until her death. In November 1891, during the world congress for peace in Rome, she was elected vice-president of the International Peace Bureau and founded the Deutsche Friedensgesellschaft (German Peace Society), which brought together many people. Bertha participates in several international peace congresses and calls for the creation of an international arbitration tribunal. In 1899, she took part in the preparation of the first conference in The Hague.
On December 10, 1902, Artur Gundaccar von Suttner died in Harmannsdorf. In debt, Bertha sells their property and moves to Vienna where she continues to write. In June 1904, Bertha took part in the International Women's Conference in Berlin; she travels from country to country, notably to the United States where she is invited to the White House to meet with President Theodore Roosevelt.
On December 10, 1905, Bertha von Suttner was the first woman to be awarded the Nobel Peace Prize, created in 1901. She died of cancer on June 21, 1914, a few weeks before the start of the First World War of which she had warned risks.