Johann Wolfgang von Goethe is considered the most important German poet. His works are among the most important in world literature. But Goethe was a genius with many faces and dealt with politics, physics, botany, anatomy and mineralogy.
Childhood and youth
Johann Wolfgang Goethe was born on August 28, 1749 in Frankfurt am Main. Together with his younger sister Cornelia he grew up in a prestigious house in downtown Frankfurt.
The father had a doctorate in law, but thanks to an inherited fortune was not required to work. The mother also came from a wealthy background. Her father, also a lawyer, held the highest office in the Frankfurt magistrate as mayor.
Johann Wolfgang's parents made sure that their son received a good and, above all, comprehensive education. He attended a public school for just under a year, and his educated father and a group of expensive private tutors took care of the rest. The timetable was extensive and, in addition to Latin, Greek, English and French, also included natural science subjects, drawing, music lessons, fencing and horseback riding.
The family also had a richly stocked library. The best conditions to stimulate and quench the growing Goethe's thirst for knowledge.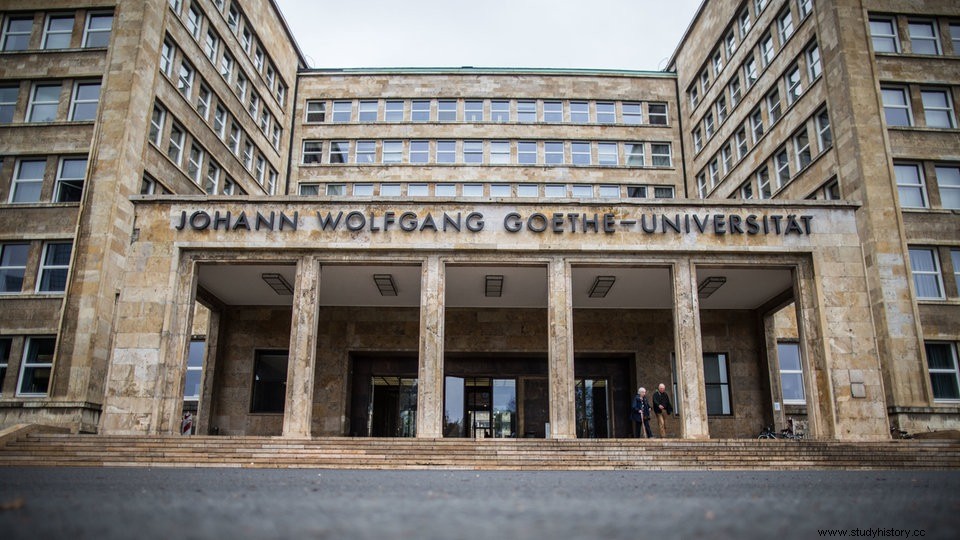 His hometown of Frankfurt named the university after Goethe
At the age of 16, the young Goethe was supposed to go to university. If he had had his way, he would have studied history and classical philology in Göttingen, but his father did not agree. He sent his son to Leipzig to study law.
Paragraphs and poetry
Goethe only listlessly attended the lectures of his law professors, but nevertheless obediently completed his teaching workload at the University of Leipzig. In addition to the legal ones, he soon also attended literary lectures.
The young man was particularly taken with the seminars given by Johann Christoph Gottsched and Christian Fürchtegott Gellert. These two professors were open-minded and modern-minded teachers. Gellert is also considered to have paved the way for the "Sturm und Drang" style in literary history, which focused on emotion and imagination.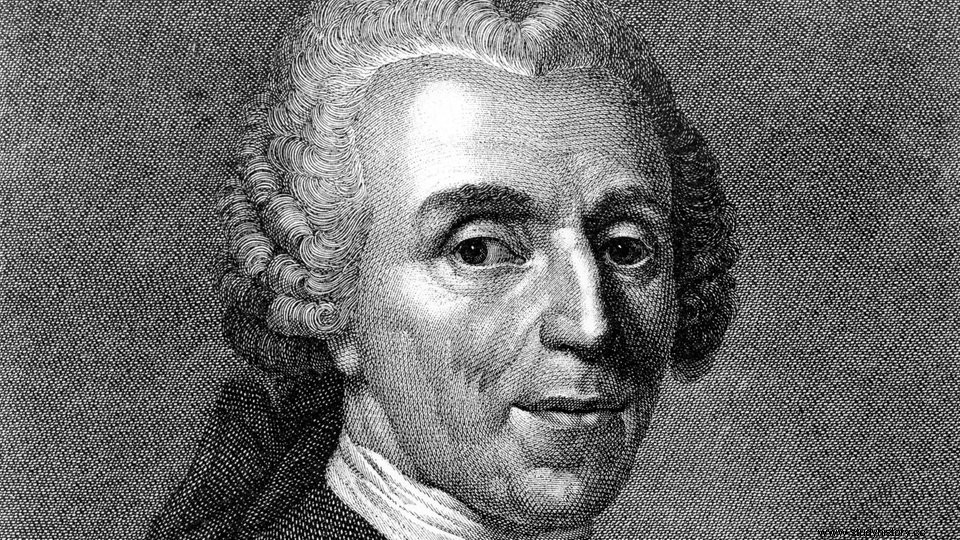 Christian Fürchtegott Gellert taught at the University of Leipzig
Influenced by this new spirit, Goethe also began to write his first poems, which were strongly influenced by emotion and passion. Because he was seriously ill with tuberculosis, Goethe had to abandon his studies in Leipzig in 1768.
During his convalescent leave at home in Frankfurt, Goethe published his first volume of self-written poetry. Including the poem "To the Moon", which was already strongly influenced by Goethe's spirit, as this excerpt shows:
"Sister of the first light,
Picture of tenderness in sorrow,
Mist swims with showers of silver
Around your lovely face.
Your gentle foot's run
Awakens from caves that are closed during the day
Sad departed souls,
Me, and birds at night up."
Sturm und Drang
In 1770, at the urging of his father, Goethe resumed his law studies and went to Strasbourg to do so. In the French city he finally obtained his doctorate.
At the same time, the young man with a wide range of interests still had enough time to deal intensively with medical studies. Goethe also attended chemistry lectures and thus laid the foundation for his later work in the field of natural sciences.
Strasbourg was also an important station on Goethe's life in other respects:he met his first great love there, the pastor's daughter Friederike Brion, and it was there that he made the important acquaintance of the theologian, philosopher and literary theorist Johann Gottfried Herder.
Many years later, Goethe described his encounter with Herder in his autobiographical work "Fiction and Truth" as "the most important event, which was to have the most important consequences for me..." Herder, who was five years his senior, was like a big brother to Goethe. He gave his younger friend important impulses in the field of literature and art history, but also shared his life experiences with him.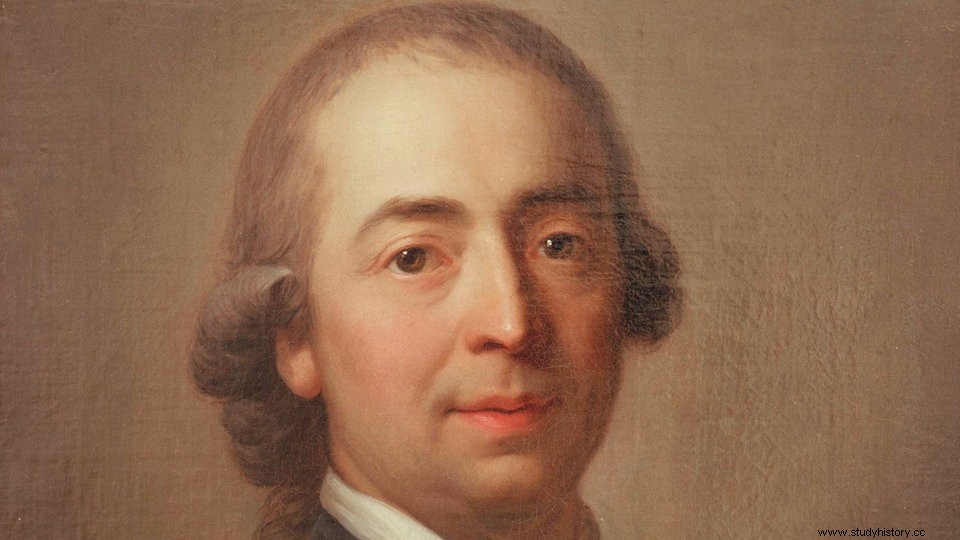 Johann Gottfried Herder significantly influenced Goethe's literary work
From Strasbourg, Goethe's path first led back to his native city of Frankfurt, where he set up a small office in his parents' house at the end of 1771. Goethe worked as a lawyer for four years. However, he was only half-hearted about it and managed only 28 processes.
However, he devoted more time and commitment to his passion for literature and soon began to work on his first major work, the historical drama "Götz von Berlichingen". The focus is on the knight with the iron hand, who fights vehemently for justice and freedom, but ultimately fails and dies.
The book was published in 1773 and was particularly popular with the younger generation. This prime example of the "Sturm und Drang" period in literary history established Goethe's fame and success as a writer.
Sufferings and successes
In 1772, at the age of 22, at the request of his father, Goethe went to the Imperial Court of Appeal in Wetzlar, where he was to deepen his legal knowledge. There he met the beautiful Charlotte Buff, with whom he fell in love.
But his wooing was unsuccessful. The young lady was already taken. Goethe expressed his lovesickness in "The Sorrows of Young Werther". The story of an unhappy love became a hit with the public in 1774.
Many male readers identified so strongly with the character of Werther that, following the example of the novel's hero, they committed suicide out of love pain they had experienced themselves. Thanks to "Werther", Goethe became a recognized and sought-after writer at the age of just 25.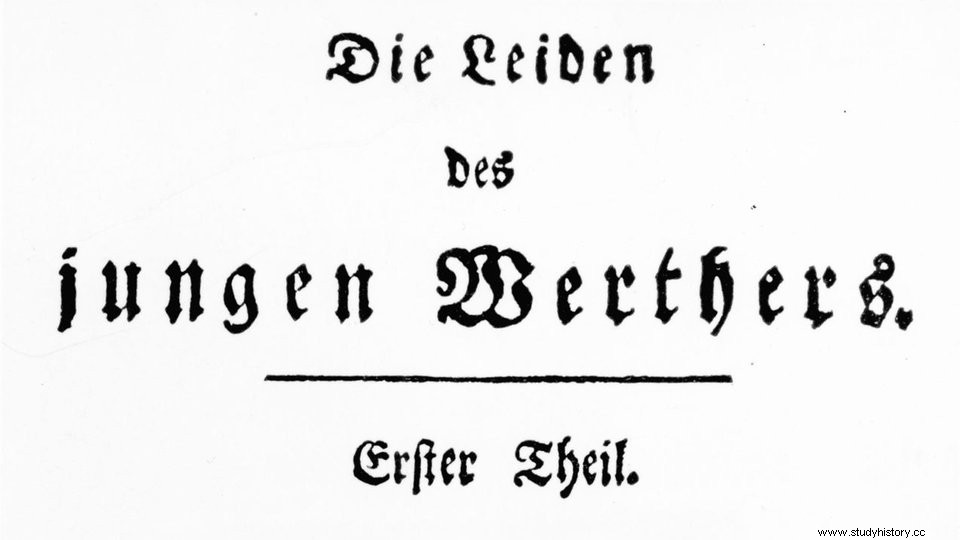 "The sorrows of young Werther" – the genitive S was later dropped
In 1775 Goethe went to Weimar. He accepted an invitation from the young Duke Carl August of Saxe-Weimar-Eisenach. Goethe became a close friend of the duke and was appointed minister and privy councilor at the Weimar court.
After Goethe had dedicated a few years to his new political tasks in Weimar and had also worked as a researcher in the field of natural sciences, he was drawn abroad full of inner unrest.
His departure for Italy in 1786 was tantamount to fleeing. He was looking for new impressions and inspiration for his literary work. In a short time during his journey he completed the drama "Egmont" and began work on "Faust" and "Torquato Tasso". From the passionate Sturm und Drang, Goethe now went into the literary realm of the profound, classically shaped tragedy.
In Italy, Goethe matured into a classic writer of tragedies
Maturity and age
In 1788 Goethe returned to Weimar full of energy. He resumed his state offices, but at the same time began to draft "Torquato Tasso". The main character, an artist, finds himself in a violent conflict between artistic freedom and financial dependence on his patron.
With this tragedy based on the classical model, Goethe once again set literary standards and consolidated his fame as a writer. But even as a scientific researcher, Goethe's thirst for action was immense. His research ranged from important anatomical discoveries to the "metamorphosis of plants" to color theory.
In his private life, however, the busy Goethe seemed to be looking for a haven of calm:he thought he had found the right partner in Christiane Vulpius. The woman, who was 16 years her junior, came from a humble background, but impressed Goethe with her looks and her likeable personality.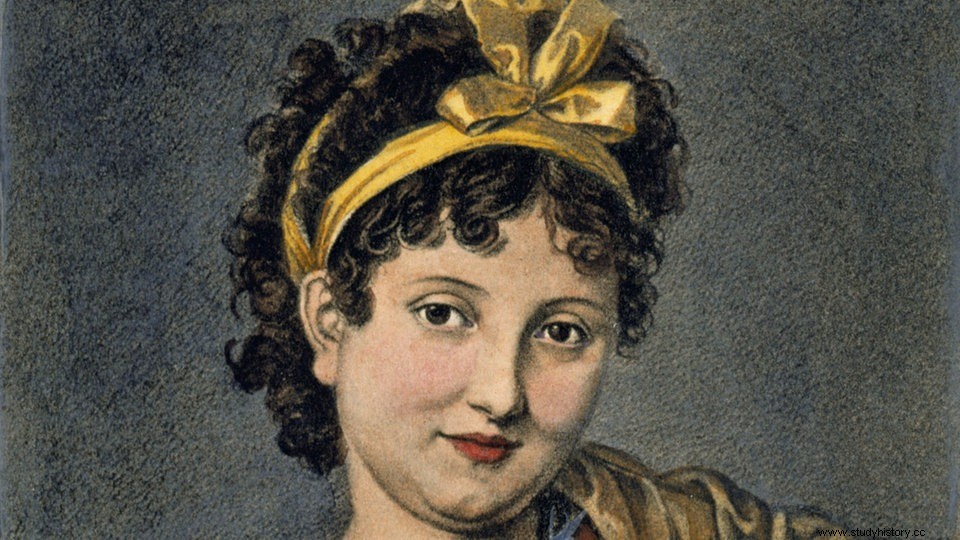 Christiane Vulpius had been in a relationship with Goethe since 1788
Just a few days after their first meeting, she moved in with him. A year later, in 1789, their son August was born. However, Goethe and Christiane Vulpius did not marry until 1806. So the two were only granted ten years of marriage. Christiane Vulpius died in June 1816. Goethe was also to outlive his son August by two years.
Goethe himself died on March 22, 1832. Until his death he remained a busy person full of adventure and a tireless writer. With his works "Hermann and Dorothea", "Elective Affinities", "Wilhelm Meisters Wanderjahre" or "Faust" he sealed his importance as a writer.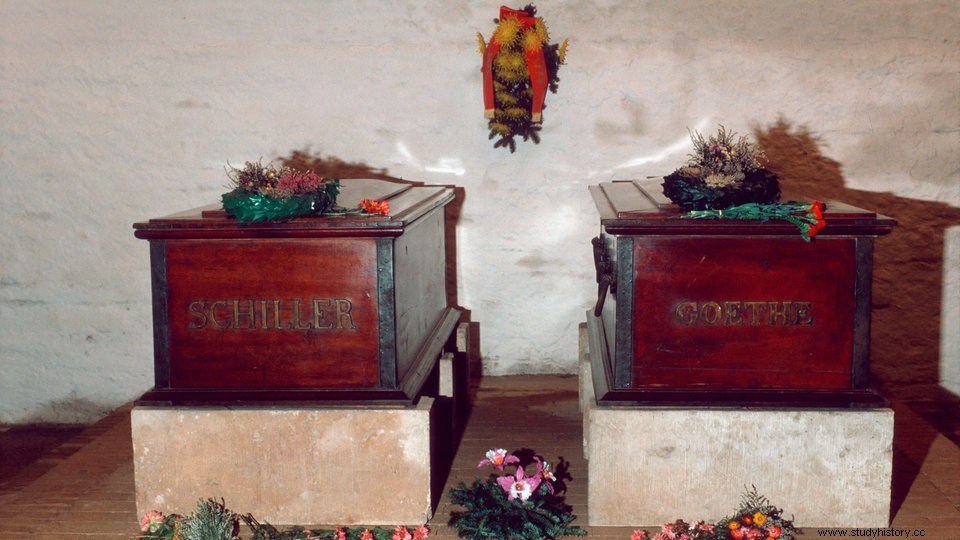 Goethe and Schiller are buried side by side in Weimar
Johann Wolfgang von Goethe found his final resting place in the Weimar princely tomb. He is buried there next to Friedrich von Schiller. Since 1794, the two fellow poets had been close friends. Her literary work went down in literary history as the so-called Weimar Classic.